The Anklebreaker: 5 of Basketball's Killer Crossovers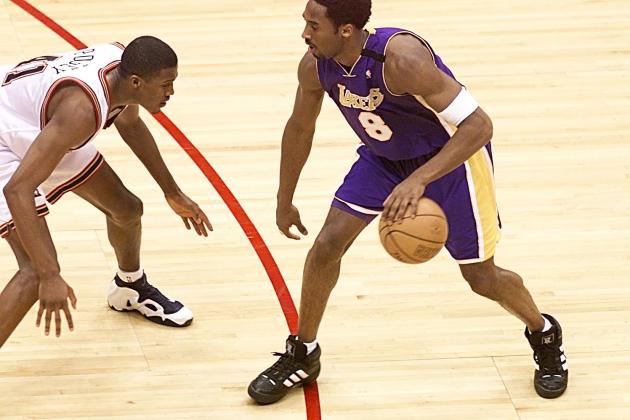 Brian Bahr/Getty Images

Don't you love it when you're watching a game and the defender trips over his own feet and ends up on his rear? I can't imagine it's as enjoyable for the guy on the ground.
There's nothing like watching a nice crossover. There have been some devastating ones in recent memory.
In the next five slides, I will share some of my personal favorite "Killer Crossovers."
Begin Slideshow

»
With Allen playing up on him, Crawford sent the ball through his legs, behind the back, and then back through his legs.
Oh, and it's great when the guy dishes it and the play ends with a beautiful swoosh.
Ray Allen, YOU GOT CROSSED UP!
After forcing a switch, Walker had a one-on-one with big man Gary McGhee—an epic mismatch. Walker sized up McGhee, took him to the hole, then stepped back. With McGhee regaining his balance, Walker drove again, only to step back again.
This had poor Gary in a daze.
I almost feel bad for Gary McGhee. He never had a chance.
Sit down Gary.
Wade drives hard here before stopping on a dime and sending the ball through his legs.
I don't know who the guy on the Jazz is, but I'm sure he's not too upset about being unable to be recognized. He stumbles for about 10 feet and then slides an extra 10 after that.
YOU KNOW you got crossed up when someone puts a move on you at the 3 point line and you end up out of bounds along the baseline.
Through the legs, across the body. Through the legs, across the body.
Personally, I think D-Will has the best crossover in the NBA. Kirk Hinrich didn't even know where he was after Deron was finished with him.
For Hinrich's sake, he was at least able to stay on his feet. Killer cross, nonetheless.
Iverson absolutely toys with Daniels here.
He takes him to the hoop and stops for a pull up jumper that puts Daniels on the ground. But just as Daniels is about to recollect himself, Iverson goes with a little hesitation move and continues towards the hoop. Daniels can't help but fall down again.
Iverson is up there among the best ankle breakers the game has ever seen.
Don't feel bad Antonio, A.I has done this to everyone.