NBA Rumors: LA Lakers Must Avoid Gilbert Arenas to Contend for Title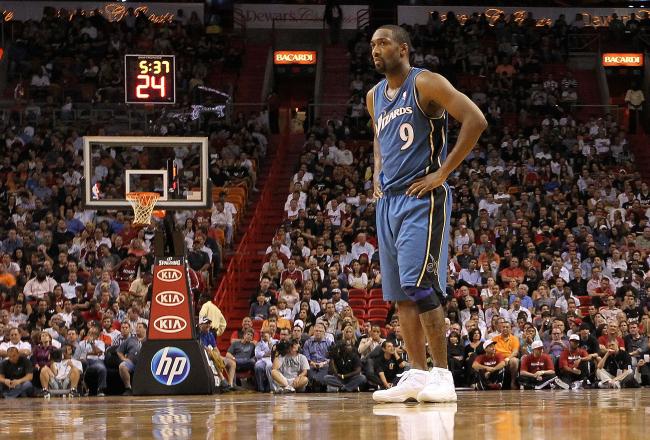 Mike Ehrmann/Getty Images
If the Los Angeles Lakers want to contend for the NBA title, they must avoid Gilbert Arenas.
According to Alex Kennedy of Hoops World, the Lakers have "reached out to the veteran point guard."
What a horrible decision.
I understand Arenas' credentials. He scored more than 25 points per game in three straight years. He signed a huge contract.
And he fell apart.
Arenas had a great run in the mid-2000s, but that doesn't mean he should be on the 2012 Lakers roster.
First off, he wouldn't fit.
Yes, the Lakers need help in the backcourt. No, they do not need a shoot-first point guard.
Obviously, Arenas wouldn't shoot as much as the 2006 and 2007 seasons (20.9 field goal attempts per game). Still, that's the type of player he is.
He can't be effective without getting shots up, and if he is going to play in Kobe Bryant's backcourt, Arenas shouldn't be shooting the ball.
So, even though the Lakers need backcourt help, Arenas wouldn't be a good fit.
Also, don't forget that Arenas is not the player he once was.
Is Arenas a good fit for the Lakers?
He was one of the best scorers in the NBA, but that was five years ago. Injuries, age and other talent has made Arenas an average player.
He's had a very good career, but Arenas doesn't have much left to give to a title contender. If he committed himself to defense, passed the ball and become a crafty veteran choosing his spots, then Arenas would be perfect.
Needless to say, that's asking a lot of Agent Zero.
Finally, the Lakers don't need someone else taking shots away from their frontcourt.
Bryant has earned the right to shoot when he wants. Sometimes, he goes a little overboard, but for the most part, he understands that he must be patient.
Andrew Bynum and Pau Gasol will determine how far the Lakers go.
If Bynum keeps his head and Gasol plays tough, the Lakers can still contend in the Western Conference.
That's what is lost in this season: The Lakers are still a very good team.
They have (arguably) the best power forward/center combination in the NBA, and they have one of the best closers of all time.
When the playoffs roll around, the Lakers could make a serious run. They match up well with the top teams in the conference, and they're the Lakers, which does count for something.
That brings us back to the point: Agent Zero has no business being a Laker.
He would fix their needs, he isn't the player he once was, and the Lakers can contend without him.
Therefore, if the Lakers want to contend for the NBA Championship, they must avoid Arenas.
This article is
What is the duplicate article?
Why is this article offensive?
Where is this article plagiarized from?
Why is this article poorly edited?

Los Angeles Lakers: Like this team?