Senior Bowl 2012 Game Time: Undervalued Players Who Will Get Noticed
January 28, 2012

Ethan Miller/Getty Images
The 2012 Senior Bowl is almost upon us, and when the 3 p.m. ET kickoff arrives, it will be the last opportunity for many NFL draft hopefuls to show the scouts what they can do in game action. While senior stars like Alabama's Courtney Upshaw are already assured of a first-round pick, many others are playing for one more shot to climb up (or even onto) pro draft boards.
These three players will take full advantage of today's contest to earn a longer look from NFL teams:
QB Kellen Moore, Boise State
Moore isn't built like a prototype NFL QB—he's listed at 6'1", 191 lbs, plus he's left-handed—and he faces questions about his arm strength. On the other hand, he not only put up superlative individual stats at Boise State but won a Division I-record 50 games as a starting QB.
Moore is never going to come off well in a combine environment, but he can really help his draft position if he connects on a couple of big throws in today's game. With the South team boasting surefire first-rounder Janoris Jenkins at CB, it'll be hard to complain about the level of opposition Moore faces here.
WR Marvin McNutt, Iowa
The graduation of QB Ricky Stanzi would have utterly destroyed the Hawkeyes' passing game this year if it hadn't been for McNutt. The 6'3" wideout accounted for nearly half of the team's receiving yards (1,315 out of 3,052) and TDs (12 of 25).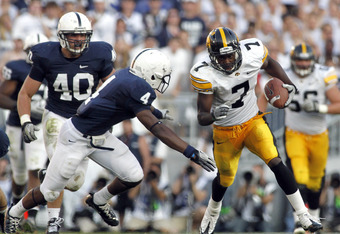 Justin K. Aller/Getty Images
McNutt's North team has ample quarterback talent (including Moore) to make him look good. It'll be a surprise if he doesn't catch a TD in this game.
DT/DE Kendall Reyes, UConn
UConn hasn't exactly been a traditional D-line factory, and with the team limping to a 5-7 finish, Reyes had few opportunities to get noticed on a national stage. Nevertheless, the penetrating DT racked up 4.5 sacks and 13 tackles for loss in his senior season.
At 6'4", 295 lbs, Reyes could fit in the NFL as either a 4-3 tackle or a 3-4 end. He'll put enough pressure on South QBs Nick Foles and Brandon Weeden to open scouts' eyes today.