Will Jenny Dell Make Red Sox Fans Forget Heidi Watney?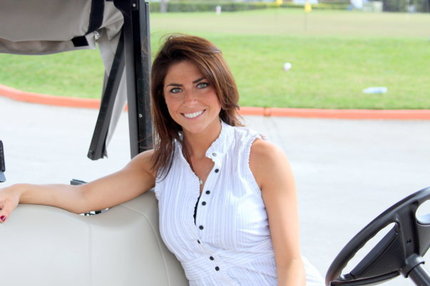 I for one was a bit surprised to hear that Heidi Watney's replacement is Jenny Bell, whose most recent assignment with ESPN was in Aspen, working on the upcoming Winter X Games.
I am also reminded that she interviewed NFL players last year on their Super Bowl predictions, and hosted the AccuScore segments for ESPN.
A month or so ago I presented you with 27 potential replacements for the lovely Heidi, which you can view here.
Much to my chagrin, I did not include Jenny Dell as one of the 27.
So, to make up for that omission, this slideshow will help you get to know Ms. Dell a little better. It will also describe the uphill battle she faces in the seasons to come.
Begin Slideshow

»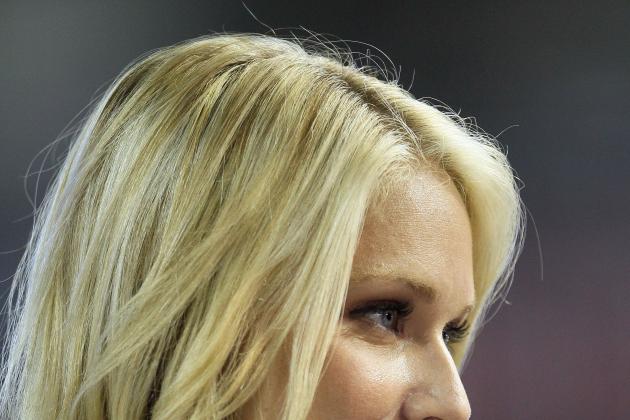 Jeff Gross/Getty Images

Not only is she stunning to look at, but she was also a National Merit Scholar and went to the University of San Diego on an academic scholarship, graduating with honors in 2003.
While there, she became Miss San Diego, and was the first runner-up in the 2002 Miss California pageant.
Prior to joining NESN, Watney was a weekend sports anchor for KMPH in Fresno. She was also a sports talk radio host for 1430 ESPN Radio KFIG Fresno.
At NESN, she hosted The Ultimate Red Sox Show and The Red Sox Report, and also became the on-field reporter for TV broadcasts.
My first reaction is that Heidi is a tough act to follow. Not only did she have the looks, but she also had the smarts and some serious broadcasting chops.
I would not be surprised if it may take a while for Red Sox Nation to warm to her replacement, especially since Dell does not, at first glance, match up that well.
On the other hand, it's hard to fault NESN's sports babe judgment. Just look at their track record…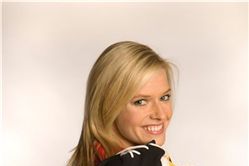 Kathryn Tappen, now with the NHL Network
Tina Cervasio, Hazel Mae, Kathryn Tappen and Jade McDonald were capable reporters who also added significantly to the sports scenery. All have gone on to bigger and supposedly better gigs.
The silver lining is that NESN will undoubtedly want to maintain its reputation for developing fantastic sports babes. I am sure the powers-that-be at the network have been doing their homework, seeking the most dynamic and bodacious talent available.
Chad Finn of the Boston Globe (who seems to be the closest reporter to the story—twinge of envy here!) blogged on January 20 that NESN brought in at least six candidates. In that blog, he first identified Jenny Dell as a candidate.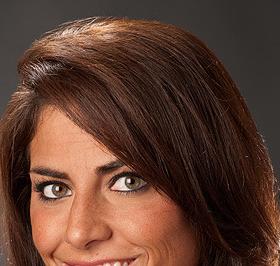 According to Chad Finn of the Boston Globe, Red Sox chairman Tom Werner made the final decision, based on a tape he received of all the finalist auditions.
That actually is an encouraging sign. While WAGS question some of his baseball decisions, there's no doubt that when it comes to television issues he's a consummate and well-respected professional.
He entered the industry in 1973 with ABC-TV, becoming senior vice president of the prime time development department in 1979. He launched the TV careers of Robin Williams, Tom Hanks, Billy Crystal and Danny DeVito—so there's no question he can recognize talent.
In 2000, Werner and others joined Oprah Winfrey to start Oxygen, the cable channel serving the modern woman.
So, if Tom Werner tells me that Jenny Dell has what it takes, I'm inclined to listen.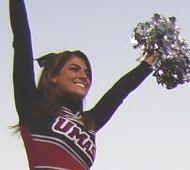 Despite the high-profile announcement, little is known about Jenny's background or personal life. We know that she graduated from UMass, she was a cheerleader, and that she worked for ESPN, but that's about it. All the archived videos of her have been removed from the ESPN site.
Even before the recent announcement, she kept details private. A while back, someone requested her bio from ESPN via twitter. The reply was, "Sorry, Jenny Dell does not have a biography."
She is perhaps best known for her AccuScore video segments, which broke down weekly NFL match ups. Those clips are also gone, even from YouTube.
However, you can still view her resume video here.
Strangely enough, there is a wealth of photos of Jenny still available on the web, with more than a hundred that can be seen on her own Facebook page. But not a lot of information to go with them…
" };

This is from the Playboy Golf Super Scramble, a spinoff event from the 2010 Super Bowl.

Jenny asks two Playboy Playmates how they intend to distract football players during their golf round. Eric Dickerson, Robbie Gould, Warren Moon and Jim McMahon all agree they will be distracted.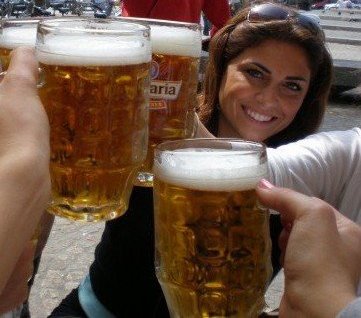 Despite Heidi's alleged fling with Jason Varitek, she was, for the most part, viewed as pretty straight-laced.
On the other hand, one might be able to surmise from the multiple party photos of Jenny that are available (even from her own Facebook page) that this girl knows how to have a good time.
After all, she did go to UMass Amherst, also known as Zoomass or Zoomass-Slamherst. For several years in a row, it has been rated as one of the top party schools in the country by a number of different sites.
In August 2010 Unigo ranked UMass as sixth in the nation. Part of the Huffington Post writeup included, "…there are sports at UMass, but students report they're mostly used as an excuse to drink."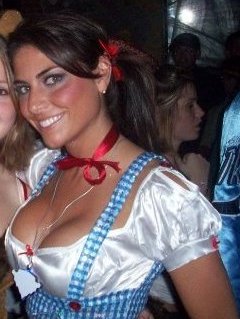 Jenny as Dorothy at a Halloween party.
I thought this post on BarStool Sports (which lives up to its name by appealing to the baser levels of male enthusiasts), was quite telling. It actually gives me a better feeling about Jenny Dell's future in the industry.
"In fact, I actually tried to smokeshow her about a year or two ago and she denied the request," writes the blogger. "But I don't care anymore. I mean once you work for ESPN you kind of lose the right to decline being featured on the Stool right? Yup, it's time to go public with this chick."
Declined to be featured on the Stool? You've got to be kidding me. Good for you, Jenny.
The Stool did not give up, however. "My question is why isn't she getting more play at ESPN? Like, why are her talents being wasted on videos that people don't even know exist until they find them by accident? Because I got to be honest. I think Jenny Dell is just about the hottest chick they got there. Yeah I'm talking to you Erin Andrews."
So there.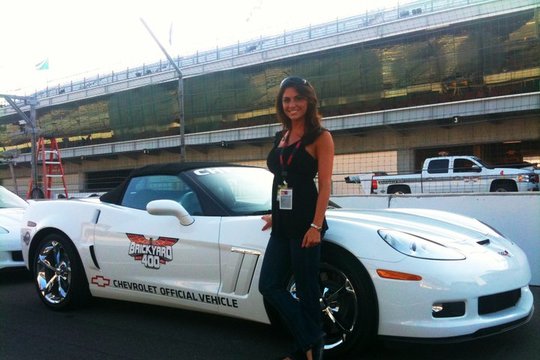 Jenny did a lap in the Indy pace car last July
The best reaction: "Can she play shortstop?"
But here are some other examples of what people think.
FanFeeder Hot Takes says, "Drum Roll please….say hello to Jenny Dell (hubba, hubba). I guess NESN and the Red Sox are going back to the brunette! We all remember the eye candy that was Tina Cervasio who now works for the MSG Network."
Dan Fogarty of SportsGrid writes, "But fear not, Sawx nation. Her replacement has been tapped, and she's a local favorite: Jenny Dell, an ESPN reporter and UMass grad who's in Aspen right now covering the Winter X-Games."
Derek Stykalo of BoSoxInjection wrote,
Thousands of male hearts were broken when we learnt that Heidi Watney would not be returning for a fifth season with NESN. As the Red Sox on-field reporter Watney charmed us all with her perfect smile and witty sense of humor. But fear not my fellow patrons of Red Sox Nation. Jenny Dell is here and she's ready to help us all move on and forget about Heidi.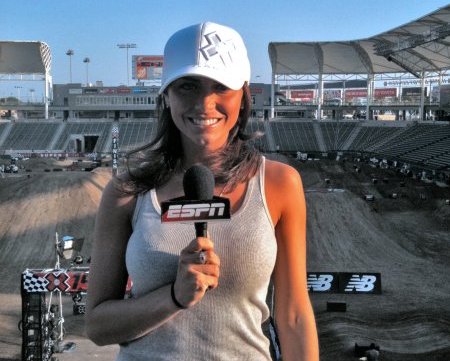 A casual Jenny reporting from the X Games site.
As NESN's on-field reporter for all Red Sox TV broadcasts, the lovely and sexy Ms. Watney was bright enough and capable enough to overcome the initial "eye candy only" snickers.
Media and fan reaction to the loss of Heidi Watney was immediate, and certainly stronger than the mere ripples created by the departure of Lowrie or Reddick.
"Say it ain't so!" wrote one Yahoo! Sports blogger. "The post-collapse exodus from the Boston Red Sox has officially gone one person too far."
"Heidi is the latest departure from NESN's pulchritudinous lineup of jock talkers," bemoaned the Boston Herald.
I think it's unfair to judge Jenny (positively or negatively) before giving her a shot. The inevitable comparisons of "relative hotness" are based on nothing more than photos of the two women, governed by personal preferences of the beholder. Then there's the whole brunette vs. blond thing…
In the first 24 hours since this story broke, I have yet to read a critique of Jenny's ability as a reporter.
I am also swayed by the role media mogul Tom Werner allegedly played in this decision. The man knows what he's doing when it comes to TV talent.
Perhaps we should just live by the old British, stiff-upper-lip aphorism: "The Queen is dead. Long live the Queen!"