Iowa Hawkeyes: Why the Hawkeyes Need Long-Term Talent at Running Back
January 28, 2012

Christian Petersen/Getty Images
In 2008, the unexpected happened for the Iowa Hawkeyes.
Shonn Greene emerged unlike any player had in the Kirk Ferentz Era in Iowa City.
From being a backup for the likes of Albert Young and Damian Sims to moving couches in a warehouse while attending junior college in Iowa, nobody saw an All-American season coming for the now starting running back for the New York Jets.
However, since he made the decision to forgo his senior season after the Outback Bowl win over South Carolina, the Hawkeyes have had a cavalcade of different people attempt to fill his shoes. And, all have them have not finished their senior seasons.
The heir-apparent was going to be Jewel Hampton. That was ruined by knee injuries that effectively ended his Hawkeye career after a promising freshman season. He would go on to Southern Illinois and have a fine season this year, and will try to make it in the pros.
The freshmen that were left to get the bulk of the carries in that fateful Orange Bowl season were Adam Robinson and Brandon Wegher. Both had fine freshman campaigns that had Iowa fans buzzing about their potential for the next three seasons.
Wegher left school after his freshman year due to personal issues. He attempted to walk-on to the Oklahoma Sooners, but that never worked out. Adam Robinson gave Hawkeye fans comfort by getting through the majority of his sophomore season before getting kicked off the team after a run-in with the law before the teams Insight Bowl date with Missouri. He has since transferred to Minnesota-Duluth where he did play a down this past season.
Then Marcus Coker was the "next man in," as Ferentz would say, and after bursting out of the gates against the Missouri Tigers in the Insight Bowl, the position was his for the 2011 season with no real competitors.
His 1,384 yards and 15 touchdowns were the closest a running back has come to Greene's 1,850 yards and 20 touchdowns in his Doak Walker Award-winning season. With two more years of eligibility and his strong ceiling for growth and potential, Coker seemed to have it all in Iowa City, and the future was very bright.
Without getting in the details which by all accounts have been kept very closed door to this point. Coker was suspended at the end of the season, missed the bowl game and was subsequently granted a release from his scholarship from Iowa.
That is a brief synopsis of the running back situation at Iowa for the past three seasons. Four players that at times looked like they would become legends in Hawkeye lore that for different reasons left the program to the surprise of many.
Hawkeye fans got the brilliant "one-and-done" year from Greene, and have been hoping for an answer ever since. Next season should feature quarterback James Vandenberg tossing the ball around in Chuck Long fashion in his senior season.
2012 very well could be a tough season for the Hawkeyes with the departure of long-time defensive coordinator Norm Parker, and the losses of key players like: Marvin McNutt, Shaun Prater and Riley Reiff.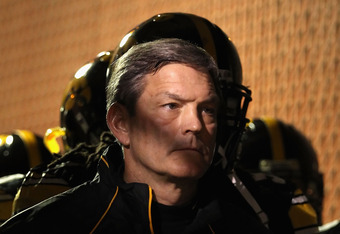 Christian Petersen/Getty Images
Ferentz mentioned several times last season that his 2011 team likened to the 2008 team. If that means that the following season has the Hawkeyes making a BCS bowl and spending a majority of the season in the National Championship conversation, sign me up!
But, I do not see that being the case. Questions on the defensive line, secondary and at the running back position are glaring going into a season that many fans want to see their team get out of the doldrums of seven wins a year.
Coker's bruising style that fit Iowa to a "T" is gone. Jordan Canzeri could be looked upon to get a majority of the carries. Hope for Hawkeye fans is that he can bulk up in weight much as Montee Ball has in his career at Wisconsin. Even a fraction of Ball's impact for Canzeri would be a welcomed sight.
De'Andre Johnson, Damon Bullock and senior James White will also be in the mix, and hope is one of them can emerge.
And, of course there is the true freshman option that Hawkeye fans have become so used to the last couple of seasons. Greg Garmon from Erie, PA is ready to sign the papers next week that will make him a Hawkeye. His hometown has produced Hawkeye greats such as Bob Sanders and Ed Hinkel. Both of these players played out four seasons in black and gold.
Let's hope this is the start of a trend.