NHL Stars Who Must Be Better Down the Stretch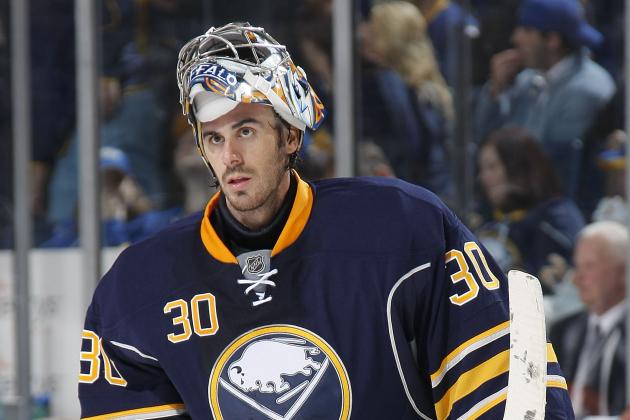 Dave Sandford/Getty Images

The 2012 NHL All-Star Game signifies crunch-time for teams, and these underachieving NHL stars must be better down the stretch if they hope to help their teams. With roughly 33 games remaining for each team, it's nearing the desperation point for these men.
Whether it be a big contract or even bigger expectations, these players must play their best if their team is to make anything of themselves over the next four months.
With the standings tight in all divisions, there is no room for error.
The following players need to tally some serious numbers down the stretch. Their reputations will become questionable if they don't. After all, they've been dubbed stars and the faces of their respective franchises.
Begin Slideshow

»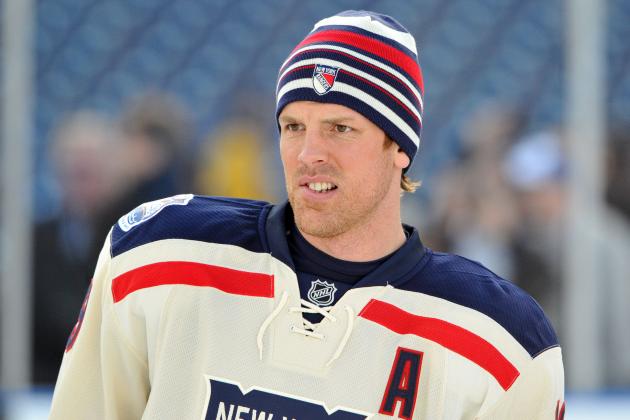 Christopher Pasatieri/Getty Images

OK—So the New York Rangers and Detroit Red Wings are the best teams in their respective conferences at the moment.
That doesn't mean that centers Brad Richards and Henrik Zetterberg shouldn't be better.
Richards is making a cool $12 million this season and has only scored 33 points to this point. That's far below last year's mark of 77 points in just 72 games.
While it's true that he's never scored more than 28 goals in a season and has 16 thus far, the Rangers need their highest paid player to produce more.
The team is a definite Stanley Cup contender, but without a Cup, Richards' first year in the Big Apple will be considered a failure.
Henrik Zetterberg has been a staple in Hockeytown for nearly a decade, but if he doesn't have a marvelous stretch run into the playoffs, Wings fans may begin to doubt his abilities.
Zetterberg is making nearly $8 million and has only scored nine goals in 50 games. He's also under contract for another nine years.
Yes, the Wings are tops in the Western Conference, but they also play in the best division in hockey. A few more bad games like the one the Wings had in Montreal recently and the team could go from first to sixth in a heartbeat.
If Zetterberg fails to light the lamp from here on out, there will be grumblings in Motown.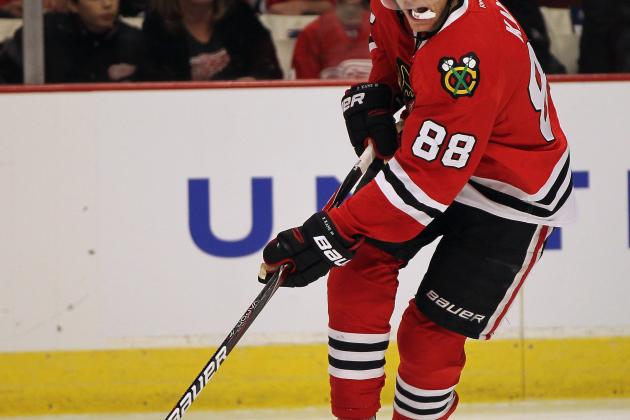 Jonathan Daniel/Getty Images

It's no secret that Chicago Blackhawks star Patrick Kane likes to be in the spotlight.
He has some of the best hands in the NHL, but has had trouble putting the biscuit in the basket this season.
11 goals through 50 games from this kid just won't cut it.
Kane's best year came in the Blackhawks' Stanley Cup season two years ago. He totaled 88 points that season, while only on pace for 67 this season.
The Blackhawks need him to shine the rest of the way if the team is to begin a dynasty.
While there's no doubt that Kane has a bright future ahead of him, he needs to focus on hockey sooner than later.
As a former No. 1 pick in the NHL draft, Kane is expected to be the man—not only off the ice, but on it as well.
Bruce Bennett/Getty Images

Ilya Kovalchuk is the New Jersey Devils $100 million dollar man. By no means has he looked the part in a Devils' uniform.
Kovalchuk is making $6 million this year, and has netted 40 points so far. While this season may be better than last, it's not good enough.
The Devils need him to return to the days where he was a 40-plus goal scorer. After all, Kovalchuk's salary nearly doubles next season.
The Devils are currently tied for seventh in the Eastern Conference, and it's now or never for the team.
Future Hall of Fame goaltender Martin Brodeur is nearing the end of his storied career, and the team needs Kovalchuk to lead them to the playoffs.
And while Kovalchuk's been under scrutiny since signing his massive contract—this scrutiny won't stop until he puts up massive numbers.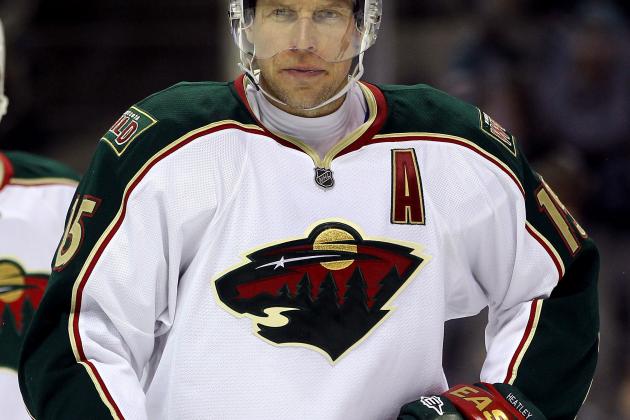 Ezra Shaw/Getty Images

The Minnesota Wild brought in Dany Heatley to score goals.
While it's true that Heatley leads the team in goals and points, he's not scoring enough.
His 15 goals this season are below expectations, and the Wild need him to catch fire if they're to make the playoffs.
Minnesota is currently eighth in the Western Conference and is a measly 3-6-1 in their last 10 games.
The Wild are ranked 23rd on the power play and Heatley only has four power-play goals. His $8 million dollar salary states that this number should be much higher.
The next couple of months are very critical toward Heatley's reputation.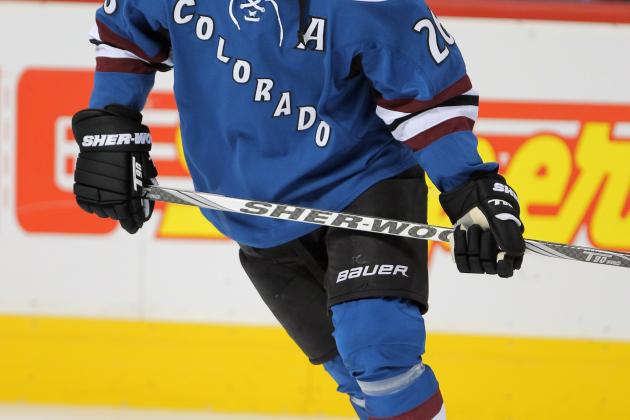 Doug Pensinger/Getty Images

Paul Stastny's first two years in the NHL were a great success, while his last season-and-a-half have been somewhat of a disappointment
Now in his sixth season, Stastny needs to elevate his game.
He only has 30 points on the season and his team is in on the outside looking in on the playoffs right now.
In his time in the NHL, Stastny has been a consistent playmaker, amassing 35-plus assists in every full season played. This season he's on track for 29 assists.
He's also making $6.6 million this year. That type of money screams star. That type of money screams playoffs.
This Colorado Avalanche team has expectations to meet and they won't do that without Stastny playing top-notch hockey.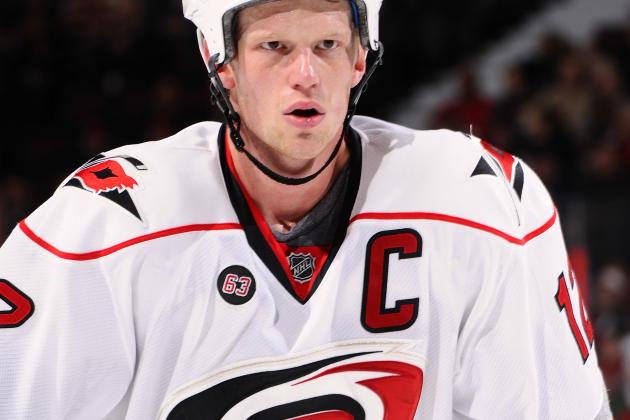 Phillip MacCallum/Getty Images

The captain of the Carolina Hurricanes has done somewhat of a disappearing act this year.
Eric Staal only has 11 goals this year, which is well below his career average.
With more than $35 million remaining on his contract after this season, he needs to produce more.
Outside of his rookie season, he has averaged 35 goals/season. In those seasons, Staal has had six consecutive 70-plus point seasons, once even hitting 100.
The Hurricanes are woeful this season, and if they're to turn things around, Staal will have to pick up the slack.
Right now the Canes are last in the Eastern Conference, but only 10 points away from the playoffs.
It's on their captain to lead the way.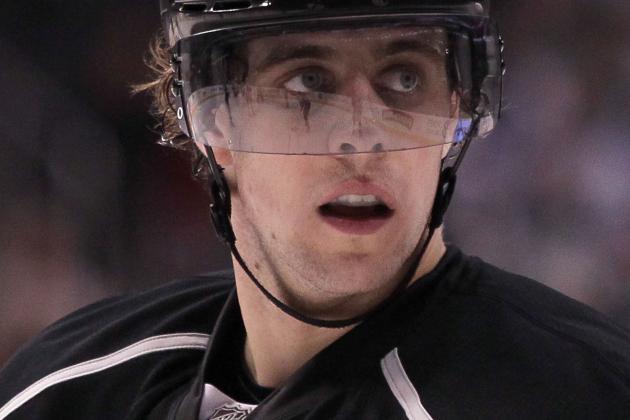 Victor Decolongon/Getty Images

The Los Angeles Kings star Anze Kopitar is underrated.
This season he's been doing it all for his club.
He leads the team in goals and assists, but he can't do it all by himself. This being said, he has to play out of his mind down the stretch.
Some readers may wonder why he made the list—the reasoning being that it's clear that Kopitar has to carry the Kings on his back in order for them to succeed.
The Kings shook things up in the offseason when they traded for Mike Richards. While he's scored 14 goals, just one short of Kopitar's mark, he hasn't lived up to expectations.
It looks like Kopitar will have to continue to display stellar skill in order to motivate his teammates. Behind Kopitar, the Kings could be great.
Look for him to will his team into the playoffs with MVP-like play the rest of the way.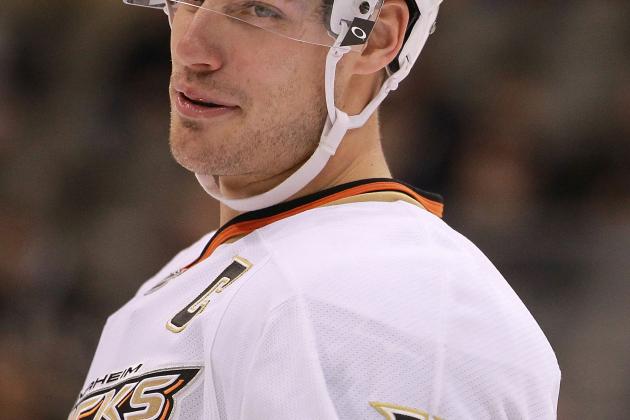 Ronald Martinez/Getty Images

Led by Ryan Getzlaf, the Anaheim Ducks have been a giant disappointment this season.
Although the team is 8-1-1 in their last 10 games, they only have 43 points.
Getzlaf only has eight goals and 26 assists on the season. He's been paid just under $3.4 million dollars for eight goals thus far. Pitiful.
Getzlaf needs to pilot his team through the next few months by dominating opponents on the ice. He's too big and strong to have a measly eight goals.
His team is too good to have just 43 points.
If the Ducks are to make a statement, Getzlaf will have to make one to his team about their play.
Without one helluva speech, Getzlaf will begin to lose his teammates' faith in their captain.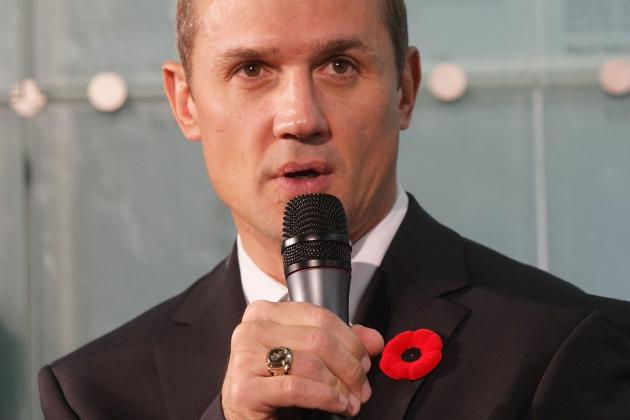 Bruce Bennett/Getty Images

Steve Yzerman may no longer play in the NHL, but he is the GM of the high-powered Tampa Bay Lightning.
After being a game away from the Stanley Cup Finals last season, the Lightning are now a point away from being the worst team in the Eastern Conference.
Yzerman must make something happen before the trade deadline.
Despite having sniper Steven Stamkos lead the league in goals, the Lightning have a goal differential of -29.
Yzerman's team needs a goaltender in the worst way. A bold move is needed and should be in-store. His identity as a GM will be defined by the rest of this season.
The Lightning have entirely too much offensive talent to let it waste away.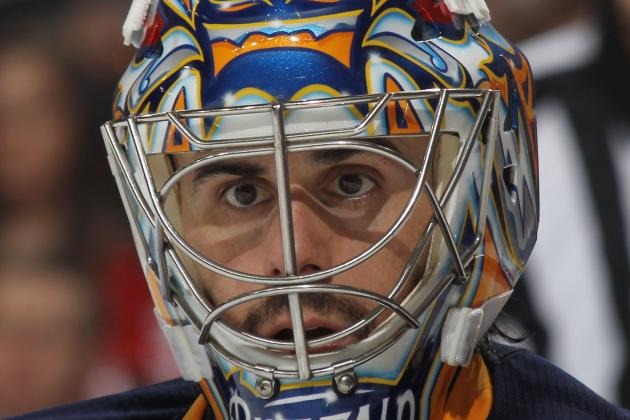 Bruce Bennett/Getty Images

What happened to the Buffalo Sabres this year?
They looked great on paper but have been anything but on the ice.
A rash of injuries doesn't help their cause, but Ryan Miller and the Sabres have been dreadful all season long.
Miller's 12-15-2 record and .899 save percentage says it all.
It's become evident that there is more than discontent in the Sabres' locker room.
If Miller doesn't display better play in the couple weeks between the All-Star break and the February 27 trade deadline, he could be out of Buffalo.
After all, plenty of teams would be willing to take on his $6.25 million dollar/year salary for the next two-plus seasons.
Don't be too shocked if this does indeed happen.