Oklahoma Football Recruiting: Tracking 2012 National Signing Day Targets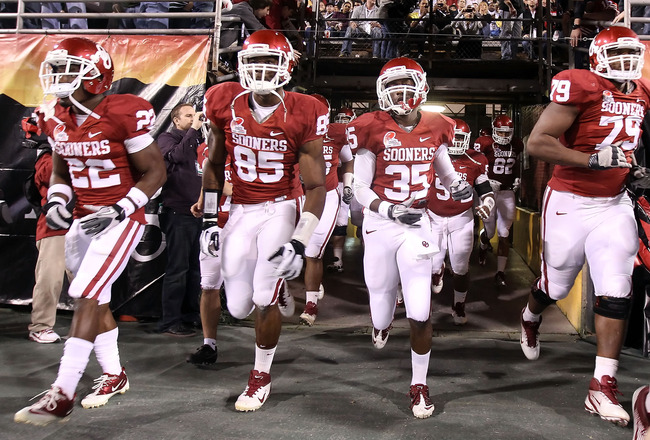 Christian Petersen/Getty Images
With National Signing Day (Feb. 1) just around the corner, teams officially have just a few days left to wow their recruits with hopes of getting a few last-minute commitments.
For the Oklahoma Sooners, a top-10 recruiting class isn't out of the ordinary, but with a few more commits, this class has a chance to be pretty special.
Currently ranked No. 9 via Rivals and No. 10 via ESPN, Oklahoma's 2012 recruiting class is loaded with talent. The Sooners have nabbed just one 5-star recruit so far, but nine 4-star recruits (three of which are wide receivers) and five players in the ESPN Top 150 make the Sooners a threat for the next few years.
The following slides are comprised of guys who are still considering Oklahoma and those who have already verbally committed.
Keep checking back for updates on where each player has signed.
Dorial Green-Beckham, Wide Receiver, Hillcrest High School, Springfield, MO
Dorial Green-Beckham is one of the most physically gifted wide receiver recruits to come out of high school in a long time. While the consensus remains that Green-Beckham is favoring in-state Missouri and SEC stalwart Arkansas, Oklahoma is definitely still on the radar.
Green-Beckham will be the coveted prize for any team he elects to choose. He is the top-ranked wide receiver recruit in the country and the No. 1 overall recruit according to Rivals.
At 6'6" and 220 pounds, Green-Beckham is the total package. He has the frame to be a possession receiver and red-zone threat, but he also possesses 4.4 speed.
In high school Green-Beckham caught 300 passes and scored 75 touchdowns in his career. He also holds the high school record for career receiving yards with 6,353.
Fingers crossed.
Committed to Missouri on 2/1
Nelson Agholor, Wide Receiver, Berkeley Prep School, Tampa, FL
While Nelson Agholor may not be of the same mold as Dorial Green-Beckham, he is still one of the top receivers in this class and would be a tremendous pickup for the Sooners.
At 6'1" and 180 pounds, Agholor is a speedy receiver that is hard to defend in the open field. In high school Agholor doubled as a wide receiver and a running back, which undoubtedly makes him a gifted, shifty runner.
ESPN currently has Agholor as a 4-star recruit and the sixth best receiver in the 2012 class, but Rivals has Agholor listed as a 5-star recruit and the third best receiver in the 2012 class.
Agholor is multi-talented and would likely be tested out at numerous positions at Oklahoma. His size and speed even make him a possible candidate for a safety position, but my guess is that Agholor would prefer to stay on the offensive side of the ball.
I have been noticing that Agholor has been referencing current Oklahoma players such as Kenny Stills, Brennan Clay and Tony Jefferson via Twitter, so maybe that's a good sign for Sooner fans.
Committed to USC on 2/1

Gary Simon, Cornerback/Athlete, Gibbs High School, Saint Petersburg, FL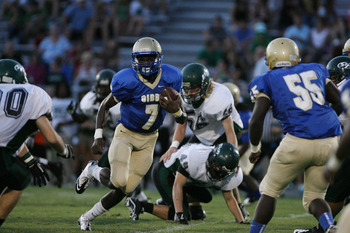 At this point Sooner fans should be ecstatic about the possibility of cornerback prospect Gary Simon choosing to come to Norman.
It comes as no surprise to know that the Sooners are in need of some serious depth and talent in their secondary, and it doesn't help that 4-star recruit DeVante Harris decommitted to enroll at Texas A&M, and 3-star recruit Kevin Peterson switched to in-state rival Oklahoma State.
It's possible that Simon could see some time at wide receiver, but with the already loaded wide receiver class the Sooners have coming in, cornerback just makes more sense.
His 6'1" frame and ability to accelerate make him a great-sized cover corner, something the Sooners desperately need upon the departure of Jamell Fleming to the NFL.
Rivals has Simon as the No. 46 cornerback.
Committed to Oklahoma on 2/1
Michael Onuoha, Defensive End, Santa Fe, Edmond, OK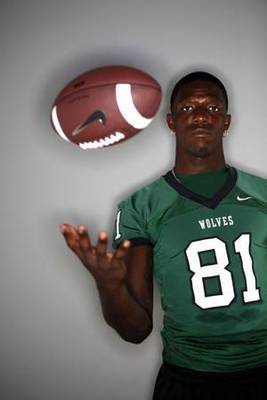 Michael Onuoha has great size at 6'6" and 230 pounds, but it was only recently that Oklahoma showed interest in the 3-star recruit out of Edmond.
Despite the in-state appeal, Missouri may have the upper hand on Onuoha. There are already two guys from Edmond on their roster, both of which escorted Onuoha around on his visits.
Up until this month Onuoha has been recruited as a tight end by Oklahoma. That comes as no surprise given his size, speed and talent, but Onuoha really wants to stay at defensive end.
In a recent interview Onuouha alluded that he was now being recruited on the defensive side of the ball at OU, as well, and that "the defensive coach" never saw his footage before.
ESPN has Onuoha as the No. 63 defensive end in the country, but I think he's just sliding under the radar. Regardless, Onuoha has a lot of upside and would be a great recruit to pick up.
Committed to Oklahoma on 2/1
Colin Blake, Cornerback, Brandeis High School, San Antonio, TX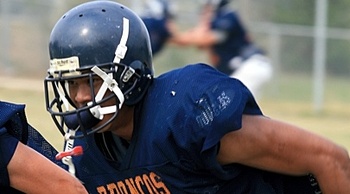 Colin Blake has narrowed his school selection down to three: Oklahoma, Florida State and TCU. Blake, the No. 30 cornerback according to ESPN, decommitted from Texas A&M just over a week ago.
At 6'2" and 180 pounds, Blake very well could develop into a safety, but his feet work and ability to flip his hips give him an advantage at the cornerback position.
Blake shows great instincts on the field, and his ability to read the quarterback and react on the play make him best in zone coverage. With cornerbacks Kasseim Everett and Zack Sanchez choosing the Sooners already, Blake would be another valuable asset to add to the Sooners' secondary.
Committed to Florida State on 2/1
Zach Banner, Offensive Tackle, Lakes High School, Lakewood, WA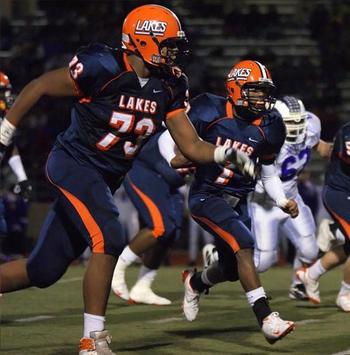 Zach Banner recently narrowed his list of possible schools down to three, and it's completely up in the air as to who the front runner is.
Banner is another guy who ESPN and Rivals have slightly differing opinions on. ESPN has Banner as a 4-star prospect and the No. 15 offensive tackle in the country, while Rivals has Banner as a 5-star prospect and the No. 2 offensive tackle in the country.
Regardless, Banner would be a great fit at Oklahoma, especially considering that the Sooners have already received verbal commitments from the No. 6 guard and No. 2 center in this year's class.
Banner is a huge prospect at 6'8" and 305 pounds. With that size, Sooner fans may be reminded of former Sooner tackle Phil Loadholt (currently with the Minnesota Vikings).
Committed to USC on 1/30

Trey Metoyer, Wide Receiver, Hargrave Military Academy (VA), Whitehouse, TX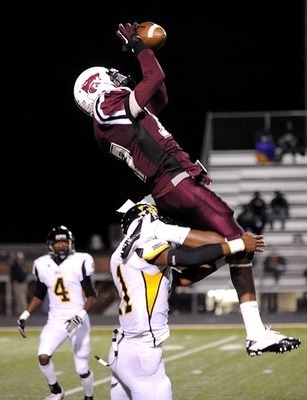 Trey Metoyer is the cream of the crop for the Oklahoma Sooners. Originally a recruit from the 2011 class, Metoyer fell victim to academic ineligibility on his way out of high school.
In order to bolster his grades and work ethic, Metoyer enrolled at Hargrave Military Academy in Virginia this past semester. At Hargrave Metoyer was able to focus more in the classroom while still being able to play football.
Metoyer is currently enrolled in the spring semester at Oklahoma. If he can keep his grades up, he should see a lot of playing time next fall.
Metoyer is the first 5-star wide receiver recruit the Sooners have picked up in the Bob Stoops era (1999-present).
Verbally Committed to Oklahoma
Sterling Shepard, Wide Receiver, Heritage Hall High School, Oklahoma City, OK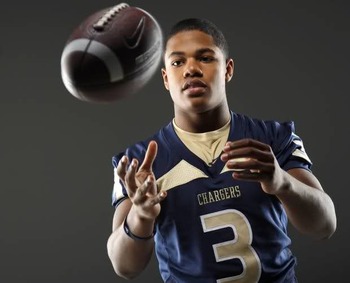 Sterling Shepard played his high school ball right down the road from OU at Heritage Hall High School in Oklahoma City.
During his senior season, Shepard caught 73 passes for 1,243 yards and 17 touchdowns while helping his team coast to an impressive 12-1 record.
Shepard is a bit undersized at 5'10" and 170 pounds, but he makes up for it with his quickness, vertical and hands. He has the ability to play out of the slot or on the outside.
With Kenny Stills and Jaz Reynolds still around, Shepard will likely see most of his playing time out of the slot where he should get a number of opportunities to produce.
His versatility should come in handy on a number of different offensive packages and kick returns. He is ranked as the No. 9 wide receiver in the country by ESPN.
Verbally Committed to Oklahoma
Durron Neal, Wide Receiver, De Smet Jesuit High School, St. Louis, MO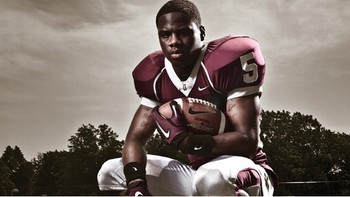 You just read that the Sooners have a commit from the No. 9 wide receiver in the 2012 class (Shepard). Durron Neal is ranked No. 10 by ESPN and is the third talented wide receiver recruit that has verbally committed to Oklahoma.
Neal is a solid wide receiver in every respect. He has decent size at 6'0" and 190 pounds, he has excellent vision which allows him to run great routes and his quickness in the open field make him a difficult player to cover.
There's a good chance that one (if not more) of these wide receiver recruits will be redshirted in the fall. My guess is that Neal will be the one to receive it. With all the returning talent, there's a good chance Shepard could see one as well.
If Green-Beckham and/or Agholor sign, this has the chance to be one of the best wide receiver recruiting classes ever.
Verbally Committed to Oklahoma
Alex Ross, Running Back, Jenks High School, Jenks, OK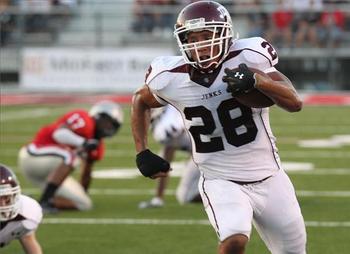 Even with all the talent at wide receiver filing in to the Sooners' program, running back recruit Alex Ross may be the most important recruit to verbally commit thus far.
Ross is a 4-star recruit out of Jenks High School, a nationally reputable high school in the heart of Oklahoma. ESPN currently has Ross ranked No. 7 in terms of running backs on the national level.
The Sooners currently have starters Roy Finch and Dominique Whaley returning along with Brennan Clay, so the amount of playing time Ross will see next season may be minuscule.
However, the addition of Ross is very important after the recent transfer of Brandon Williams to Texas A&M. Losing Williams is sure to hurt, but Ross will be able to provide depth and competition at the position.
Verbally Committed to Oklahoma
Derrick Woods, Wide Receiver/Safety, Inglewood High School, Inglewood, CA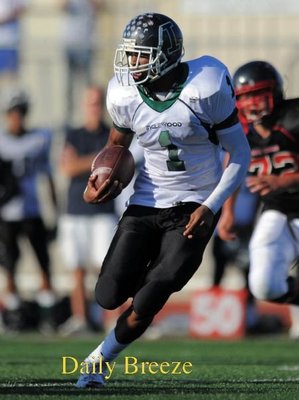 Derrick Woods is the final "true" wide receiver that has already verbally committed to Oklahoma, but that doesn't necessarily mean that wide receiver is where he'll be playing next season—even despite being ranked No. 19 at wide receiver in the 2012 class.
Woods is extremely versatile, as he played both ways in high school while also excelling as a kick returner. Due to his already familiar nature on the defensive side of the ball, I have a feeling that newly appointed defensive coordinator Mike Stoops may try to lure Woods to the secondary.
There's no doubt Woods would rather play his natural wide receiver position at OU, but like I've been saying, with all the talent both returning and coming in, Woods may be better suited as a safety or a cornerback.
Verbally Committed to Oklahoma
Ty Darlington, Center, Apopka High School, Apopka, FL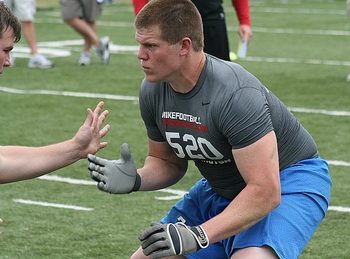 Ty Darlington, the No. 2 center in the country, is a huge pickup for the Sooners. Darlington will join an already dominating offensive line, but he won't be seeing many snaps unless an injury occurs.
The Sooners already have two hopeful All-Americans that can play center in starter Ben Habern and starting guard Gabe Ikard. Because of this, Darlington may actually be redshirted next season.
Darlington is a force on the line at 6'3" and 275 pounds, but one of his best attributes is his quickness and footwork.
The Florida native chose Oklahoma over Florida State, Miami, Auburn and LSU, and the Sooners will be happy to have him.
Verbally Committed to Oklahoma
John Michael McGee, Guard, Texas High School, Texarkana, TX
Joining Ty Darlington in Norman next season is John Michael McGee, the No. 6 rated offensive guard in the 2012 class according to Rivals.
Like Darlington, McGee sizes up at 6'3" and 275 pounds. McGee played tackle at Texas High School, but with his size, he's likely going to be a guard at Oklahoma. I can see McGee being a versatile lineman like Gabe Ikard.
McGee is a solid blocker for both the run and the pass. His quick hands allow him to get deep into the defenders' pads, letting him enforce his will and go forward rather than the opposite.
With Ikard and Adam Shead playing the left guard position, it's quite possible that Stoops and Company will move McGee to right guard, which is currently occupied by senior guard Tyler Evans.
Verbally Committed to Oklahoma
Taylor McNamara, Tight End, Westview High School, San Diego, CA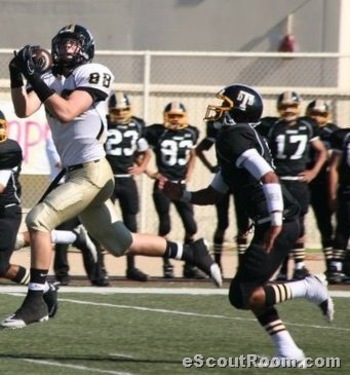 Taylor McNamara is one of the biggest recruits for the Sooners in the 2012 class. With James Hanna graduating and Austin Haywood transferring, the Sooners were in desperate need for tight end depth.
McNamara has an opportunity to come in and produce right away for the Sooners. He'll have to fight for the starting job with fellow recruit Laith Harlow and JUCO transfer Brannon Green, but McNamara has the most upside of any of them.
McNamara is the No. 7 tight end in the country according to Rivals and the No. 9 tight end according to ESPN. His 6'5", 230-pound frame makes him an ideal target for quarterback Landry Jones. His hands and route running are his two best traits, but he does have experience as an in-line blocker.
There's a good chance McNamara will be the starting tight end in the fall.
Verbally Committed to Oklahoma
Kyle Marrs, Tackle, Brandeis High School, San Antonio, TX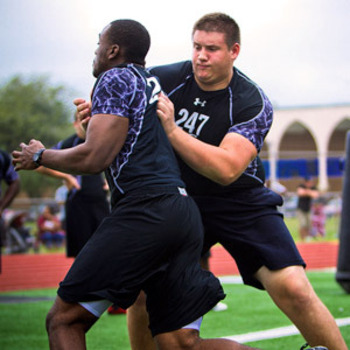 If Zach Banner decides to come to Norman in the fall, he will be joining a talented class of linemen that features another top-ranked tackle, a top-ranked center and a top-ranked guard. That means that Oklahoma has a chance to have a prolific offensive line for years to come.
Kyle Marrs is the talented offensive tackle that has already committed to Oklahoma. At 6'6" and 317 pounds, Marrs is a huge prospect. However, even though he played tackle throughout high school and is ranked No. 38 by ESPN among all offensive tackles in the country, he may be best suited as a guard at Oklahoma.
Marrs' strength and toughness make him a gifted run blocker, but his pass blocking is something that could be polished. Being that Oklahoma already has a bevy of talented underclassmen on the line, and the fact that Oklahoma runs a pass-first spread offense, it may be in its best interest to redshirt Marrs this fall.
It seems pointless to waist a year of Marrs' eligibility if he's not going to see many snaps. He has some work to do, but he has a lot of upside.
Verbally Committed to Oklahoma
Trevor Knight, Quarterback, Ronald Reagan High School, San Antonio, TX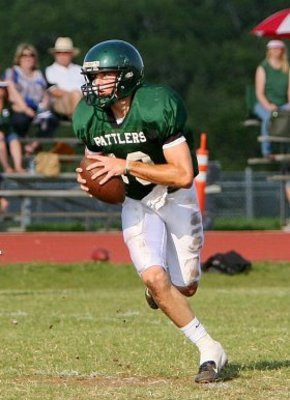 Originally committed to Texas A&M, quarterback recruit Trevor Knight decommitted last July to join the Oklahoma Sooners.
Knight is the only quarterback that Oklahoma recruited, and with Landry Jones announcing his return to school, it's likely that Knight will have a redshirt waiting for him when he arrives.
Jones already has two underclassmen backups in Blake Bell and Drew Allen.
Currently ranked as the No. 22 quarterback via ESPN and the No. 6 quarterback via Rivals, Knight may be a bit undervalued. His 6'2", 180-pound frame is a result of late blooming, so he has plenty of room to add a little weight and put on some muscle mass. Once that happens, Knight could be trouble.
As a senior Knight was able to throw the ball for 2,092 yards and 27 touchdowns while only throwing three interceptions. He also ran the ball 138 times for 943 yards and 15 touchdowns.
His dual-threat ability is somewhat of a rarity found in recent Oklahoma quarterbacks, so Knight should be able to bring something new to the table.
Verbally Committed to Oklahoma
Laith Harlow, Tight End, Godby High School, Tallahassee, FL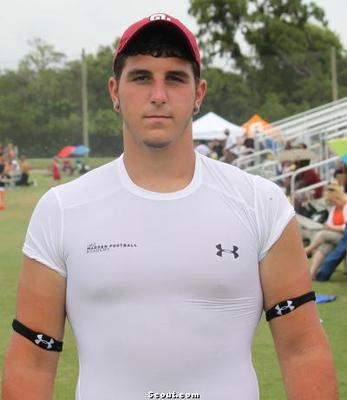 Laith Harlow is another guy who will be fighting for a starting tight end position come this fall. While Taylor McNamara may be the more highly touted recruit, Harlow's work ethic and tenacity on the field are sure to measure up.
Ranked No. 25 among tight ends in the country by ESPN, Harlow is the definition of a solid, all-around tight end. His 6'4", 235-pound frame make him a better than average receiving target, and his ability to catch the ball in traffic is a major plus as well.
However, Harlow is more than just a pass-catching tight end; his toughness and strength make him a very sound in-line run blocker, and the effort he puts forth while he's on the field is something to take notice of.
Harlow is exactly the kind of guy you want as a teammate, and he is going to work hard for the Sooners every day.
Verbally Committed to Oklahoma
Charles Tapper, Defensive End, Baltimore City College HS, Baltimore, MD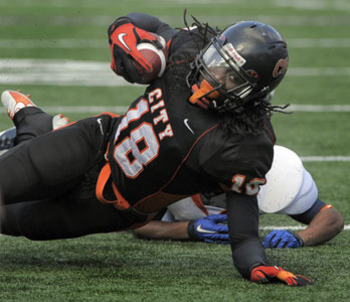 Charles Tapper is a really interesting recruit out of Baltimore, MD. His 6'3", 235-pound frame make him ideal to play on both sides of the ball, whether that's at tight end, defensive end or even outside linebacker.
Tapper is ranked No. 74 at defensive end by ESPN, and he'll likely end up playing as a hybrid defensive end/outside linebacker, much to the same degree that Ronnell Lewis was during his stint at Oklahoma.
Tapper has the strength and speed to be a good pass rusher, and in time he could develop into one of the Sooners' most versatile defenders.
The upside Tapper has is outstanding, and I'm really interested to see where he lines up come this fall.
Verbally Committed to Oklahoma
Eric Striker, Safety, Armwood High School, Seffner, FL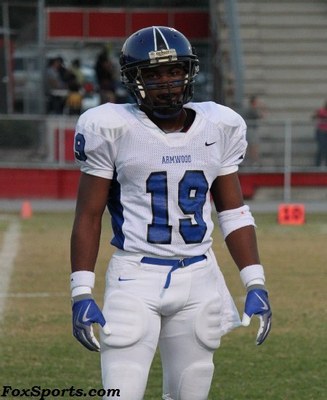 If Charles Tapper is a poor man's Ronnell Lewis, than Eric Striker is a poor man's Tony Jefferson. At 6'0" and 190 pounds, Striker is basically an undersized linebacker that will likely play the bandit or rover position.
Jefferson currently plays this hybrid position for the Sooners, and because he is a candidate to leave early for the NFL, Striker will have a lot of opportunity to learn the defense this season with hopes of starting as a sophomore.
Striker has great awareness and closing speed. He's known more for his hard hits than his defensive coverage, but hopefully a year under Mike Stoops will help him grow as a more all-around defender.
ESPN has Striker horribly undervalued as the No. 61 safety prospect in the 2012 class, but I can only assume that's because he's more accustomed to playing linebacker.
Striker could turn out to be a steal for the Sooners.
Verbally Committed to Oklahoma
Daniel Brooks, Athlete, Calhoun High School, Rockdale, TX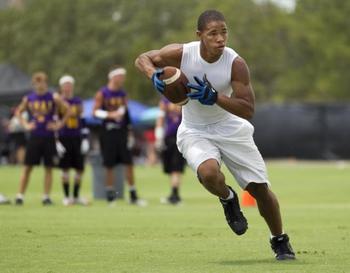 Like Tapper, Daniel Brooks is an intriguing prospect due to his overall versatility and the uncertainty of where he's going to end up playing for Oklahoma.
Rivals has Brooks as the No. 41 athlete in the 2012 class, where as ESPN has Brooks all the way down at No. 123 among all "athletes."
In high school Brooks played both ways as a running back and a cornerback, but he really excelled as a runner. Brooks is likely to going to be tried out on both sides of the ball for Oklahoma, but ultimately he'll likely end up in the backfield.
As a senior at Calhoun High School, Brooks ran the ball 96 times for 1,305 yards and 13 touchdowns. His 13.6 yards per carry prove what an asset he could be to Oklahoma. His shifty ability to move with the ball will be very similar to what Roy Finch currently brings to the table.
Brooks very well could see some playtime as a cornerback due to the much needed depth on that side of the ball, but I think the Sooners will benefit most with Brooks taking handoffs, catching screen passes and returning kicks.
Verbally Committed to Oklahoma
David Smith, Running Back, Bremen High School, Midlothian, IL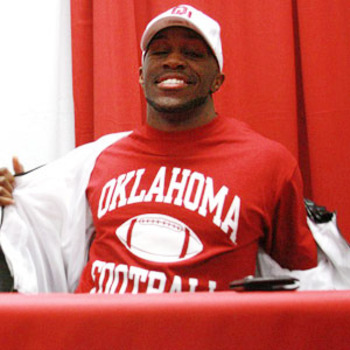 David Smith was a late verbal commitment for the Sooners, but one that they desperately needed.
After Brandon Williams transferred to Texas A&M, the Sooners decided that they needed to recruit another running back to fill up the depth chart and compete for snaps. Smith was more than happy to become a Sooner, even on late notice.
Smith is ranked as the No. 38 running back by Rivals, and is a good sized running back prospect at 6'0" and 195 pounds, but his vertical running style makes him seem even bigger.
Even though Smith possesses better than average speed (4.6 40-yard time), he's really more of a downhill bruiser than anything else.
He's great at producing yards after first contact, and he's also a more than capable receiver out of the backfield. His size, ball skills and overall athleticism make him an easy candidate to switch positions if needed, and he very well could see some time at safety for the Sooners, especially if Daniel Brooks stays in the backfield.
Regardless, Smith will find a position that suits him and he will make the most of it for the Sooners.
Verbally Committed to Oklahoma
Brannon Green, Tight End, Fort Scott Community College, Altamont, KS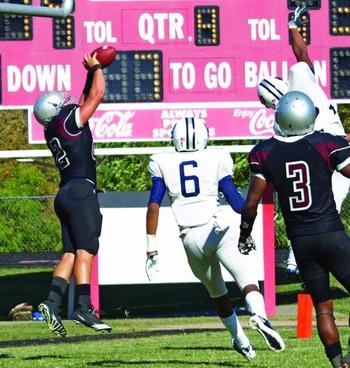 Brannon Green has played his last two seasons at Fort Scott Community College where he really excelled as an in-line, run blocking tight end. However, as you can tell in the picture, Green isn't exactly unfamiliar with being a receiver, either.
Appropriately nicknamed "Moose," the 6'4", 268-pound Green originally committed to UConn, but decommitted to join the Sooners as soon as tight end coach Bruce Kittle went to Fort Scott with an offer.
Green has signed on with the Sooners and is already enrolled for spring classes. If McNamara and Harlow keep their commitments, the Sooners will have three great tight ends ready to produce.
Fort Scott assistant coach Rico Cherico acknowledged Green's work ethic by saying that "nobody will outwork him" once he arrives on campus.
That's always good to hear.
Signed with Oklahoma
Kasseim Everett, Cornerback, Pierce College, Philadelphia, PA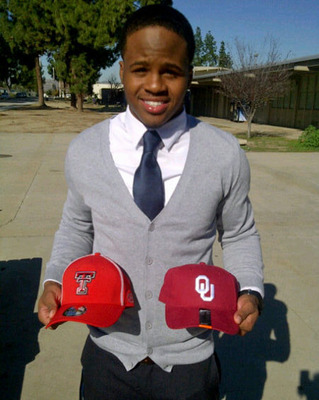 Kasseim Everett has been a bit all over the place with his decision making. Originally a part of the 2009 recruiting class, Everett initially signed with Delaware before deciding to play junior college ball at Pierce College in Philadelphia, PA.
Then just last month during the first few days of the early signing period, Everett decided that Texas Tech would be his home for the next two years. Upon a swift change of heart, Everett sent a signed fax in to Oklahoma to play as a Sooner.
I'm sure Red Raider fans are upset, but Sooner fans couldn't be more elated. The 5'11", 185-pound Everett should help out immensely in the secondary. His junior college experience should play a large role, and his leaping ability and ball skills make him an asset to the defense.
Teaming Everett up with Mike Stoops will be a great opportunity to see what this kid is really made of. Here's hoping for the best.
Signed with Oklahoma
Chaz Nelson, Defensive End, Garden City Community College, Columbus, OH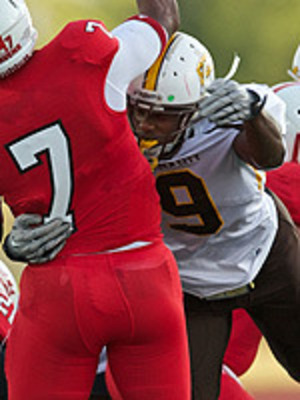 Chaz Nelson may have an immediate impact with the Sooners. At 6'2" and 235 pounds, Nelson has great size and speed at the defensive end position. With both Frank Alexander and Ronnell Lewis entering the NFL Draft, Nelson could be called upon early to play a lot of snaps.
The Sooners will likely start seniors David King and R.J. Washington at defensive end next season, but Nelson has a great opportunity to get in there and compete right away.
Nelson flew a bit under the radar, but upon signing with Oklahoma, his stock was actually on the rise. Nelson spent the entire offseason in the weight room and working on his technique, which resulted in a Division One scholarship.
Nelson joins Charles Tapper as the only two defensive ends in this year's recruiting class, but Nelson's junior college experience should earn him more right-away playing time.
Signed with Oklahoma
Will Latu, Tackle, College of the Canyons, St. Petersburg, FL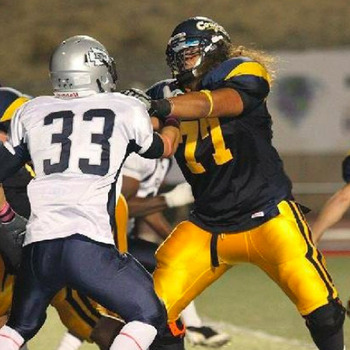 Junior college offensive tackle Will Latu is Oklahoma's most recent recruit and the Sooners' second committed tackle in the 2012 class.
After originally committing to Auburn in July of 2011, Latu had to decommit earlier this month when he found out he wasn't going to academically qualify. Being back on the market led to Latu choosing Oklahoma over Arkansas State and Utah.
Latu is a big prospect at 6'5" and 315 pounds. His athleticism at the tackle position is worth watching, and his footwork is at the top of the charts.
Is this due to Latu playing running back in high school? Probably. He averaged over 10 yards per carry! Can you imagine Latu busting through the line and running right at you?
Maybe Stoops will be able to utilize both the Belldozer and Latu in the Wildcat package next season.
Committed to Oklahoma on 1/29
Sam Grant, Tight End, Saint Edward High School, Lakewood, OH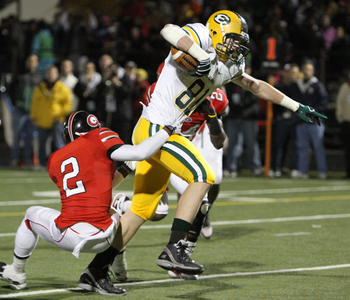 Tight end is one position that the Sooners are incredibly thin at. With James Hanna graduating and Austin Haywood transferring, the Sooners were left with a serious need at that position.
So far the Sooners have signed a JUCO tight end and have received verbal commitments from two more tight ends, but one more tight end would be great for competition and depth purposes. Sam Grant would be another great pickup for the Sooners.
Grant verbally committed to Boston College last June, but just this month he decommitted for an undisclosed reason. Grant has narrowed his selection down to two between Oklahoma and Michigan, so Sooner fans at least have a 50 percent chance at nabbing the tight end.
Grant is projected as more of an in-line tight end, but he should be able to serve as a short-route target on some passing plays.
Committed to Oklahoma on 1/30
Zack Sanchez, Cornerback, Central High School, Keller, TX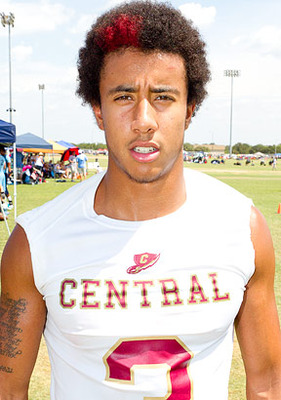 After originally committing to Baylor last July, cornerback recruit Zack Sanchez decided it would be in his best interest to decommit and choose the Sooners instead.
After losing Devante Harris and Kevin Peterson to different schools, acquiring Sanchez from Baylor has to feel a little rewarding. Sanchez joins Kasseim Everett and Eric Striker as the Sooners' only secondary recruits. However, Daniel Brooks and Derrick Woods could end up in the secondary, as well.
Sanchez brings a lot of athleticism to the table. As a wide receiver and safety in high school, Sanchez possesses the hands and ball skills to adjust on a play and make a catch. He'll need to work on his man-to-man defense as a corner, but he's already very strong in zone coverage.
This is a nice last minute pickup for the Sooners.
Committed to Oklahoma on 1/30
Damien Williams, Running Back, Arizona Western College, San Luis, AZ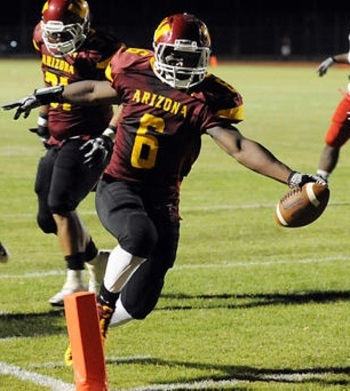 The Sooners signed another running back today—junior college stud Damien Williams. Williams was originally committed to Arizona State, but decommitted after the firing of head coach Dennis Erickson.
The Sun Devils' loss is the Sooners' gain. Last season at Arizona Western College, Williams ran for 1,931 yards and 26 touchdowns.
Williams joins Alex Ross and David Smith as the only running backs in the Sooners' 2012 recruiting class. The Sooners are finally adding some much needed depth in the backfield, and Williams could come in and produce right away.
Signed with Oklahoma on 2/1
Courtney Gardner, Wide Receiver, Sierra College, Reno, NV
To add to the already impressive list of wide receiver commits in the Sooners' 2012 recruiting class, junior college standout Courtney Gardner has decided to come to Oklahoma over Arkansas.
Gardner could be the top junior college wide receiver in the country. Last season at Sierra College, Gardner caught 61 passes for 1,099 yards and 13 touchdowns.
At 6'2" and 215 pounds, Gardner has good size for a wide receiver prospect, and he will likely challenge Jaz Reynolds and Trey Metoyer for snaps. What's great about Gardner, though, is his speed. Gardner runs a 4.4 40-yard dash, and is going to be an immediate deep threat for quarterback Landry Jones.
With Gardner joining the lineup, the Sooners may have to think about redshirting two, possibly even three of their wide receiver recruits.
Signed with Oklahoma on 2/1
Keep Reading

Oklahoma Sooners Football: Like this team?