Los Angeles Galaxy: Ins and Outs, January 28, 2012
January 28, 2012

Scott Heavey/Getty Images
Donovan sticks it to Friedel in Everton FA Cup win
You know the old saying, "Haters gonna hate." But while that saying resonates in its relevance, what's also true is that detractors have to eat crow, if at least once in a while.
Take for instance, Tottenham goalkeeper Brad Friedel, whose remarks comparing Landon Donovan to Fulham's Clint Dempsey supposedly lit a match on both sides of the argument.
On Friday, Donovan and Everton took on Dempsey and Fulham...and the Toffees punched the Cottagers out of the FA Cup, 2-1.
Donovan's two assists to Denis Stracqualursi (27') and Marouane Fellaini (73') were enough to overcome an early 1-0 deficit on a penalty by Danny Murphy.
Dempsey earned a caution in the 86th minute of play. LD 1, Deuce and Friedel 0.

Meet Old Reliable, the En Zedder
Defender Andrew Boyens is tapped to fill in the void left by a torn ACL injury to Omar Gonzalez earlier this month.
"As soon as I signed here, I saw it as an opportunity," said Boyens to MLSSoccer.com's Luis Bueno. "These guys have a great center back pairing in Omar and A.J. [DeLaGarza] and, regardless of what happened to Omar, I was hoping to be pushing for starting minutes.
"And regardless of what happens to anyone on the team that doesn't change for me. I see it as a really good opportunity."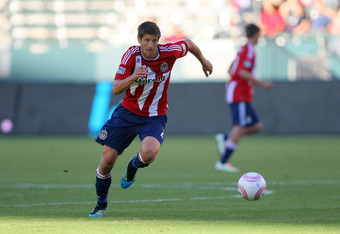 Victor Decolongon/Getty Images
Boyens knows that filling those giant shoes at center back is no small task.
"I understand about the history of this team, what they did last year, and there's an expectation to repeat that or to do as well as they did last year," Boyens added. "That's great. That kind of pressure on the team sometimes can be hard, but the guys on this team relish that pressure.
"Going into the preseason, bring it on."

Yes Way, Jose
LA Home Grown Player Jose Villareal has been used to high pressure situations, having trained in Europe. However, the possibility of shining among LA's Galaxy of stars proved too good to pass up.
"Being local and staying close to family, getting that warm feeling going home and seeing my parents made me stay here," Villarreal told reporters on Monday, according to Bueno. "I'm a technical player, going up in the attack all the time," he said. "I like to give assists and every now and then I like to score some goals, but I'm a team player."
Villareal knows that minutes on the pitch won't come easily, but will come with hours, days, weeks, and months of hard work and dedication.
"I have a bunch of friends who always ask me, 'When is your jersey coming out?'," Villareal said. "I'm just trying to stay humble."