New York Mets: 7 Great Backup Plan Free Agents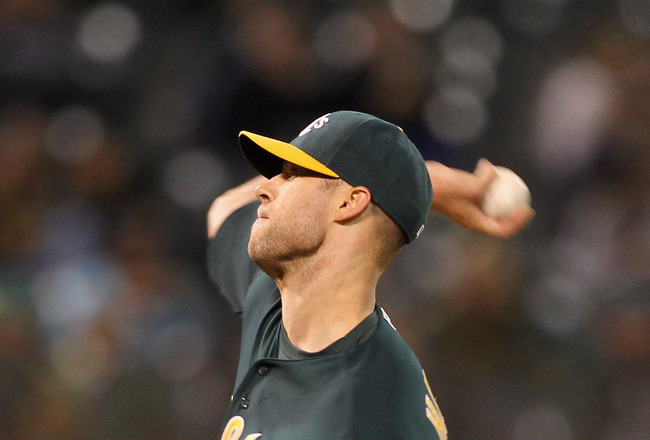 Should the Mets sign Rich Harden?
Ezra Shaw/Getty Images
Let's face it—the New York Mets have as much of a chance of making a splash in the free agent market as President Obama does in balancing the federal budget (sorry, I don't mean to get political here)—it's not happening.
Ah, how I wish for the not so long ago days when the Amazins' were actually competitive and had some money to consider spending on a viable free agent if they wanted to. Sure, it looks like they made a mistake with Jason Bay—we'll see if the shorter fences will help Bay's "power"—but at least owner Fred Wilpon had some money to spend.
Bernie Madoff put a stop to that.
Anyway, we all know the Metropolitans will struggle in 2012. They've lost Jose Reyes to free agency and may be ready to trade David Wright. Who knows when Johan Santana will be ready?
In New York, the nation's largest market, they have to stay somewhat competitive though or CitiField will bring back the days of Grant's tomb—named for former Mets Chairman M. Donald's Grant in the late '70s—when Shea Stadium was like a ghost town after the trade of the future Hall of Famer Tom Seaver.
The Mets wanted to sign Cody Ross, but he recently inked a deal with the Red Sox. Let's be honest—there is nothing too exciting here. We all know the Mets could never compete for an Albert Pujols or a Prince Fielder.
With that being said, here are some free agents that could help New York in the short-term and not cost the financially-strapped club too much money (the Wilpons love that).....
No. 7: Xavier Nady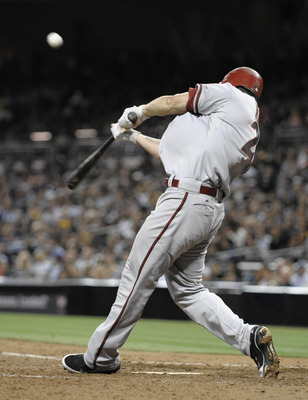 Denis Poroy/Getty Images
A fractured left hand ended Nady's 2011 season with Arizona in August, but he has recovered and can help the Mets as a backup first baseman/outfielder.
The former Met (2006) batted .248 with four home runs and 35 RBI in just 206 at-bats last year and owns a career. 275 batting average. He's 33 years old and had a stellar line of 25-97-.305 as recently as 2008. He's not over-the-hill quite yet.
Everyone knows that Nady is not a long-term solution. Not by any stretch. For one year, however, the 10-year MLB veteran can back up Ike Davis at first base and Lucas Duda in right field as a right-handed hitting option off the pine.
No. 6: Rick Ankiel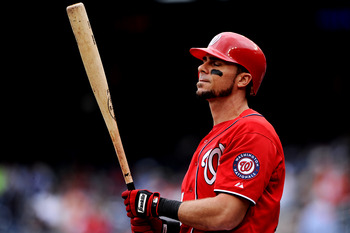 Patrick Smith/Getty Images
The 32-year-old outfielder hit just .239 for the Washington Nationals last season but added nine HR and 10 stolen bases and is an excellent defensive outfielder.
Ankiel added 20 doubles and is a line-drive hitter, which would play well in CitiField. Andres Torres is slated to be the Mets opening day starter in centerfield in 2012, but the former Giant hit just .221 in 112 games so Ankiel can add a little more pop off the bench or even challenge Torres for the starting gig.
The Mets would not lose anything defensively either, as Ankiel committed just on error in 255 chances for a stellar .996 field percentage with nine assists. Everyone knows what a rifle arm Ankiel owns from his days as a wild, but hard-throwing southpaw for the Cardinals.
Hey, when the Mets are out of the race in August, they can even invite Ankiel to toe the rubber and pitch an inning or two to liven things up a bit at CitiField. At least it would be fun to watch.
No. 5: Kosuke Fukudome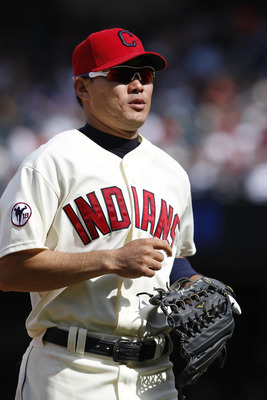 David Maxwell/Getty Images
The Osaki, Japan native has a good eye at the plate as his career .361 on-base percentage attests. Fukudome split time between the Cubs and Indians last season and batted .262 with eight HR, 27 doubles and three triples.
Fukudome won't overwhelm you with power potential, but he gets on base and can help the Mets off the bench as a backup outfielder or viable pinch-hitter. His price tag should not be too exorbitant, and for one season the four-year veteran can be pretty productive.
He is considered to be an average defensive outfielder with a .987 fielding percentage with adequate range. Fukudome is nothing special but can hit some line drives into the gaps of a still cavernous CitiField (although not as cavernous as last year). He's a little boring but also a solid professional, so he's worth a look.
No. 4: Yoenis Cespedes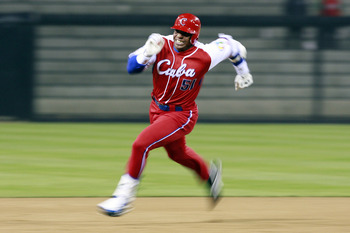 Jeff Bottari/Getty Images
Why not dream?
It's highly unlikely the Mets would ever sign the Cuban dynamo now that he is a free agent—he'll be too expensive (the kiss of death for the Wilpons, of course)—and the Miami Marlins are hot on the trail of the 26-year-old centerfielder. As are several other teams.
Cespedes is considered a five-tool player—as Kevin Goldstein of Baseball Prospectus called him, "arguably the best all-around player to come out of Cuba in a generation."
The former Cuban national team player would add a wealth of excitement to a team that is still staggering from the loss of Jose Reyes. In 90 games last season, Cespedes belted 33 HR, knocked in 99 runs and hit .333. He's considered a can't-miss prospect.
I'd be stunned if the Mets ever signed him, but what a grandiose idea it would be. At least it would give Mets fans a glimmer of hope for 2012.
No. 3: Todd Coffey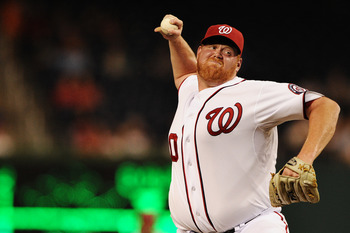 Coffey is brewing up some heat
Patrick Smith/Getty Images
Now back to reality....
The burly right-hander (6'4", 240 pounds) would be a welcome addition to an improving New York bullpen. Coffey enjoyed a fine 2011 campaign, going 5-1 with a 3.62 ERA for the Nationals. He appeared in 62 games for Washington and allowed just 55 hits in 59 2/3 innings.
Coffey was especially tough against right-handed hitters, allowing just a .193 average in 41 2/3 innings pitched for the Nats. He'd be a welcome addition as a hard-throwing middle reliever, joining Bobby Parnell, Ramon Ramirez, Tim Brydak and Jon Rauch as setup men for new closer Frank Francisco.
The Mets starting rotation is dotted with question marks, so manager Terry Collins may be going to the bullpen early and often. Coffey would add depth to a pen that could surprise some people this season.
No. 2: Chad Qualls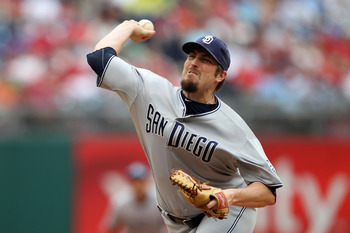 The Mets should have no qualms about Chad Qualls
Hunter Martin/Getty Images
The Mets are definitely interested in the eight-year veteran who made 77 appearances for San Diego last season.
The right-hander finished ninth in the National League with 22 holds in 2011, logging 74 1/3 innings and that workhorse pedigree would work well for manager Terry Collins. The Mets starting rotation is shaky right now, and they'll probably need to go to their bullpen quite often this season.
Qualls would give Collins a veteran presence, and he also has closer experience, registering 24 saves for the Diamondbacks in 2009. He does not have a power arm as his 43 K's last season attest, but he's steady and induces a lot of ground balls (two to one ground ball/fly ball ratio).
New York could do a lot worse as it looks to continue to strengthen its improving pen.
No. 1: Rich Harden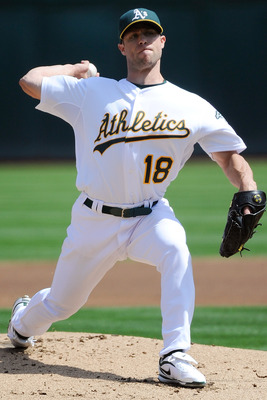 Thearon W. Henderson/Getty Images
At one time, Harden's future looked paved in gold, but injuries have derailed what looked like such a promising career. With that being said though, the Victoria, British Columbia native is still just 30 years old and still has some nice upside.
True, Harden was just 4-4 with a 5.12 ERA in 15 starts for the A's last season, but as recently as 2008, he owned a stellar 10-2 ledger with a sparkling 2.07 ERA in 25 starts. Has his stuff diminished? Perhaps a little, but note that the right-handed former ace struck out 91 in 82 2/3 innings last season. He finished 2011 healthy and can be a real bargain for any MLB team.
Why should the Mets consider signing him? He won't be overly costly, and with questions surrounding when Johan Santana will return in 2012 (if at all), the Amazins' could catch lightning in a bottle. He's worth the risk, and if he can stay healthy, Harden could really pay solid dividends.
Let me put it to you this way: Who would you rather have in the rotation? A mediocre Mike Pelfrey or a healthy Harden? My money is on the solid upside of Harden every time.
Keep Reading

New York Mets: Like this team?