UFC on Fox 2: Which Fighter Has the Most to Gain?
January 28, 2012

Although the double main event will undoubtedly garner most of the attention from fans, it will be the featured bout where we will see the fighter who has the most to gain by winning.
Chris Weidman finds himself in the UFC spotlight for the first time. The former "All-American" last competed at UFC 139 where he submitted Tom Lawlor by way of D'Arce choke.
Weidman, much like Phil Davis, is considered a can't-miss kind of prospect.
In his UFC debut, Weidman took on Italian boxer Alessio Sakara. Not only was Weidman able to utilize his wrestling, he performed pretty well on the feet against the former pro-boxer.
At UFC 131, Weidman followed his impressive debut and obtained submission of the night honors with a standing guillotine choke.
This Saturday in Chicago, Weidman could see his stock in the company skyrocket as a result of stepping up due to injuries.
When Mark Munoz was forced out of his scheduled bout with Chael Sonnen, the UFC officials decided to bump Michael Bisping up to the co-main event which left Demian Maia without an opponent. After the initial rumors had settled, it was revealed Weidman would be stepping up to face Maia.
Maia will be Weidman's greatest test to date. Maia's jiu-jitsu is one of the best in MMA, let alone the middleweight division. He's been working on his standup game considerably since the Anderson Silva bout which is where we may see this fight end up.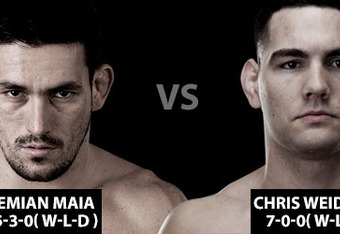 Weidman will have the confidence to take Maia to the ground but will his top control be able to neutralize the dangerous submission game of the Brazilian?
If Weidman manages to defeat the former number one contender, Weidman could see his name start to appear "in the mix."
All the men in the main bouts are guaranteed a title shot should they win. The winner of Maia-Weidman is guaranteed nothing, but Weidman will go from blue-chip prospect to title contender overnight with a victory.
Besides defeating someone the caliber of Maia, just imagine the idea that Weidman would be defeating one of the best jiu-jitsu practitioners in the world in just his eighth professional bout.
That'd be quite an accomplishment for the 27-year-old Weidman whose stock stands to gain the most with a victory.