My Phone Call with Joe Paterno
January 27, 2012

Patrick Smith/Getty Images
As I sat in my 20-foot college dorm glued to my laptop amongst a mass of blueprints, sketches, and a half drank tumbler of coffee, my eyes began to wander out the window and then to the little piece of paper taped to my desk.  It had only two words on it: Joe Paterno.  
Directly under his name was a smudged ten digit number.  Not just any combination of numbers, but the telephone number of Joseph Vincent Paterno, legendary Penn State football coach.  I reached for my phone... then reached away, my heart racing.  
Questions ran through my mind.  Would he answer?  What would I say?  Would he be upset? Finally I gathered my courage and dialed the number.  Two rings and an eternity later, I heard a voice on the other line.  A voice recognizable to anyone who had ever followed college football in the past half-century.
I couldn't believe it.  I was on the phone with Joe Paterno.  Mere weeks after the Penn State sex scandal and the loss of his job, this man was answering a phone call from a random cell phone with a Chicagoland area code.  
As I stumbled over what to say, I finally managed to stutter out "Mr. Paterno?  My name is Jason Parini.  I've always been a huge fan of yours, and I still am."  
As he humbly thanked me, I began to explain why I was calling.  Though it must have been a relief for Coach to be interrogated about something other than Jerry Sandusky, his firing, or his health, I'm sure that a college student's independent project on stadiums wasn't exactly the highest of his priorities.
Much to my surprise however, Mr. Paterno made himself available on an early December morning.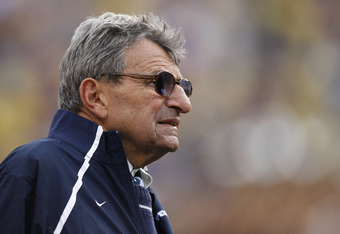 Joe Robbins/Getty Images
Joe Paterno didn't just care about his players.  He wasn't only concerned about Penn State.  He cared about everyone he encountered.  
After asking my questions on his opinion on certain stadiums that he had coached at, he then took over the interview.  I felt like a star.
Here was Coach Paterno in the midst of almost certainly the hardest time of his life, and he was asking me what I wanted to do in MY life and telling me to work for my dream.
 After mentioning that I sometimes coached football for young children, Coach and I found a common ground and continued to speak for a few more minutes.
"There should be more people like you in the world, Jason.  You take care of those children and keep working for what you want."  To this day, I still get chills when I think about those words coming from Coach Paterno.
Regardless of what may or may not have happened a decade ago, Joe Paterno was a good man.
He was a kind and caring man.  Coach wanted to help everyone that reached out to him.  The five minutes that I spent on the phone with Coach were some of the most powerful and memorable moments of my life.  
Coach shouldn't be remembered for a mistake that he may or may not have made.  He should be remembered by the lives that he touched, the same way that you and I want to be remembered.  
Rest in peace, Coach.