The 10 Best Little-Guys in College Basketball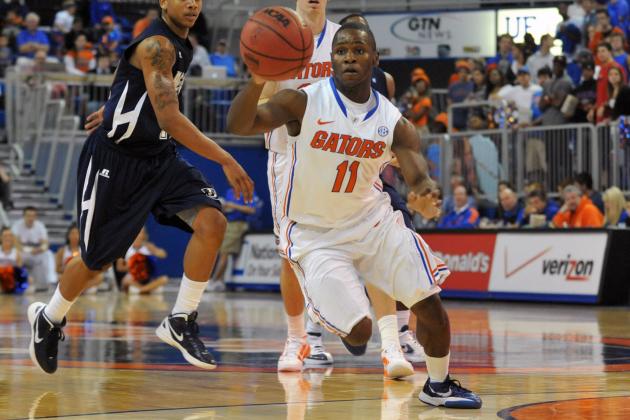 Al Messerschmidt/Getty Images

The original intent for this list was a standard criteria of 6'0" and under. That turned into a problem though. Having done lists of point guards, shooting guards and All-America teams, there were just too many of the same names.
It is not fun to just keep writing about the same people over and over, and I'm sure it's even less fun to read what appears to be almost the same list multiple times.
With that being said, "little-guys" is defined as under 6'0" for the purposes of this list. This criteria made it a much tougher list to compile, but hopefully it was worth the extra effort.
Here are the top-10 little-guys in college basketball.
Begin Slideshow

»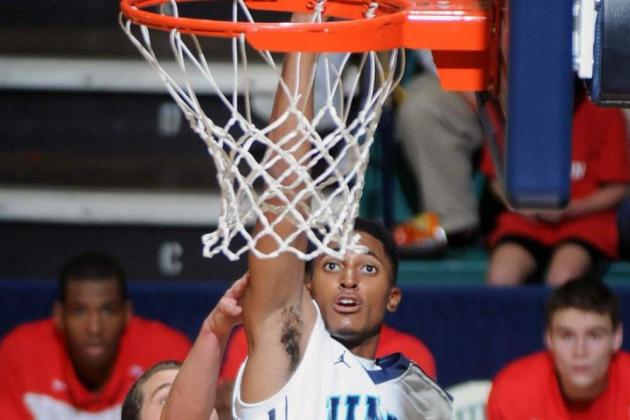 Smith is an immediate impact scorer.
Adam Smith is a name many probably haven't heard. He made the list due to a surprisingly successful freshman season which projects a lot of promise in the years ahead.
At 160 pounds, Smith was thought of as an undersized recruit who would need time to develop, but he is currently fifth among freshmen in scoring at 15.5 points per game.
He can shoot from the outside and in the mid-range game, shooting 37 percent on threes and 45 percent on two-point attempts.
In a game at Maryland, Smith scored 23 points and grabbed five rebounds. At Wake Forest a few weeks later, he put up 32 on 7-of-12 shooting from three-point range. The Seahawks were competitive in both games.
Smith has a bright future in the Colonial Athletic Conference.
Tony Gallo is short but sturdy at 190 pounds. He isn't the best shooter by any stretch, but he is a senior leader.
Gallo tops Coppin State in scoring, assists and steals. He averages 16.4 points per game, 3.9 assists and 1.5 steals.
While he isn't the most accurate shooter, he brings his game to another level against top competition. In games against UConn, Oklahoma, Purdue, Illinois and St. Joe's, Gallo averaged 20.4 points and 5.0 assists per game, shooting 47.4 percent from the field and 38.6 percent on threes.
Gallo can play at both ends of the floor, and despite his short stature, he has great scoring ability.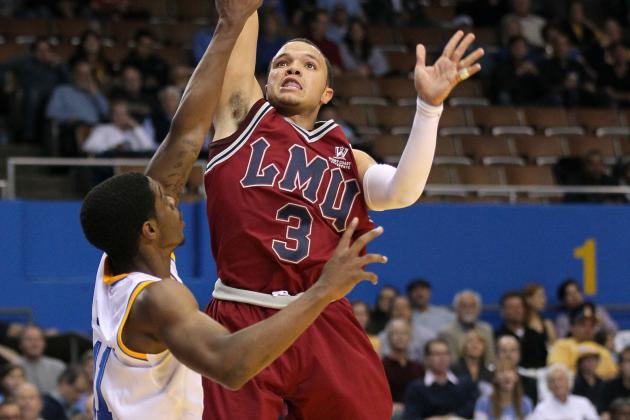 Stephen Dunn/Getty Images
Ireland can create for himself and his teammates.
Anthony Ireland is another guy that isn't well known in most circles. He plays in the West Coast Conference and is overshadowed by the likes of Saint Mary's Matthew Dellavedova.
In a highly competitive league, Ireland ranks third in both scoring and assists, averaging 15.8 points and 5.1 assists per game.
He is a tough-minded player who competes hard every night and is very versatile. He also averages 3.7 rebounds and 1.6 steals a game while shooting 38 percent on threes.
Ireland was named to the WCC All-Freshman team and he has significantly improved from last year.
After a nice season at Hofstra, Chaz Williams has really exploded at UMass.
Williams has been a one man wrecking crew for the Minutemen, averaging 15.9 points, 5.9 assists and 2.2 steals per game. He is also shooting just a shade under 40 percent from three-point range.
He is great on both offense and defense. He harasses opposing point guards on defense, and offensively he can shoot from deep and is explosive off the dribble.
Williams looks like one of those college guards that changes the entire complexion of his team.
D.J. Cooper is a name some people may remember from the 2010 NCAA Tournament.
As a freshman, Cooper led Ohio with 23 points, eight assists and three steals in an upset over Georgetown.
In his three college seasons, Cooper has averaged 14.5 points, 6.4 assists, 5.0 rebounds and 2.5 steals per game. He's shown both great and consistent production.
Cooper is a bit of a shaky shooter, but he is one of the nation's best defenders and can help his team score points in bunches. Cooper is a player worth watching if you get the chance.
The smallest player on the list, Erving Walker plays big in big moments.
In Florida's three NCAA Tournament wins, Walker averaged 18.3 points per game, drilling 10 of his 18 three-point attempts.
This season, as a senior and a leader, he is putting up 12.8 points and 5.1 assists per game. He is hitting 40.6 percent of his threes.
Walker is a fun player to watch and is hard not to root for. He is the SEC leader in assists per game, and Florida will be dangerous in March with their little floor general.
Reggie Hamilton is on the short list of most underrated players in the college game.
He had a great season last year, scoring 17.6 points per game along with 5.3 assists, topping it off with a 25 point, six rebound, five assist performance in a four-point loss to Tennessee in the NCAA Tournament.
This year all he's done is average 23.4 points, 4.9 assists and 2.4 steals per game. His percentages are down because he is shooting at such a high volume, but he is still productive. He get to the free-throw line a ton and hits 90 percent.
Hamilton may not be viewed as a big-time scorer because he plays in the Summit League, but he has great scoring instincts, body control and a smooth shooting stroke.
Hamilton can completely take over any game, and he is capable of taking an underdog Golden Grizzlies team on a run to an NCAA Tournament berth.
Anyone who has read my lists know you are dealing with a huge fan of Casper Ware.
Long Beach State played the most rugged pre-conference schedule in the country, playing road games against Pitt, San Diego State, Louisville, Kansas and North Carolina. They also played neutral site games against Xavier, Auburn and Kansas State.
They went 3-5 in those games, beating Pitt, Xavier and Auburn. They lost to San Diego State in overtime, and in total they were only outscored by seven points. Ware averaged 19.3 points and 4.4 assists per game in that stretch.
Ware can compete on any court against any team on both ends of the floor. He is leading a group of seniors on a push to the tournament. Casper is not too friendly to those opposing him.
As a Villanova fan, I got a good look at Phil Pressey earlier this season. Needless to say, he was impressive.
"Flip" was also great against Illinois, Texas and Baylor. He sees the court the way few others do, and always finds a way to get the ball to the right guy, in the right spot at the right time. He is also a disruptive force on defense and can score when he needs to.
Pressey is running the show for arguably the most efficient offense in the nation, and Missouri will be tough to beat in every game they play.
He leads the Big 12 in steals and ranks second in both assists and assist to turnover ratio.
This was an incredibly tough choice between first and second, but Pierre Jackson just edged it out.
In a head-to-head matchup with Pressey, Jackson scored 20 points and racked up 15 assists. On the season he is scoring 12.8 points, 6.0 assists and 3.0 rebounds per game.
He is also incredibly efficient, shooting 51 percent from both the field and from three-point range.
On one of the most talented teams in the country, Jackson is arguably Baylor's leader and most consistent player.
Jackson is tops in the Big 12 in assists and three-point shooting and second in steals per game. Jackson is a key cog in the Baylor machine, even if he is the smallest.