Super Bowl 2012: Under-the-Radar MVP Contenders
January 28, 2012

Doug Pensinger/Getty Images
With Tom Brady and Eli Manning squaring off in the Super Bowl for the second time, there's little question of who the favorites will be for the game's MVP award. Between them, the two QBs have already earned three such trophies in five appearances in the big game.
As many advantages as the signal-callers have in capturing that honor, though, they're not the only viable contenders. This trio of less-heralded players could easily upstage their more famous teammates next weekend:
Jason Pierre-Paul, Giants
The key to beating any Tom Brady-led team is getting pressure on the quarterback. Pierre-Paul, fourth in the NFL with 16.5 sacks in the regular season, will be the key to that effort.
A Giants victory will almost certainly have to be a defensive slugfest like the last Super Bowl between these two teams. If Pierre-Paul racks up a couple of sacks and a forced fumble in such a contest—hardly a far-fetched stat line—he would have an outstanding case for MVP honors.
Kyle Arrington, Patriots
Even in a career year for Manning, the New York QB still threw 16 interceptions. If the Giants get behind early and have to start taking chances, the Pats secondary could be in for a highlight-reel night.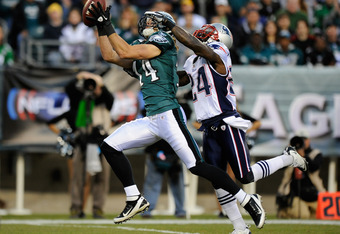 Patrick McDermott/Getty Images
In that instance, Arrington will become an immediate favorite for MVP honors. The third-year CB led New England with seven picks in the regular season, and the extra week off should give him time to recover from the eye injury he suffered in the win over Baltimore.
Victor Cruz, Giants
In the last seven years, three WRs have won Super Bowl MVP honors. No wideout in this game has a better chance to capitalize on that trend than Cruz.
The Giants' big-play specialist has built a collection of spectacular highlight-reel catches. Like Santonio Holmes three years ago, he could easily pull in a show-stopping touchdown in the final minutes to secure the award.