San Jose Sharks: 2011-12 First-Half Awards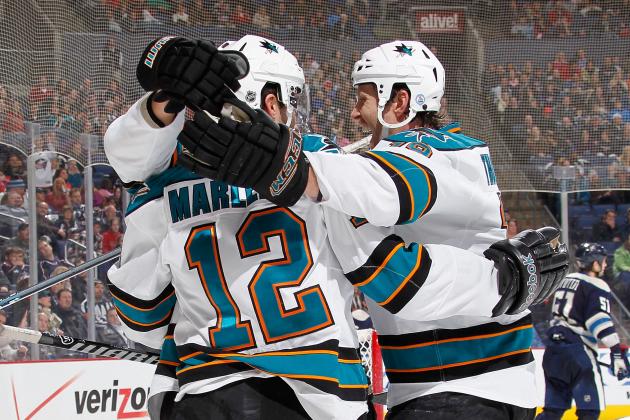 Gregory Shamus/Getty Images

Logan Couture was the last player drafted at the NHL All-Star Game.
This was no diss to the second-year stud. Nor was it an insult to the San Jose Sharks' organization.
Someone had to go last, and the young, West Coast forward happened to be the last guy called. No one can blame Daniel Alfredsson and Zdeno Chara for overlooking Couture.
But the fact that Couture was also the first, and therefore only, Shark picked to either team, that's insulting.
The Sharks have been one of the NHL's toughest teams to play for years, and are coming off their second consecutive Conference Finals appearance. At the break, they lead the Pacific Division and are in the President's Trophy hunt, as always.
Teams that win this much do so for at least one of two reasons: They have a rare superstar who carries them, or they have a large group of great players sharing the load. The Sharks fit the latter mold.
Having only one all-star, and him being the worst all-star? That isn't an honest representation of the talent in San Jose.
So, free from East Coast bias, this seems like an opportune time to give credit where credit is due by naming the San Jose Sharks' first-half standouts.
Begin Slideshow

»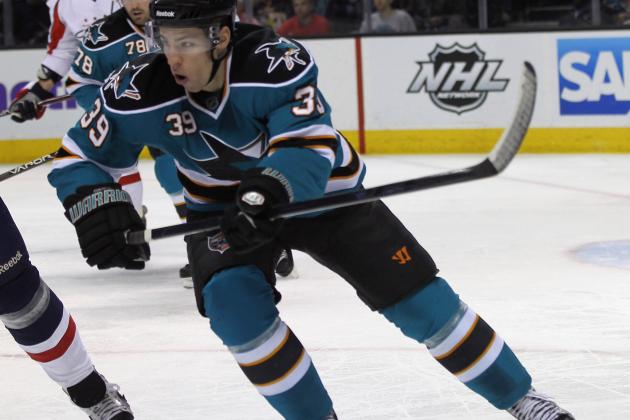 Bruce Bennett/Getty Images

So much for that sophomore slump.
After cementing his role as a key part of San Jose's core last year, Logan Couture is now establishing himself as the face of the franchise.
Not only is the 22-year-old the team's best goal-scorer, smartest forward and lone all-star representative, but he's also getting better at an alarming rate.
Couture is a three-zone forward first and foremost. His commitment to defense surpasses that of most veterans, as does his carefulness with the puck and ability to stay out of the box.
Given that, his greatest skill is putting the puck in the back of the net.
Couture finished second on the Sharks with 32 goals as a rookie, and tied for the team lead with seven in the playoffs. This season, he leads the team with 21 scores, putting him on pace for 37.
The absence of Dany Heatley and Devin Setoguchi—combined with the inherent nature of any player's second season—put Couture under a great deal of pressure heading into this season. The rookie who exceeded expectations was now expected to do a whole lot.
And he responded.
Couture isn't just leading the team in even-strength, power-play, and short-handed goals; he's also first in shooting percentage, second in game-winners, and second in points.
His nose for the puck, determination to fight for every inch, ability to move off the puck and hi sick array of shots and skating moves make it easy for Couture to score consistently.
As amazing as his goal-scoring numbers are, perhaps Couture's most impressive stat is his takeaway/giveaway ratio. He has 41 takeaways, placing him with Joe Thornton (53) and Joe Pavelski (43) as the team's masters of back-checking (no other Shark has more than 23). However, his 20 giveaways are less than half of Pavelski's 41 and less than a third of Thornton's 62.
He may be less dominant than those two in face-offs by a few percentage points, but his comically stellar steal/turnover numbers combined with his clear role as the team's go-to goal scorer make Logan Couture the clear-cut offensive MVP of San Jose's first 47 games.
Stats: 21 G, 15 A, 36 P, plus-nine, 51.8% FO, 14.7% shooting, 18:26 TOI/G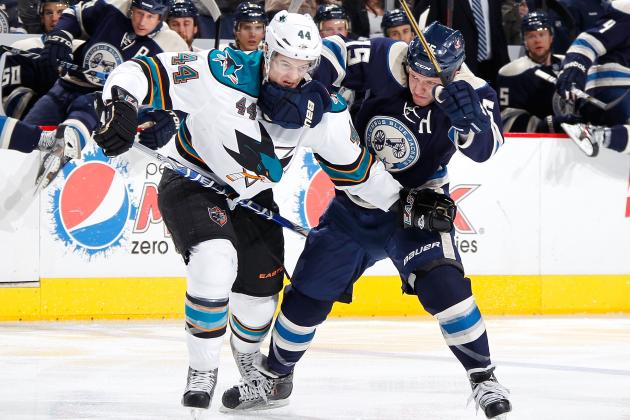 Gregory Shamus/Getty Images

After spending the first five years of his career sharing the blue line with Brian Campbell, Christian Ehrhoff, Rob Blake and Dan Boyle, Marc-Edouard Vlasic has struggled to shine.
This year, with two all-star defenseman (Boyle and Brent Burns), Vlasic still doesn't stand out on the Sharks' blue line.
That is, unless you watch the games.
The rock of Vlasic's game has always been his play in front of his team's net. Vlasic does a remarkable job of blocking shots, leading the Sharks in three of the past four seasons. He also clears the crease, gets to rebounds and communicates with his goaltender better than any other Sharks defenseman.
Vlasic also is very conscious of his body and extremities, an underrated quality in a defenseman. Maybe you see it as bad luck, but how many goals have Douglas Murray and Dan Boyle accidentally scored against themselves over the last few seasons? What about Vlasic?
Vlasic also covers odd-man rushes better than any other Sharks D-man. He always takes away one attacker rather than trying to play both guys on a two-on-one, and when he's covering a breakaway, he has the speed to get back, force bad shots and lift sticks.
The final element of Vlasic's defensive game is his penalty killing. His shot-blocking and rebound-clearing are obviously key here, but his lateral quickness, ability to get his stick down and well-timed pokes make him a force on the PK.
Vlasic is credited fairly for this. He's known around the league as a quality stay-at-home defenseman. But where Vlasic has really exploded, albeit under the radar, is in his puck-moving and offensive game.
Brent Burns may be a bigger force on the power play, but Vlasic is second among Sharks defensemen to Dan Boyle in even-strength points with 15. While he may not be explosive offensively, Vlasic makes the right decisions with the puck in the offensive zone under pressure. He's also jumping up more and going behind the net to keep attacks alive.
The combination of Vlasic's defensive prowess and growing offensive game make him a team-best plus-17, and his rock-solid coverage allows for his offensively-minded partner—whether it be Boyle or Burns—to be that much more offensively-minded.
Stats: 3 G, 14 A, 17 P, plus-17, 103 blocked shots, 23:29 TOI/G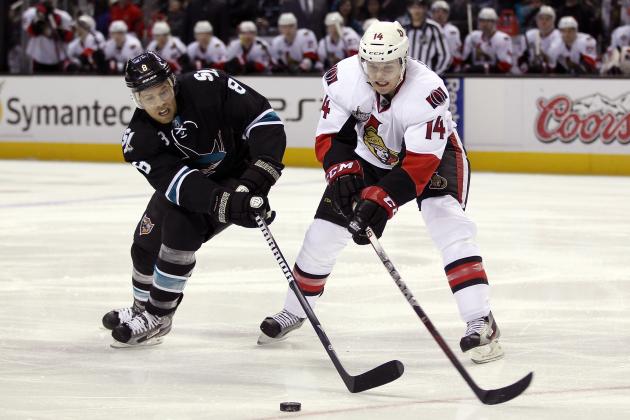 Ezra Shaw/Getty Images

This was the toughest award to give out.
Joe Thornton, Patrick Marleau, Logan Couture and Pavelski have been four of the better defensive forwards in the NHL this season.
Marleau is the only one who hits with any regularity. Thornton has the most takeaways. Couture helps the PK the most.
So why Joe Pavelski?
First of all, he leads all San Jose players with a dazzling 60.4 percent success rate on face-offs. He's won 89 more draws than he's lost this year. Pavelski also leads all Sharks forwards with 49 blocked shots. He's second on the team with 45 takeaways (Thornton has 49), but his 21 fewer giveaways make him arguably the team's best back-checker.
But Pavelski's defensive impact goes beyond these numbers. His ability to always anticipate where the play is going, no matter who has the puck, makes him a defensive machine.
If the opposition is on the attack, Pavs is always taking away their best option. He efficiently eats up space while aggressively attacking the puck, but he never gets caught out of position.
If his team wins the puck in the defensive zone, he'll always skate to the perfect spot—to the front of the net, along the boards, in the neutral zone, or break up-ice to negate an icing—depending on the situation.
His ability to disrupt his opponents on the puck, as well as help break the puck out and go the other way with it, has him tied with Joe Thornton for the best plus/minus (plus-13) among Sharks forwards.
Little Joe's passion for dirty work and defense is uncanny, especially considering the offensive impact he provides night in and night out (his 34 points rank third on the team). Bigger hitters like Jamie McGinn, better penalty killers like Michal Handzus, and less-risky puck-possessors like Torrey Mitchell are less impressive defensively when you consider their lack offensive responsibility.
Stats: 17 G, 17 A, 34 P, plus-13, 49 blocked shots, 45 takeaways, 60.4% FO, 20:54 TOI/G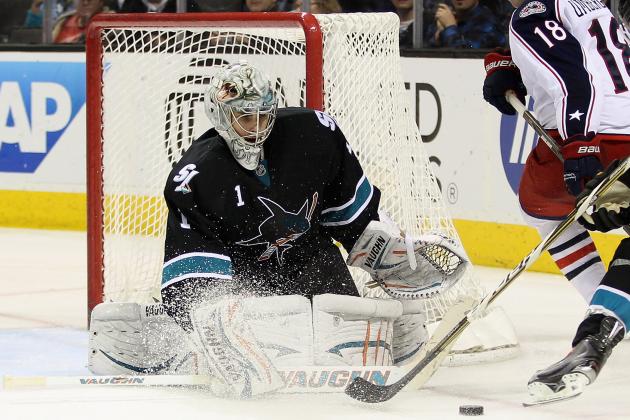 Ezra Shaw/Getty Images

It seems like a goalie who's played 16 games in a season should not be a rookie, considering a skater who's played 25 isn't.
Given that, Greiss is still technically a rookie, and although Andrew Desjardins has played well, Greiss is an easy choice here.
Greiss, who spent last season in Sweden, was Evgeni Nabokov's backup two season's ago. As light a workload as that job description entails, Greiss made a solid impression, going 7-4-1 while stopping 91.2 percent of shots faced.
After last year's backup Antero Niittymaki underwent offseason surgery, Greiss was brought back to the NHL-level. His game has clearly grown since last time we saw him.
Not only has Thomas Greiss put up numbers that leave his previous NHL stats in the dust, but his .927 save percentage and his 1.98 GAA are significantly better than Antti Niemi's (.918 SV%, 2.30 GAA).
In Greiss' 11 starts this season, he's held the opposition to one goal an astounding six times. He's allowed more than three only once, and finished with a save percentage of at least .946 seven times.
While Antti Niemi is still one of the better clutch goaltenders in the NHL and will need to be at the center of a Stanley Cup run, Greiss is certainly more than capable of giving him some key rest down the stretch while not hurting San Jose's chances of winning.
And if Niemi struggles in the playoffs, the team has a confidence in Thomas Greiss that is uncommonly received by rookie goalies, but almost customary for goalies of his caliber.
Stats: 11 GPI, 6-4-1, .927 SV%, 1.98 GAA, 2-1 SO (.714 SV%)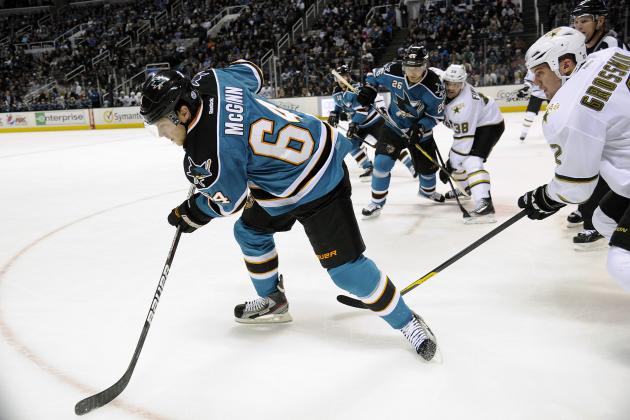 Thearon W. Henderson/Getty Images

This was the easiest award to give out.
Maybe there isn't much competition on the team, but McGinn is one of the most improved players in the entire NHL.
Heading into this season, he had played 165 NHL games, including 22 during the postseason. For his career, McGinn had tallied 41 points, a minus-seven rating and 90 penalty minutes.
He was thought of as a dirty player with little skill by many around the league. People who watched his game often saw his raw talents—McGinn has always possessed great speed, strength and a hard shot—along with lack of finesse and a terrible hockey IQ.
For some reason inexplicable to Sharks fans everywhere, Doug Wilson didn't re-sign Kyle Wellwood, let alone upgrade the Sharks' third line during the offseason. This led to Todd McLellan seeking an internal option, and the underachieving McGinn was chosen.
And did he ever respond to his coach's vote of confidence.
McGinn has scored nine goals and tallied seven assists so far this season, leading the third line in even-strength scoring. He has learned to utilize his skill set, crashing the net, fighting for inches and jumping on rebounds rather than trying to do too much with the puck.
Perhaps more impressive than his points, McGinn's plus-eight rating is in stark contrast with his marks in previous years. He's already set a career high with 25 blocked shots and 104 hits, the latter of which leads the team.
For a team that has struggled all season with physicality, speed and getting to the front of the net, Jamie McGinn isn't just an improved role player: He's becoming a vital cog.
Stats: 9 G, 7 A, 16 P, plus-eight, 104 hits, 11:57 TOI/G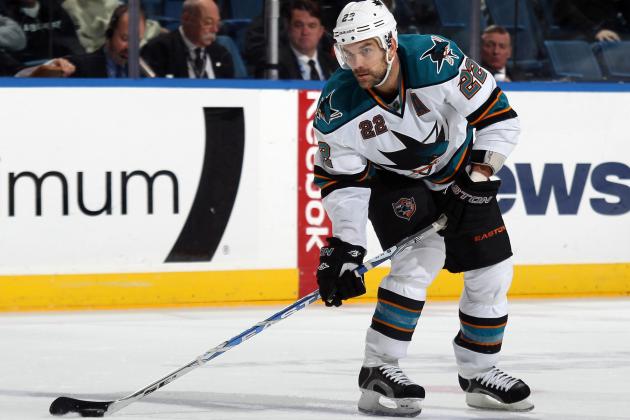 Bruce Bennett/Getty Images

Dan Boyle would not have been a candidate for this award a month ago.
During the 2011 calender year, Boyle tallied 16 points in 34 games, while accumulating a pedestrian plus-two rating. The veteran defenseman appeared to be declining. Articles were written claiming he's lost a step, calling for him to be moved and even calling into question his mental toughness.
Never mind that he's tied with Joe Thornton for most playoff points (34 in 39 games) since arriving in San Jose three years ago. Never mind that he is the best skater, passer and zone-holder on the team's blue line.
Never mind that he played through most of November with a broken foot.
On January 3rd, Boyle sat outside of the top 30 scoring defenseman in the NHL. Twelve games and 13 points later, he's up to eighth.
Dan Boyle is not declining. He's as tough as they come, both mentally and physically. He's on fire offensively despite the rest of his team being ice cold. Combine these facts with his playoff track-record, and it's already clear why Boyle is the least dispensable man in teal.
But above all else, Boyle's value is extremely practical: The Sharks are a different team with him on the ice. There's a reason he's ninth in the NHL in minutes played.
The Sharks thrive in the following areas: face-offs, puck control, size, shots on goal, offensive zone time, shots against and goals against. Dan Boyle is vital to their success in each of these categories.
Don't believe me?
Sure, Boyle never takes face-offs, but more often than not he's the guy securing the possession after his teammate wins a draw. Face-offs? Check.
Boyle's ability to stick handle, elude fore-checkers with spin moves and smoothly glide through the neutral zone is unrivaled. Puck control? Check.
The Shark's biggest defenseman, Douglas Murray, is able to play his natural size-game due to Boyle taking care of everything else when they're on the ice together. Size? Check.
Dan Boyle leads the team with 157 shots on goal due to his ability to skate east-to-west across the blue line, always finding a gap between would-be shot-blockers. When he doesn't find a gap, his sick passing skills has him second on the team in assists. Shots on goal? Check.
Boyle's puck-moving ability, lateral quickness, board-sealing ability and timing when he jumps up are imperative to the Sharks sustaining pressure. Offensive zone time? Check.
Boyle is third on the team in blocked shots, fourth in plus/minus and is excellent at clearing rebounds and moving the puck out from behind the net. Shots allowed? Goals allowed? Check. Check.
Dan Boyle is at the heart of everything San Jose does well, and his absence would spell doom more than that of any other Sharks player.
Stats: 4 G, 25 A, 29 P, plus-12, 25:43 TOI/G