Eli Manning: Why a Victory in Super Bowl 2012 Wouldn't Put Him Near Peyton
January 27, 2012

It's astonishing how quickly we can forget greatness. Just last season, Peyton Manning led the Indianapolis Colts to a 10 win-season and a division title, despite a mediocre defense and a vast array of debilitating player injuries.  
Due to the gaudy numbers Manning has put up over the course of his illustrious career, many believed the 2010 season was a step back for the All Pro quarterback. However, take into consideration the adverse circumstances he faced and one realizes that Manning put together another spectacular season.
Manning was forced to miss the entire 2011 NFL season with a serious neck injury. Manning's absence resulted in the Colts not only suffering their first losing season since 2001, but also accumulating the worst record in the entire league.  
Questions arose whether or not the Colts should move on from Manning and let the expected first overall pick Andrew Luck take over. This question has been so heavily debated that it's worn a little thin.
The new question that's been gaining steam is if Peyton's little brother Eli beats the Patriots in next week's Super Bowl, does his career surpass Peyton's?
Eli will have twice as many Super Bowl rings as Peyton and he already has a much better postseason record. Eli is also regarded as playing his best in the biggest games, while Peyton has been labeled a choker and someone whose play worsens in the postseason.
This is the only area where Eli can even be compared to his older brother. Even in this area, one can argue that Eli's Super Bowl run in '07 was due in large part to the team's defense and their tremendous pass rush.
The final drive of that championship has been thought of by many as fluky.  The key play on the drive came on a pass that Manning heaved up to a tightly covered David Tyree, who was able to miraculously secure the catch on the side of his helmet even with safety Rodney Harrison draped all over him.
Those who say Eli is a better big game quarterback than Peyton need to dig a little deeper. Before winning the Super Bowl in 2007, Eli was widely regarded as a choke artist due to his postseason failures.
Even in that Super Bowl, Manning completed fewer than 20 passes and barely achieved a completion percentage of over 50 percent.
Prior to this season, Manning failed to get the Giants into the playoffs in back-to-back seasons in large part due to his late game interceptions. In Peyton's entire 13-year career he has never missed the postseason in back-to-back years.
If you look at it, Eli has only won a playoff game in two different postseasons, this season and during the Giants Super Bowl run in '07. Every other year he took the Giants to the playoffs, they were defeated in their first game. In comparison, Peyton has won a game in four different postseasons.
Statistically, there is no question as to who has the edge between the Manning brothers. Peyton has thrown for over 4,000 yards in 11 seasons (an NFL record), has thrown for over 30 touchdown passes in a season six times and has posted a passer rating over 100 in three different seasons.
Despite playing five less seasons than Peyton, Eli has thrown over 16 interceptions in a season five times—the same as Peyton—and also led the league in interceptions in 2010, with 25.
The best passer rating Eli has posted in a single season was 93.1, which Peyton has bested on eight different occasions.
It is also lower than Peyton's career passer rating.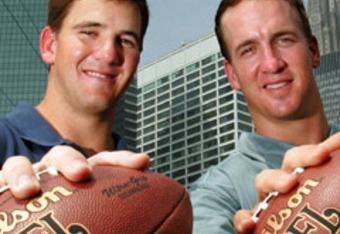 The debate is just as one-sided when it comes to awards and accomplishments. Peyton has won four MVP awards, which is an NFL record. He has also been named first team All-Pro five different times and second team three times.
This accomplishment is especially impressive considering Peyton has had to battle with fellow superstar quarterback Tom Brady for All-Pro status throughout his career.
Eli has never won an MVP award and has also never been named a first or second team All-Pro. Eli and Peyton have both won a Super Bowl MVP award and when it comes to Pro Bowl appearances, Eli has made two while Peyton has been a Pro-Bowler 11 times, including nine years in a row from 2002-'10.
The final argument as to why Peyton is still far ahead of Eli is the responsibility he bares for his team. Peyton calls every play for the Indianapolis Colts offense in a system that is advanced and mentally demanding.
He has an uncanny ability to read defenses and systematically shred them to pieces. As evidenced by this year's horrific season, the Colts go from being a championship contender with Peyton Manning, to the league's worst team without him.
Eli Manning has the opportunity to double the championship victories of his brother Peyton with a win against the Patriots in next week's Super Bowl, but championship victories do not necessarily correlate to how great a player is as there are many other factors to take into account.
Even if the Giants are able to defeat the Patriots in next week's Super Bowl, Peyton will still be the superior quarterback to little brother Eli.