Minnesota Vikings: Is Christian Ponder the Next Eli Manning?
January 27, 2012

Hannah Foslien/Getty Images
In what seemed to be a terrible idea in the 2004 NFL Draft, the New York Giants traded Philip Rivers to the San Diego Chargers along with a couple of draft picks for Eli Manning. Most critics said that it was a bad trade because the Chargers ended up with a better quarterback,Philip Rivers, and two great players, Shawne Merriman and Nate Keading.
In 2007, Eli Manning quieted those critics by defeating the New England Patriots for his first Super Bowl—something the San Diego Chargers have never won.
In what seemed to be bad idea, especially in the eyes of Mel Kiper Jr., the Minnesota Vikings selected Christian Ponder with the 12th pick in the 2011 NFL Draft. Some critics said that it was bad idea because Ponder was a borderline second rounder and the Vikings could have been more efficient with their pick.
Christian Ponder took the reigns from Donovan McNabb last season and showed many signs of a great quarterback—until he was concussed. Ponder has some red flags, but he also has some positive signs. Ponder was not surrounded by great talent throughout his first year because of injuries to Adrian Peterson, lack of a true number one receiver and pedestrian offensive line play.
When Eli debuted for the Giants in 2004, he took over for Kurt Warner—whose career was in the same place as McNabb's at the time. Eli played well, but just like Ponder, he lofted back and forth between red flags and positive signs. Eli dealt with the same issue as Ponder did in his first year—surrounded by sub-par talent.
Similarities between Christian Ponder and Eli Manning
Both Ponder and Manning were given the tag of being "NFL ready."
Both Ponder and Manning were also given the tag of having a "low ceiling."
Both Ponder and Manning put up great numbers in college without being surrounded by decent talent.
Both Ponder and Manning graduated with degrees in business: Ponder graduated with a 3.72 GPA, and Manning graduated with a 3.44. Ponder and Manning are both very intelligent with respect to the game of football, and general knowledge.
First year comparison:
Ponder played in two more games than Eli did. Ponder was able to throw for 7 more touchdowns, but four more interceptions. Ponder averaged slightly more yards per throw and was more accurate in his passing with a 54.3 completion percentage—compared to Eli's 48.2 percent completion percentage. Ponder also is a better runner and more athletic than Eli is.
The one stat that does not show here is big. Thorough research showed that Eli had a sack rate of about 54 percent compared to Ponder's 70 percent. Assuming the Vikings do draft Matt Kalil, this number should significantly decrease next season. 
In Eli's second year he produced much better and put up Pro Bowl-like numbers with 24 TD's and 3762 yards. Eli took to the Giants to the playoffs—where they were blown out by Carolina—but Eli was showing poise and promise.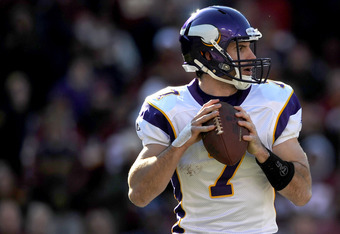 Patrick Smith/Getty Images
In 2012 Christian Ponder will have the same opportunity as Eli. The NFC North will be very competitive and Ponder needs to play at a very high level, like Eli, so he can put the Vikings in a position to win their first Super Bowl.
To all those involved with the Vikings staff and to all the fans that are worried about Ponder, look atEli Manning's early years to see that there is always room for improvement. If Rick Spielman is able to put talent around Ponder, he will thrive in Minnesota.
Conclusion:
Christian Ponder has the ability to get to the next level and play like Eli Manning. Ponder is similar to Manning when it comes to football IQ and talent—now all Ponder needs to do is to find away to translate all that onto the football field.
With some protection, a true number one wide receiver, a healthy Adrian Peterson and the growth of TE Kyle Rudolph, Ponder should match Eli's second year production—and hopefully take the Vikings to Super Bowl's the way Eli is doing now.