Ike Davis: Can He Rebound and Make an Impact in 2012?
January 27, 2012

Al Bello/Getty Images
Ike Davis has almost immediately become a favorite amongst Mets fans.
Brought up from the minors in 2010, he made an immediate impact on the team. He hit .264 that year, with 19 home runs and 71 RBIs, usually batting in the cleanup spot.
He helped what was an offensively-struggling team at the time, with José Reyes and David Wright having difficulties early in the season and losing players such as Jason Bay and Jeff Francoeur in later months.
However, despite Ike's offensive capabilities, he was most known for his defensive prowess and spectacular catches. His abilities led fans to create "I Like Ike" signs and banners at home games, a reference to former President Dwight D. Eisenhower's campaign slogan.
Last season, he began on a hot streak, hitting at least one RBI in the first nine of his 10 games—a Mets record.
He was poised to have big numbers in his first full season in the majors before suffering an ankle injury in May after colliding with third baseman David Wright on a routine pop-up. Though it didn't appear to be serious initially, he wasn't seen on the field for the rest of the season.
At the time of the injury, he was hitting .304 with seven home runs and 25 RBIs.
In June, it was believed that his ankle required surgery, but we found out in September it wasn't necessary and he was instead going through extensive rehab.
Now Davis looks to make a return and post big numbers for 2012.
The question is, can he?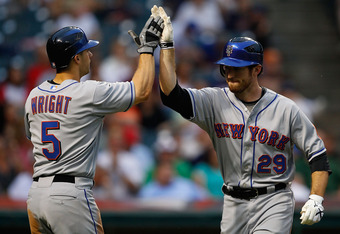 Jared Wickerham/Getty Images
Offensively, he should be just fine, although the loss of players such as Reyes and Angel Pagan, along with the long-standing rumor that David Wright may be traded, may hurt some of his numbers.
However, I am concerned defensively—his catching abilities and range are what made him a star with Mets fans in the first place.
Though his ankle did not require surgery and has gone through rehab, one has to wonder if it has made any impact towards what he is capable of, and whether or not this is the beginning of a series of injuries that plague him (think Grady Sizemore).
In 2010, his range factor per game was a 9.21, third-best amongst first basemen in the league, and made only nine errors over the course of 146 games, good for fifth-best.
Davis is still very young—he's only 24—but already he has shown that he can deliver on both sides of the game.
Provided he remains healthy, he can have a long, outstanding career with the Mets.
However, the question is, how will the ankle make an impact towards Davis?
Can he rebound from this injury and continue to deliver for a currently-depleted Mets team?