Senior Bowl 2012: Live Score, Stats, Highlights and Analysis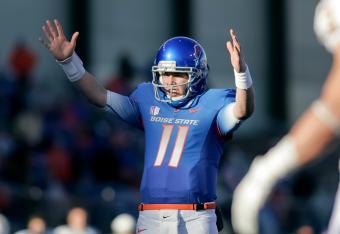 Otto Kitsinger III/Getty Images
The 2012 Senior Bowl is underway live from Mobile, Ala. Keep your browser locked here for live commentary on which players are standing out and which are seeing their draft stock flame out.
We'll have a close eye trained on the quarterbacks today, so expect plenty of analysis surrounding Kellen Moore, Russell Wilson, Kirk Cousins, Ryan Lindley, Nick Foles and Brandon Weeden as the game gets started.
A reminder, the North squad is coached by the Minnesota Vikings coaching staff and the South team by the Washington Redskins coaching staff.
The game kicks off at 3 p.m. CT and we'll be jumping into action shortly before then.
AND it's a wrap.
My vote for Game MVP would be wide receiver Joe Adams from Arkansas. Isaiah Pead, running back from Cincinnati, would be the runner up.
A programming note, we have an updated first round mock draft ready for your viewing. Thanks for keeping up with us through the game.
http://bleacherreport.com/articles/1041989-2012-nfl-mock-draft-post-senior-bowl-edition
Just two minutes left in the game, so we're wrapping this baby up nicely.
A quick list of players who stood out in practice but maybe not the game:
Brad Smelley, FB, Alabama
Mike Brewster, OC, Ohio State
Brian Quick, WR, Appalachian State
Marvin Jones, WR, Cal
Melvin Ingram, DE, South Carolina
Mike Martin, NT, Michigan
Audie Cole, ILB, NC State
Keenan Robinson, OLB, Texas
Janoris Jenkins, CB, North Alabama
Brandon Weeden in to end the game for the South with four minutes left.
Shows a deep drop and strong drive off the ball, but Weeden underthrows Dwight Jones and the pass is easily intercepted. A poor throw by Weeden and a poor route by Jones, who didn't' fight back to the ball.
Kirk Cousins in and gets hit hard by Melvin Ingram off the line. Ingram has been closing on the ball like a champ this week. A nice job by Cousins to throw a replacement pass underneath.
Here's Isaiah Pead again, with great open-field moves. He can make guys miss for sure. Like the way he bounces to the outside and then gets up field.
Every time Kellen Moore one-hops a pass to the flats, you get further justification that he's not an NFL quarterback. But hey, I hear the CFL pays well these days!
Malik Jackson slow plays very well off the edge, which is what you want to see from an attacking defensive end who could convert to outside linebacker. He's playing his assignment and being patient, not over-running the ball.
Boom Herron (great nickname, BTW) running hard inside and can bounce off first contact. He does run with his head down too often. If he can learn to keep his eyes up, he'll find second chances.
Zach Brown is so fluid in space, but he has to take on contact better and get off blocks. As I type this, he takes on a pulling fullback and stops the run.
Fullback Bradie Ewing (Wisconsin) was my favorite interview of the week. A great kid, and he made a great catch up the sideline. Ewing has very good value as a blocking/catching fullback.
Quinton Coples is starting to win the battle against Osemele on the left side. Again, Osemele is a guard prospect, so taper your expectations of what he can do against a big pass rusher in space.
Interesting to see Doug Martin back on kick returns. That's not a role I would have put him in, but it's good to show teams he has some special teams value as a complementary running back.
Here comes Kellen Moore, and once again he checks down—this time to Michael Egnew at tight end. Egnew had a very blah week of practices. He's not a blocker, but can work in space.
Moore has all day to throw and looks to the middle, but throws into coverage. He was lucky the ball was only batted away, and that a pass interference call was made.
Seeing Kelechi Osemele work at right tackle, and he's holding his own against the best Quinton Coples can dish out. This is a great match-up that accurately shows Coples' ability against a tackle prospect. So far, Osemele is winning.
Not a fan of watching Nick Foles try to look to the side, re-set and then throw to the middle. Rarely is he consistent and under control.
Joe Adams is the MVP of this game. He just keeps making plays. Very slippery once he has the ball and doing very well against zone coverage. When you put a body on him he's easier to contain, but if you keep him in the slot he's going to be tough to cover. There is some Wes Welker-like ability here.
Cordy Glenn had a good week and hasn't had his name called much in the game, which is always a plus for an offensive lineman. He looks like a starting left guard or right tackle, depending on the scheme, and is worth a first-round pick.
Juron Criner showing good hands. I still worry that he can't separate in the NFL though. The cornerback, Donnie Fletcher, made a poor play on the ball.
At the end of the 3rd Quarter, the North Team leads the South 20-6.
Best players so far: Joe Adams (WR-Arkansas), Bobby Wagner (OLB-Utah State), Brandon Weeden (QB-Oklahoma State), Doug Martin (RB-Boise State)
I have to note again, for the newcomers, that Coples has played across from a future guard in the NFL, Senio Kelemete. Let's not get too excited about plays that wouldn't be made against a quality college tackle.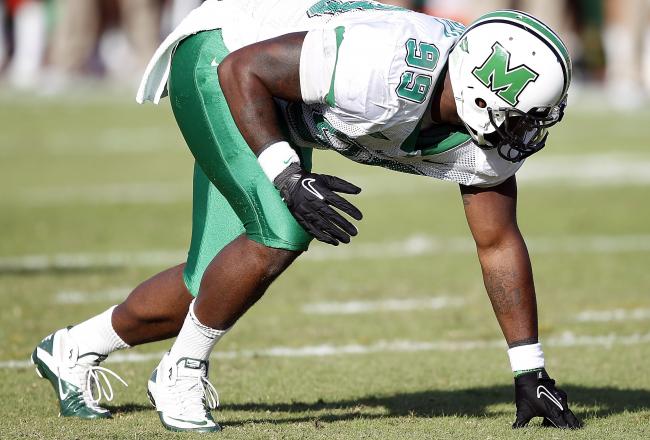 Bobby Wagner has three special teams tackles today. He's a gamer.
Vinny Curry with a nice sack on Foles. He beats Zebrie Sanders at right tackle with a power move and closes on the quarterback in a hurry. Sanders looks lost on the right side, he looks more like a left tackle to me in terms of footwork and strength.
Foles makes a risky throw into coverage, but the ball is very well thrown to Juron Criner sitting down in a zone. Nice pitch-and-catch, but two yards short of a first down—which they pick up on a simple outside slant route the next play.
Watching Foles you notice his feet move much more than his shoulders, so he's not re-positioning himself. He's fidgeting, almost. Again, this has to get cleaned up before he's a starter in the NFL.
I think Kellen Moore was throwing to Chris Polk in the flats, but we're really not sure. It wasn't pretty.
Nice to see Moore under center during this series, showing he can take snaps in-line. Moore's footwork did look good this week coming out of center and taking his drop steps. That part of his game is up to par.
Melvin Ingram gets in on some action, showing up after a strong week of practice. The South offensive line doesn't feature much talent, and Ingram (along with Upshaw and Coples) destroyed them this week in practice.
Once again, Joe Adams. This kid is making plays all over the field.
LSU guard Will Blackwell looking smooth at guard. He's agile enough to slide laterally and looks to pick up defenders in space. And as I type this, he's called for a false start.
Cam Johnson was noted by the NFL Network as a "Making Money" guy this week, but I didn't see it. Johnson was slow off the ball and tried to be a speed rusher, something he's not.
Foles footwork is very choppy. He hops a lot in the pocket, but not bouncing on his toes like an Eli Manning. It's very, very odd. He needs this fixed.
And right on time, there's Courtney Upshaw beating Mike Adams for a sack. Adams did a nice job but gave up too much ground and didn't maintain his block. You can call this a coverage sack, but Adams needed to drive Upshaw away from the pocket.
Chris Rainey made a few nice open-field moves, but he's not showing much burst today. Isaiah Pead has been the better return man in the game.
Haven't typed the names Melvin Ingram or Courtney Upshaw much today. Don't worry, there's a reason NFL scouts leave Mobile before Thursday's practices.
All-star games are fun, and the practices are valuable, but the game means little. With the limitations on coverages and blitzes, production in today's game doesn't hurt or help prospects much.
Ingram was the more impressive of the two during the week, showing a bull rush that will push the pile in the NFL. Upshaw is more solid, and safer, but he's not as dynamic.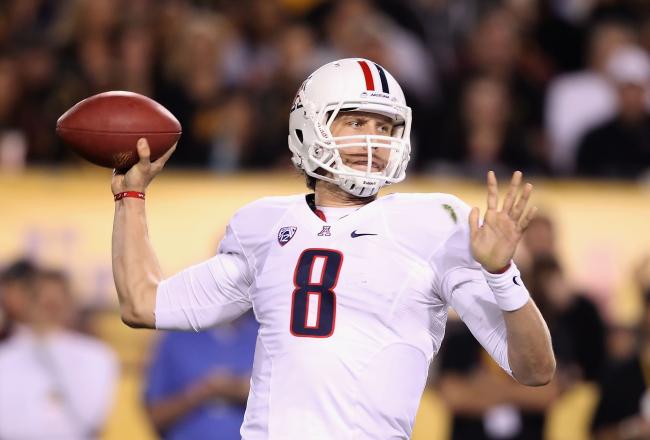 Nick Foles has the arm, but his footwork has been the issue. With checkdowns and swing passes you don't get to see the issue as much, but there isn't great follow through on his throws. Can this be fixed? You betcha.
It's Nick Foles, all the time, around here right now. Andrew Kulha breaks down his strengths/weaknesses in this scouting report.
What Foles does poorly is set and drive, which he didn't do on the third-down toss over the middle. In the NFL, that's intercepted.
Doug Martin looking good this week, and today. One back called him an "Emmitt Smith clone". While that may be a bit of a reach, people think highly of Martin.
Nick Foles does have a strong arm, and that showed getting the ball outside. Another guy with a strong arm, Kirk Cousins. Have to like what this kid can do when he's not pressured.
Joe Adams name keeps getting called, and it's because he's always open. I can't wait to see what he does in an NFL scheme. Looking for a slot receiver? Adams is a stud.
Good back-field moves by Vick Ballard, showing he can make people miss in the hole.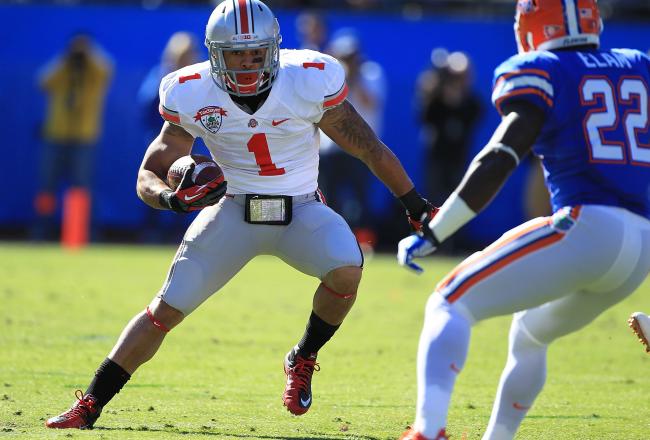 Kellen Moore working in a two-minute drill, which is where his famed "Football IQ" will be on display. Let's see what happens.
And a shocker, Kirk Cousins is in for Moore. This is interesting, as Moore should have finished the quarter.
Cousins hands to Dan Herron, who looks immediately to get outside instead of working up the seam. This is the knock on Herron, who doesn't work well when asked to create inside the hashes.
With under one minute left, Cousins is in the gun on third and eight. The protection is solid and Cousins hits DeVier Posey coming over the middle for a nice 32 yard gain. The ball was thrown on time and with great placement that allowed Posey to keep running.
46 seconds left: Cousins in the gun again, Herron to his right. Herron is there in the flats and Cousins puts the ball just outside his shoulder where no one else can get it. Herron picks up five yards.
40 seconds left: Back in the gun, Pead to his right. Play-action and Cousins forces a pass with Malik Jackson bearing down on him. Ball is batted back. Poor decision making by Cousins.
35 seconds left (3-and-5): Shotgun, Pead to his right. Cousins throws a touch pass interception to Casey Hayward in the end zone. This is clearly an issue where DeVier Posey runs the wrong route.
Lennon Creer loses three on the swing pass. He had a great East-West Shrine Game and was added to the roster after Chad Diehl went down.
Joe Adams shows up again. Lindley would be wise to check down to Adams and try to get into a rhythm to end the second quater.
Lindley looks off again throwing to Juron Criner, who did have a good week but isn't quick enough or straight-line fast enough to be a major threat in the NFL. He looks like a mid-to-late round possession receiver.
A good ball by Moore, but DeVier Posey can't hold on to the ball. Moore's release though is super slow and has two hitches. One good through out of 10 isn't good enough. Ask Tim Tebow.
Moore looks to check down on every throw. Even on third and 10 they pick up just four yards. If your own quarterback can't trust his arm, you can't trust him to pick up key yards.
Moore isn't a strong passer, and this talk that he's a "talented passer" are off the mark. His mechanics and strength are absolutely horrible. Let's not give too much lip service to a guy just because he was a great college quarterback.
Love what North Carolina linebacker Zach Brown can do. He's a freak athletically and will try to slip blocks, but he can be dangerous on the edge.
Lindley throws high and a little behind on a swing route to Baylor's Terrance Ganaway. Lindley isn't looking good, folks.
Isaiah Pead picks up something good with a punt return, giving the North great field position inside the 20. Pead struggled to catch returns early in the week, but this 60-yard return allowed him to show off his burst and speed in the open field.
Quinton Coples gets his name in the newspaper with a late hit personal foul call when Kellen Moore falls. Coples made up for it with a sack on Moore the next down.
Coples is beating a guy who will play guard in the NFL. This is what should happen when someone with this athletic ability plays across from a guard.
Isaiah Pead shows up and he's much smaller in person than on film. He doesn't run with power or authority, which makes him best served as a third-down guy.
3-and-15, Coples is out in a wide technique and once again beats Senio Kelemete off the line. Kelemete is definitely not a left tackle.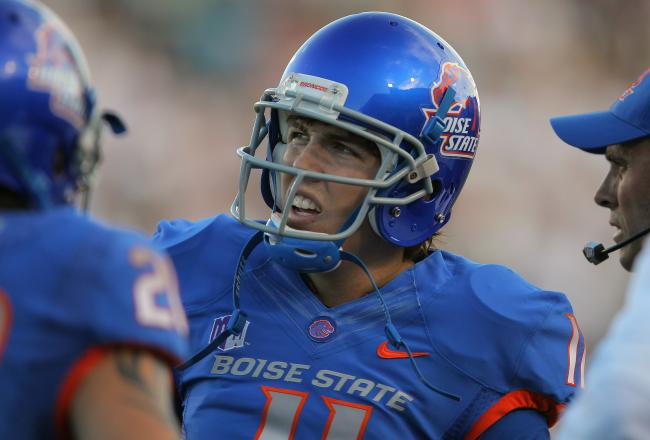 Here comes Kellen Moore... who all you can really say about is, he's won a ton of football games.
Moore failed to impress in every aspect of the Senior Bowl process. His weigh-in should have been illegal viewing, as he looked underage in terms of physique. His post-practice interview was forced and curt. His arm was worse. At least we can see him in a game situation, where he's a "winner".
After what seems like 4 hours of commercials, we're back!
Mike Mayock on Moore, "If he takes his helmet off he looks 12 years old." You should see him with his shirt off.
Moore steps back to throw, to his left (strong side for the left handed QB) and the ball is poorly underthrown. There's no arm strength here. What's funny is the commentators can't decide if the ball was tipped, because Moore's passes are routinely this bad.
Moore slides in the pocket and hits Brian Quick over the middle. This is what he can do well, hit the 6-yard crossing route.
Lindley's footwork on the three-step drop was pretty, but he just pushed it too far. Lindley hasn't been as comfortable with his receivers as the other quarterbacks.
Juron Criner played well this week and has the quickness to get off the line and make a move. He won't run away from anyone though and can struggle to get free down field.
And, no surprise, another field goal from the South squad. At least we're getting a good look at the kickers.
Ryan Lindley showing exactly what he did in practice and on game film—big arm, poor accuracy. With some quarterbacks you can adjust his feet and where he steps, but with Lindley the accuracy issues don't come from his legs.
Side Note: Charles Davis is absolutely insane to compare Andy Dalton and Ryan Lindley. The two compare only in that they both play quarterback.
You'll notice Boston College cornerback Donnie Fletcher around the ball all game. He's a ball-hawk who isn't great in coverage, but loves to hit. A move to strong safety may be a possibility.
Joe Adams was impressive all week, and this is why. He can turn a short gain into a big, big play. Poor tackling by Fletcher and D'Anton Lynn from Penn State.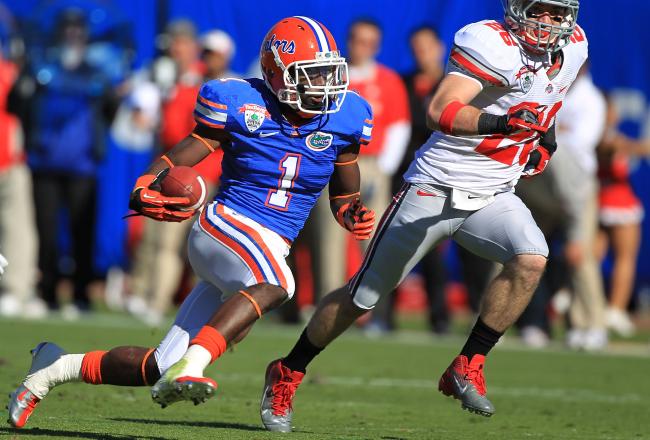 Was hoping to see more from Chris Rainey as a returner. He took the ball out of the end zone and didn't show much burst or acceleration. An interesting choice.
Ryan Lindley comes in as quarterback for the South team to start their first possession of the 2nd quarter. Lindley struggled with accuracy all week, so this bares watching.
Rainey takes the first snap on a reverse, but again doesn't show much burst. He's being too patient. A great job cutting off the run by the Audie Cole on the edge. Cole is very impressive.
Watching Mike Martin on this third and three, be generates so much pressure against a double team. His motor never stops, and combined with rare strength, he's dangerous in the middle.
Marvin Jones with the first touchdown of the game on a roll-out to the right by Russel Wilson. Jones was the most impressive wide receiver at the Senior Bowl after injuries caused Michael Floyd and Kendall Wright to miss the week.
Wilson throws well on the move, showing great velocity on the pass. Jones was wide open, working to force Janoris Jenkins deeper in his coverage with a physical move. Jones then broke back toward the pylon and made an easy catch in front of the diving Jenkins.
Jenkins has to play more physical here and either lock on to Jones or anticipate the route and undercut him to break up the ball. He simply cannot let a wide receiver drive him back off his jam.
This article is
What is the duplicate article?
Why is this article offensive?
Where is this article plagiarized from?
Why is this article poorly edited?