2012 NFL Mock Draft 1.0: Trades, Falls and Shocks
January 27, 2012

Sarah Glenn/Getty Images
Is it too soon to speculate on draft day trades and who will go where? Yeah, probably, but we did it anyway. Looking at team needs, the rumor mills and using some educated guessing, we have determined just how each pick of the 2012 NFL Draft will pan out.
The NFL Draft is one of the most popular events of the NFL season, heralded by some fans as more entertaining than the Super Bowl... cough cough, Cleveland/St. Louis/Indianapolis, cough cough... Whether you believe that or not, no one can deny that the NFL Draft is a momentous occasion for every NFL franchise.
One Peyton Manning-type pick can save your franchise, but pick a JaMarcus Russell and people will lose their jobs. It's a "win now" league, and coaches and GMs have even more pressure from the fans and management to find a superstar on the first night of the draft.
No. 1: Indianapolis Colts: Andrew Luck, QB, Stanford
Let's face it: We all know the Colts are going to rebuild the franchise, and it starts with drafting one of the most heralded quarterbacks in NFL Draft history. Luck is the most pro-ready quarterback going and can step in immediately to lead the franchise.
The Colts could always look into resigning and trading Peyton Manning to a team more built to win now but in need of a quarterback. Maybe those Manning-to-the-Jets rumors could come true...
No. 2: Cleveland Browns via St. Louis: Robert Griffin III, QB, Baylor
Since the first round of the draft is pushed back to prime-time, we should know all about this trade well before the draft starts. Of course, the Redskins or Seahawks could swoop in and trade with the Rams too, but the Browns have too many picks after swapping with the Falcons last year.
Griffin is a risky pick in my our opinion because he seemingly came out of nowhere and could rely on his athleticism too much in the pros, where those traits won't stand out quite as much as they did in college.
No. 3: Minnesota Vikings: Matt Kalil, OT, USC
The Vikings drafted their franchise quarterback last year (so they hope), and now they need a franchise LT to protect him. Kalil is pretty much a sure thing, and the Vikings can't pass up on a talent this great. Kalil has an NFL bloodline and all the intangibles to become an All-Pro left tackle.
No. 4: St. Louis Rams via Cleveland: Justin Blackmon, WR, Oklahoma State
Blackmon is a top receiving threat—think of him as a combination of AJ Green and Dez Bryant. The Rams already have their franchise quarterback in Sam Bradford and a franchise LT in Roger Saffold (that is, if he can regain his power after tearing a pectoral muscle).
Now they just need a receiver to help the greatest show on turf come back to life.
Brandon Lloyd wouldn't sign an extension with the Rams, and could follow the only coach to revive his career and head to Beantown in the offseason. Rams fans should be happy to have Blackmon instead, however. Blackmon is a physical freak and should impress from day one.
No. 5: Tampa Bay Buccaneers: Trent Richardson, RB, Alabama
Richardson has all the intangibles to be an every-down back in the NFL, though there are some concerns as to whether his knee could hold up. The Buccaneers could use a passing threat at RB too so Richardson is likely the pick here.  
LeGarrette Blount will take a huge hit in fantasy drafts, but we could see this being a complimentary split in carries where Blount takes the goal line looks.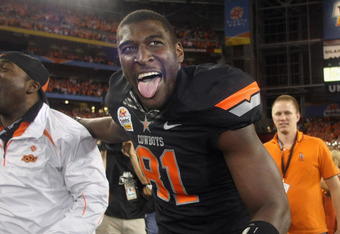 Donald Miralle/Getty Images
No. 6: Washington Redskins: Morris Claiborne, CB, LSU
The Redskins could make a move to trade up for RGIII in the draft this year, but the Browns have more bargaining chips than the Skins. We expect the Skins to go after a player more like Matt Flynn in free agency.
With a new quarterback and too many needs to count the Redskins will have to go with the best player available. Claiborne has top end speed, great ball skills and can cover the best.
If the Redskins don't get the chance to draft a QB here, we could see them trade down, get extra picks and still draft a quarterback like Nick Foles or Ryan Tannehill.
No. 7: Jacksonville Jaguars: Alshon Jeffrey, WR, South Carolina
There is a chance the Jaguars could go with Quinton Coples here, but whether or not Aaron Kampman comes back, we think they could give Matt Roth another chance to be their starting DE.
The Jaguars brought in an offensive minded coach in Mike Mularkey in order to help bring Blaine Gabbert along as their franchise quarterback. What better way to do that than to actually give him a receiving threat?
Jeffrey is a massive target with exceptional ball skills. He isn't afraid to mix it up as a run-blocker too.
No. 8: Miami Dolphins: Riley Reiff, OT, Iowa
We're expecting the Dolphins to pick up a quarterback in free agency, but whether they do or not, they'll likely look to build on the success they had with their running attack.
With this pick the Dolphins will get an immediate starter on the offensive line and could end up having one of the best units in all of football. Reggie Bush and Daniel Thomas should be ecstatic with this pick.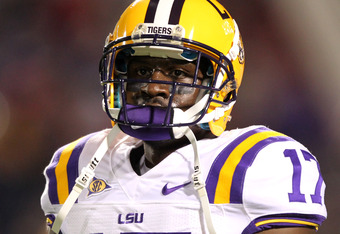 Joe Murphy/Getty Images
No. 9: Carolina Panthers: Quinton Coples, DE, UNC
The Panthers could use another pass rushing threat going against some very good quarterbacks in their division. Coples is a blessing to fall to the Panthers at No. 9.
He may not be what Panthers fans are expecting, but the skills he brings to the table will be too much for the Panthers to pass up. The Panthers will now have two incredibly strong pass rushers on the end with Coples and Charles Johnson. Drew Brees definitely won't like this pick.
No. 10: Buffalo Bills:  Courtney Upshaw, OLB, Alabama
The Bills need to get after the quarterback more, and adding Upshaw should help.
The team showed more and more 4-3 looks as the season continued, so Upshaw will have to learn to make the transition. The Alabama linebacker does come from a 3-4 formation in college, however, so he could help the Bills change their minds on what formation they like best.
No. 11: Seattle Seahawks: Michael Brockers, DL, LSU
Some think Brockers could play both the edge and the interior of the defensive line. No doubt, his strength is against the run and could make the Seahawks' surprisingly strong defense even better next season. Brockers could use some work as a pass rusher but has all the athleticism to pick that up quickly.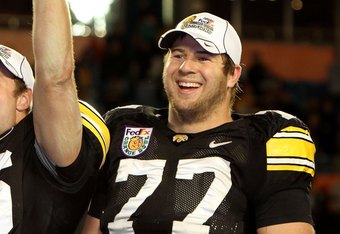 Doug Benc/Getty Images
No. 12: Kansas City Chiefs: Jonathan Martin, OT, Stanford
There is no doubt that defensive-minded Romeo Crennel will think about going after a defensive player in this position, but the Chiefs have too strong of a need on the offensive line to pass up on Martin.
The Chiefs have an uphill battle ahead, hoping that Jamaal Charles can regain his full arsenal of skills after tearing his ACL. If he can come back fully healthy, however, he should benefit from the Chiefs' drafting arguably the best run blocking lineman in this year's draft.
No. 13: Arizona Cardinals: Melvin Ingram, OLB, S. Carolina
Ingram will be a converted DE in the Cardinals 3-4 defensive scheme, but his size and speed combination is eerily reminiscent of DeMarcus Ware.
The Cardinals could go a few different ways in the draft depending on how crazy they go in free agency (rumored to Peyton Manning and DeSean Jackson). If the draft pans out differently, you could see the Cardinals go after an offensive tackle, but there is no doubt Ingram could become an immediate starter at OLB in Arizona.
No. 14: Dallas Cowboys: Dre Kirkpatrick, CB, Alabama
This pick should get a huge round of applause form Cowboys fans as they have been clamoring for cornerback help all season.
Kirkpatrick is an extremely skilled cornerback and should be in the starting lineup immediately. He has some lingering health issues, but his combination of height and speed make him too good for the Boys to pass up.
No. 15: Philadelphia Eagles: Luke Kuechly, MLB, Boston College
The Eagles need help in the middle in a bad way. The team shuffled players around at the MLB position after Casey Matthews didn't pan out in the spot.
Kuechly is one of the most productive college players coming in to the draft. He will be an immediate help for the Eagles' subpar linebacking corps.
Akeem Jordan did a good job of stopping the run when inputted in the SAM position, but they need someone in the middle capable of reading the play and going sideline to sideline to make a big play. Kuechly has the instincts to be that player.
No. 16: New York Jets: David DeCastro, OG, Stanford
DeCastro is a perfect fit for a locker room going through turmoil like the Jets' right now. He has been heralded by coaches and teammates by being a "team-first" guy that leads by example and works hard.
DeCastro is equally skilled in run and pass protection and has great awareness of the oncoming pass rushers around him.
No. 17: Cincinnati Bengals: Janoris Jenkins, CB, N. Alabama
The Bengals drafting a guy with off-field legal issues?! Change the record. You may remember the name Janoris Jenkins from when he was a stud cornerback for the Florida Gators, but after a few drug arrests and fights, he had to transfer to play at Northern Alabama.
Jenkins could end up being the best cornerback in the draft; had he kept his nose clean, he could have been the highest drafted at the position too.
The Bengals need help at the position badly. Leon Hall is one of the best at the position but who knows how his production will fare after tearing his Achilles last season. The Bengals should get good production from Jenkins early on in his career.
No. 18: San Diego Chargers: Andre Branch, DE, Clemson
The Chargers will have to come to a decision about whether to resign Vincent Jackson. They were expecting VJax to play elsewhere next year so they could go after a receiver  here.
The Chargers can only hope that Branch actually does fall this far, because he has the ability to move outside as a linebacker in the 3-4. Branch can drop back in to coverage if needed and is very strong against the run.
No. 19: Chicago Bears: Michael Floyd, WR, Notre Dame
The Bears need to give Jay Cutler a reliable target at the receiver position, and Floyd has some of the best hands in the draft. He has shown very good ability to go up and grab some of the more inaccurately thrown balls, making him a good match with a gun slinger like Jay Cutler.
There are some off field issues with Floyd, stemming from some DUI arrests, but he seems to have moved past it. As long as he isn't trying to start a nationwide drug cartel—am I right, Bears fans?
No. 20: Tennessee Titans: Alfonzo Dennard, CB, Nebraska
The Titans could be without Cortland Finnegan next year if he isn't given the franchise tag. That could leave a big void at the cornerback position with only Jason McCourty and Alterraun Verner being decent options.
Dennard is a very good cover man, though he won't catch too many balls in the position. There are some injury concerns with Dennard, but the Titans won't be able to afford passing on him if Finnegan walks.
No. 21: Cincinnati Bengals: Lamar Miller, RB, Miami
All signs point to the Bengals and Cedric Benson parting ways this season, leaving a need at the running back position. The Bengals tried to spell Bernard Scott in more, hoping he could develop into a starting running back, but that hasn't panned out so far in his young career.
Miller is a very fast and agile back with some decent skill as a receiver out of the backfield. He isn't a bruiser and comes with some injury concerns, but he would be the most talented player in the Bengals backfield from day one.
No. 22: St. Louis Rams via Cleveland: Devon Still, DT, Penn State
Jeff Fisher plans on bringing a tougher mentality to St. Louis, and he has to be thinking that the 31st-ranked run defense will be the unit in most need of that toughness.
Devon Still falling this far will be a blessing for the Rams because his toughness and motor make him strong against the run. The Rams should get a big boost in run defense with a Still and Fred Robbins combination in the middle.
No. 23: Detroit Lions: Ronnell Lewis, OLB, Oklahoma
We wouldn't be surprised if the Lions traded down in this pick since they won't be able to acquire a top flight cornerback. This may be a bit of a reach, but Lewis has great playmaking ability as an outside linebacker and should fit in nicely.
Lewis is a freak athlete, except for the nagging back injuries he had through his career. If his physical comes back clean, he should be a decent pick in this year's draft.
No. 24: Pittsburgh Steelers: Dontari Poe, NT, Memphis
The Steelers have decisions to make on their aging defense and could end up parting ways with longtime nose tackle Casey Hampton, who recently had surgery on his injured Achilles.
Poe is a true nose tackle and will fit in nicely in the Steelers 3-4 defense. Don't be fooled by his 330-pound frame: Poe can still move to the ball with fluidity and is very tough. He isn't the best pass rusher, but in the Steelers formation that won't be his top priority.
No. 25: Denver Broncos: Brandon Thompson, DT, Clemson
Thompson has the size to play nose tackle and could eventually learn to be Jamal Williams' heir apparent. When the Broncos are in the 4-3, however, he will come in as a very strong run stopper.
The Broncos could go a few ways in this position, so a trade may not be out of the question for a team looking to draft Ryan Tannehill… or the Broncos could draft him and once again stir up Tebowmania.
No. 26: Houston Texans: Kendall Wright, WR, Baylor
The Texans need to find someone that can take attention away from Andre Johnson, even though it doesn't seem to matter much, and Wright should be the guy they choose.
Wright doesn't have the most consistent hands in the draft, but his speed and agility will help him create separation between him and the defensive back.
No. 27: New England Patriots: Nick Perry, DE, USC
The Patriots need to get stronger on defense, and their top priority should be getting after the quarterback. Perry can play either defensive end or stand-up outside linebacker, making his versatility key for the Patriots.
The Pats have wanted to use the 3-4 but just couldn't get adequate pressure on the quarterback. Perry could change that. He is explosive off the edge and can even seal it off if needed.
No. 28: Green Bay Packers: Whitney Mercilus, OLB, Illinois
Mercilus came out of nowhere this year to be arguably the best pass rusher in college football. Some see his lack of production in his previous seasons as a red flag, though.
Mercilus will play outside linebacker opposite of Clay Mathews with the Packers and could pull it off without a hitch. He is incredibly strong and athletic and has a full arsenal of moves to get off of a block.
No. 29: Baltimore Ravens: Vontaze Burfict, MLB, Arizona State
Burfict is incredibly—even freakishly—athletic and can be as emotional as they come. Some look at him as the next Ray Lewis, hopefully learning under his tutelage. Ray will have to teach Burfict not to overplay the ball or hurt his team with unnecessary penalties, however.  
Burfict rarely misses a tackle and does a good job of reading quarterbacks' eyes.
No. 30: San Francisco 49ers: Mohamed Sanu, WR, Rutgers
Sanu is both a talented receiver and a return man. Anyone who watched the NFC Championship game will tell you the Niners need both. Sanu is willing to go across the middle and take the hit if necessary and could stretch the field as well.
No. 31: Washington Redskins via New England: Nick Foles, QB, Arizona
Like the Pats usually do, they'll trade their pick for a future first-rounder and let a desperate team draft for their need. The Skins will move up and select their future franchise quarterback.
Foles has an incredibly strong arm and decent accuracy. The Shannahans will want to develop a quarterback instead of signing a veteran in the offseason.
No. 32: New York Giants: Cordy Glenn, OG, Georgia
Glenn is a very good and productive guard that excels in run blocking. The Giants' offensive line is aging, and they could use some young workhorses to step in now that Eli is hitting his prime. Glenn plays very mean and should fit in very well in the Giants locker room.
TheSportsCannon.com is a fantasy football and NFL news website. You can follow TSC on facebook and Twitter and even email advice@thesportscannon.com for FREE fantasy football advice.