5 Reasons Andy Murray Missed His Chance to Win a Major in 2012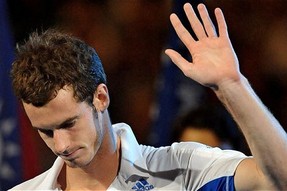 Will Andy Murray ever win a major? Of course, it's only a matter of time. In fact, I believe Murray will break out similar to the way Djokovic did in 2011. However, I don't think it will be this year. He'll definitely win a few tournaments this year, but don't expect him to come out on top at the final three majors.
He has all the skills in the world but is lacking in a few areas—areas that are crucial to win one of the big ones. It showed in his recent loss to Novak Djokovic at the Australian Open, and had he won that match, it probably would have shown its face against Nadal.
Here are five reasons why Andy Murray missed his chance to win a major in 2012.
Begin Slideshow

»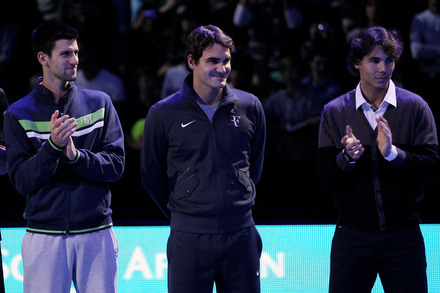 If he wanted to, Murray could brag about taking to the big three—he's been more successful at it than anyone else who hasn't won a major.
He's 4-7 against Djokovic, which includes a recent win at the ATP World Masters. He's 8-6 against Federer, and one of the few to have a winning record against the man considered to be the best. The only smudge mark is against Nadal as he's still 5-13 against him. However, that's really not that bad at all as overall he's 17-26 against them and to be over .500 against those guys is quite a feat.
Murray has shown that he can beat these guys, he just has a problem with beating them on the big stage. He's never beaten Djokovic or Federer in a Grand Slam match and has only beaten Nadal twice, with one of those times coming from when Nadal was dealing with injury and had to retire.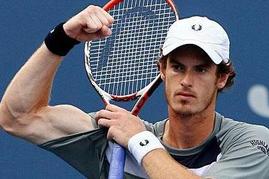 In today's tennis game, longevity can get you places—just ask John Isner. If you don't have it, you will lose and while there are some players who can get it done in the first three sets, not always being prepared to go five straight can destroy you.
Murray has that longevity, there's no question about that anymore. He has the abilities to keep up with those three for long grueling matches. His recent loss to Djokovic lasted five hours and it was every bit as intense in the last game as it was in the first, so it's showed he's improved fitness-wise. The problem is he's lacking in other areas.
He's not supremely athletic like Djokovic and Nadal, nor is he super finessed like Federer. Instead he tends to just rely on his natural skills and abilities, and while there's nothing wrong with that, it won't help him win a major.
Djokovic found a way to reach new athletic heights last year that had many people talking. A player many considered weak compared to the buff and speedy Nadal is now able to best the Spaniard in tough athletic matchups.
That's something even Federer hasn't been able to do. Djokovic clearly wasn't always like this, but he hasn't made it a secret either about how he got to this point. Diet changes, new workout routines and a new focus has helped him, and I don't see why it wouldn't help Murray as well.
He recently committed to a new fitness routine, so in time, he may go the same route as Novak.
Djokovic used to be the same, then out of nowhere last year, he suddenly just found it. No one even truly knows how he got it, but it definitely showed at the end of matches, just like it showed at the end while facing Murray.
Djokovic went into that mode that top athletes have. He has the will to pull it out when facing tough times and the mindset to finish ab opponent off when he's ahead and cruising. Murray does not, at least not against the top three.
Many were hopeful when Murray ran a clinic against Japanese sensation Kei Nishikori, but that brilliance wasn't all there against Djokovic. If Andy Murray can find a way to treat Roger, Rafael and Novak the same way he treats other regular players he'd be in a much better position. Instead, he tends to put them on a pedestal of some sort.
He can't settle for just matching them anymore and hoping that his serve will put them away. If he finds that killer instinct against the top three, he'll be dangerous in every sense of the word, but until then, he'll have to get comfortable in that No. 4 spot.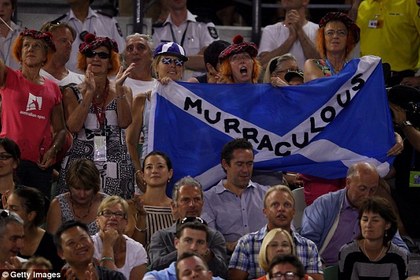 I say "yet," because he will at some point and when he does he'll be as cool as the other side of the pillow. But as of right now, you can tell that it still affects him. There is more pressure on Andy Murray than any other current active tennis player.
Federer, Nadal and Djokovic have all established themselves, and yet no other player besides Murray has been able to beat those guys numerous times while still never having won a slam.
But the pressure is strong. Like Djokovic before him, Murray has a lot of people hoping for a victory so much that people actually are happy when Nadal and Djokovic have injuries during slam events. Murray even has commercials that illustrate how much pressure is on him.
At 24 years of age, it can still be a daunting task but if he can find a way to work off it, he may benefit in the end.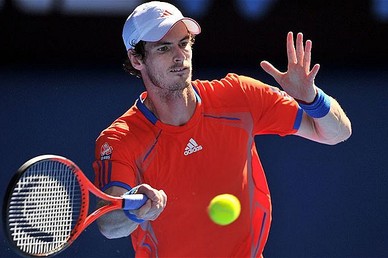 For the longest time, Murray has been a baseline defender and an extremely good one at that. But recently he's explored taking a more attacking approach. While there's nothing wrong with that, it doesn't seem like he's learned to make them work together just yet against the top players.
Obviously different situations will call for different styles, but it's knowing when to use them and how to be effective that matters most. Murray can tweak his game, but if he's going to do it he has to do it now, at the beginning of the year, so that he can work on it and come up with a proper game plan.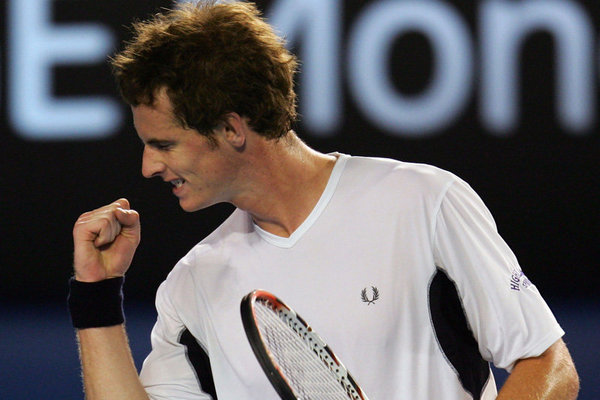 I'm not sure Murray even missed his chance as much as he didn't have a chance to win the Australian Open this year. Djokovic is still the hottest thing out there and even if he beat him, Nadal is healthy and on his reclaim game to get back to No. 1.
It would have been tough in general for Murray. That being said, I don't think he has a chance to win any of them in 2012, but I do believe his time is coming.
2012 should be considered a practice year for Murray. He should figure out what works and what doesn't and quite frankly, it wouldn't hurt to play against Roger, Rafael and Novak as much as possible this year.
If he can further learn their styles of play, he'll be able to figure out a way to beat them when it matters most. With a new coach in Ivan Lendl, a new fitness routine and a new push to explore other methods of play, Murray is on the right track to breaking out.
I just don't think it will happen until 2013.