2012 NFL Draft: 10 Players Climbing Up Draft Board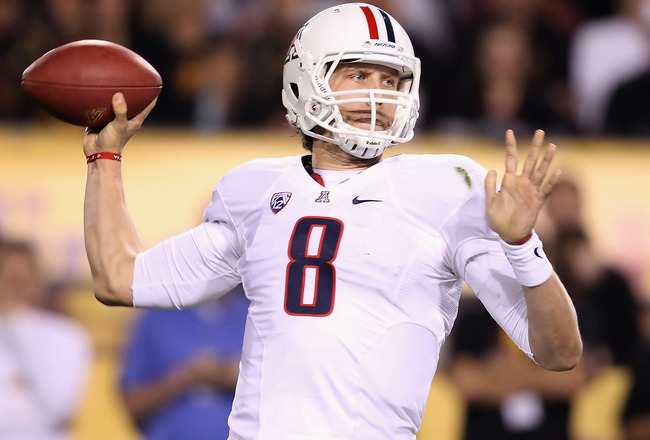 Christian Petersen/Getty Images
Now that we are inching closer to the NFL Scouting Combine—February 22-28—we are beginning to see players' draft stock rise.
Don't expect to see this trend deviate either, since some prospects' stock can change from day to day even without them doing anything.
But Senior Bowl practices and the East-West Shrine game have helped certain prospects demand the attention of NFL scouts.
Here's a list of 10 players who are climbing up the draft board.
10. Brandon Weeden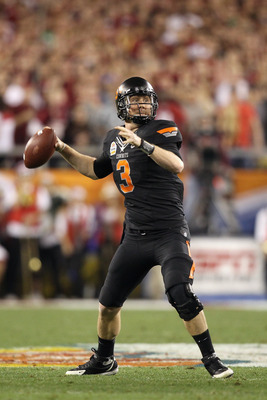 Christian Petersen/Getty Images
Brandon Weeden's stock may be rising, but take it with a grain of salt.
He's already 28 years old and will probably be 30 by the time he's able to adjust to the style of play in the NFL.
However, Russ Lande of Sporting News stated that Brandon Weeden was the best quarterback in Mobile, AL. during Senior Bowl practices.
This could help him get drafted, but it's unlikely that any team will be willing to use a high draft pick on a 28-year-old system quarterback.
9. Michael Brockers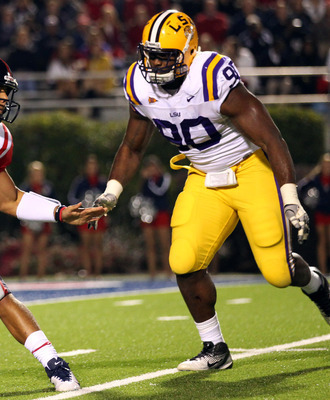 Michael Brockers' draft stock is soaring at the moment.
He wasn't really considered to be a first-round pick earlier in the process, but now he is considered to be a consensus top-15 pick.
He will probably be the first interior lineman selected in the draft, but it might take him a couple of years until he reaches his full potential in the NFL.
But whichever team takes the risk on Brockers, it'll certainly be worth it down the road.
8. Josh Norman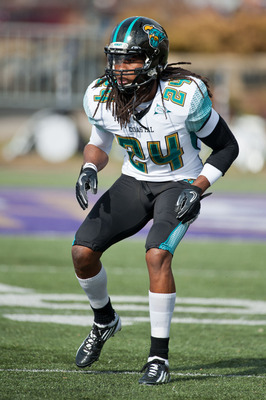 You might not have heard of Josh Norman before, but you'll start hearing his name soon enough.
After an impressive week at practice before the East-West Shrine game, Norman has drawn a lot of interest from NFL scouts. He intercepted three passes during a practice and demonstrated his uncanny ability to break on the ball.
He drew interest from the University of Georgia coming out of high school, but grades forced him to settle for a school like Coastal Carolina (and that's with no disrespect, Chanticleers).
With a solid workout at the NFL Scouting Combine, don't be surprised to see Norman sneak his way into the second round.
7. Kirk Cousins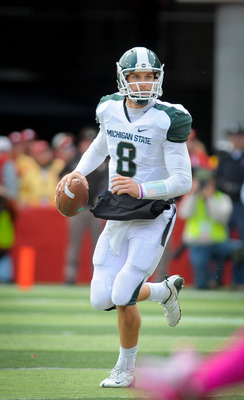 Eric Francis/Getty Images
There are many questions surrounding Michigan State's quarterback Kirk Cousins going into the Senior Bowl.
He's skinny, so scouts question his arm strength.
He also made too many mistakes in college, so there were doubts about his decision making as a quarterback.
However, The Sporting News has reported that Cousins has answered those questions in a big way during Senior Bowl practice. He was throwing the ball with some zip and fitting his throws into tight windows.
They even compared his draft stock rising to that of Andy Dalton last year.
If Cousins continues to rise, he could go somewhere in the second round.
6. B.J. Cunningham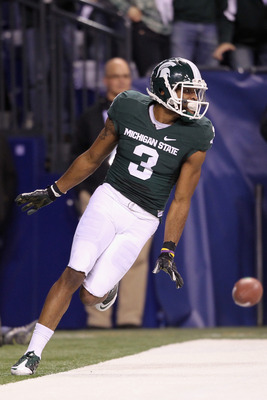 Andy Lyons/Getty Images
Kirk Cousins' teammate, B.J. Cunningham, is also watching his draft stock rise.
He isn't the most athletic wide receiver prospect, as he lacks top-end speed that you would like to see from a 6'1", 209-pound receiver. However, he does make up for it with above-average route running and great hands.
Scouts took notice of Cunningham during the East-West Shrine game practices.
Here's what Tony Pauline said about Cunningham:
Cunningham looked polished today and was the top receiver in the morning practice. He displayed reliable hands, easily making the underneath reception, while also contorting to make acrobatic grabs down field. Cunningham's route-running was also much better than anticipated. He lacks classic foot speed and does not display a deep burst, but showed enough skill to cause NFL decision-makers to believe he'll be a solid third receiver.
He also caught a 17-yard touchdown pass in the East-West Shrine game, so that certainly didn't hurt his stock.
5. Nick Perry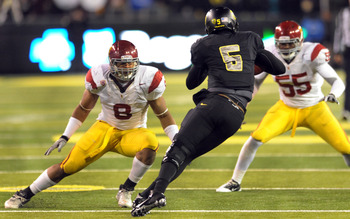 Steve Dykes/Getty Images
Nick Perry of USC has seen his stock soar as of late.
He had a fantastic season with the Trojans in 2011, accumulating 55 tackles and 9.5 sacks.
He is one of the better pass-rushing defensive ends in this class, and scouts are taking notice. He should be a top-20 pick in the upcoming draft.
4. Marvin McNutt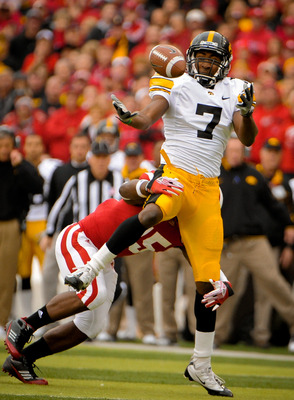 Eric Francis/Getty Images
Marvin McNutt had a solid Senior Bowl week and really separated himself from the rest of the wide receivers who participated.
He seemingly caught everything that was thrown his way and proved that he can play even bigger than his 6-foot-2, 220-pound frame. He knows how to translate his basketball skills onto the football field by boxing out his defenders and going up for the ball.
He isn't a flashy receiver, however, and that's what's going to hurt him. He isn't fast, as he's likely to run a mid-4.5 40-yard-dash, so that will hurt his stock. He does make up for it by running crisp routes and having soft hands.
He is projected to be a fourth- of fifth-round pick in the draft, but he could sneak his way into the third round with a respectable 40-yard dash time.
3. Nick Foles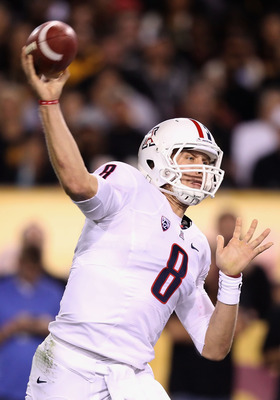 Christian Petersen/Getty Images
Since Matt Barkley and Landry Jones decided to stay in college and forgo the NFL draft, someone needed to step in and be the third-best quarterback behind Andrew Luck and Robert Griffin III.
Nick Foles has the size (6'5'', 240 lbs) and the arm strength to force quarterback-needy teams to take a serious look at him.
So far, there are mixed reviews coming out of Senior Bowl week. Scouts are beginning to question his mobility in the pocket.
However, teams that are desperately looking for quarterbacks at the end of the first round are going to be interested in Foles.
This holds especially true after Ryan Tannehill broke his foot.
Foles has the ability to cement himself as the third-best quarterback in this class.
2. Mohamed Sanu
Jim McIsaac/Getty Images
Mohamed Sanu's stock has been rising since he declared for the draft.
It's to the point where he could get selected before other wide receivers like Kendall Wright and Michael Floyd.
He simply has everything you want in a receiver.
He has the size (6'2'', 215 lbs). He can run crisp routes. He has the ability to go up in the air and catch the ball at its highest point. He is also deceptively quick.
Don't be surprised to see Sanu sneak into the top 20 in the first round.
1. Robert Griffin III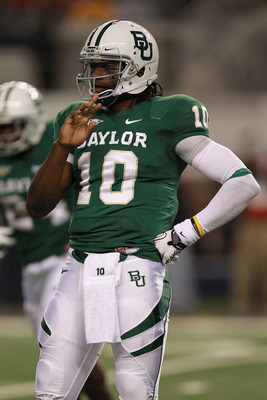 Ronald Martinez/Getty Images
Robert Griffin III's draft stock has been rising for quite some time now. It will also continue to rise up until the draft.
The reason for this is because there are no other quarterbacks in the draft who even compare to Griffin or Andrew Luck. Who's the third-best quarterback behind the two standouts?
Exactly.
Also, teams will be more willing to trade with the St. Louis Rams, who hold the No. 2 overall pick in the draft, because it will be much more affordable in comparison to years past.
After Cam Newton's breakout year in 2011, teams are more than willing to give up the king's ransom to acquire Griffin.
Keep Reading