UFC on FOX 2: Will Rashad Evans or Phil Davis Be The Better Wrestler?
June 19, 2016
Tomorrow's UFC on FOX 2 features three of the promotion's premier wrestlers, two of whom will be headlining the event in a bout with major title implications.  
Former UFC light heavyweight champ Rashad Evans will take on up-and-comer Phil Davis for a possible shot at current champ Jon Jones. This battle between top-rated wrestlers appears evenly matched. But when delving deeper into their styles, there is quite a contrast.
It is no secret that Davis is a highly decorated collegiate wrestler, posting a 116-17 record while at Penn State University.  A four time NCAA Division I All-American, Davis finally took home the 197 lb. title in 2008, his senior year.
Transitioning into mixed martial arts, Davis' wrestling experience has been a huge advantage. His extensive knowledge and experience in this aspect of the sport has given Davis the uncanny ability to take opponents down and dominate from top position.
However, a chink in the undefeated light-heavyweight's armor was exposed by Antônio Rogério Nogueira last March, as Noguiera was able to stuff each of Davis' takedowns in the first round. Having to change his game plan and look for single-leg takedowns in the second and third rounds, Davis eventually took the fight to the mat and won the decision victory.
But this win was not the dominating performance that Davis has shown in the past, an indication that the upper tier fighters won't go down easily for the former NCAA champ. His wrestling game still needs adjustments to be optimally effective for MMA, something that Evans has mastered.
Although his 48-34 record with Michigan State University is not as impressive as Davis' collegiate wrestling record, make no mistake about it—Evans is a formidable wrestler.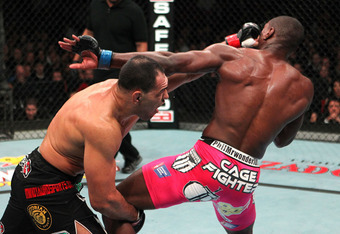 Evans has tailored his wrestling background to be as effective as possible inside the Octagon. Adding in a Brazilian jiu-jitsu black belt from Rolles Gracie and a powerful striking game, Evans has turned himself into a well-rounded threat that fully utilizes his wrestling skills.
Now training with the Blackzillians, Evans may show off his underrated submission game that should pose a huge threat to Davis, especially if he is put on his back.  
When it comes down to it, Davis is still a raw wrestling talent whose game needs to be altered to be fully effective in MMA. With so much experience utilizing his skills as a wrestler in the cage, Evans is light years ahead of Davis in this regard and will prove to be the better MMA wrestler come Saturday night.
Matt Juul is a Featured Columnist for Bleacher Report.