2012 NFL Mock Draft: Projecting Where Every Valuable QB Will Go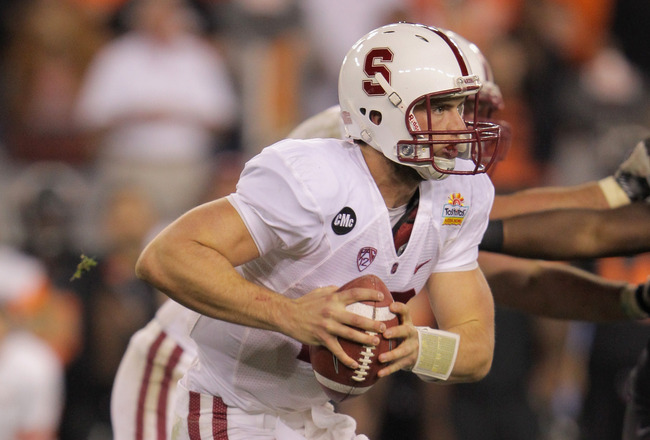 Doug Pensinger/Getty Images
One of the most exciting moments for college athletes is when they have an opportunity for their respective professional leagues.
Few sports rival the hype and excitement surrounding the NFL draft. Fans watch to see if their franchise drafted the next Tom Brady or Doug Flutie. The energy surrounding this year's draft has been electric.
With all the drama surrounding the quarterback position this past year, names such as Andrew Luck, Robert Griffin III and Brandon Weeden are being mentioned as some of the top recruits at the quarterback position.
These quarterbacks will run into different situations depending on the organization that drafts them. For example, Andrew Luck will most likely go first to the Indianapolis Colts, which is a completely different scenario from a team such as the Baltimore Ravens.
Either way, the quarterbacks in this year's draft will be counted on to do big things for some teams. Here is a look at where the rookies will most likely end up.
Andrew Luck: Round 1 (Indianapolis Colts)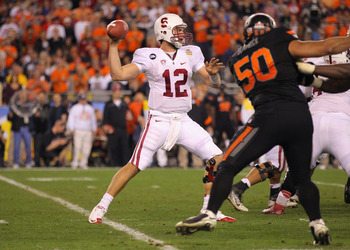 Doug Pensinger/Getty Images
The Indianapolis Colts will most likely take Stanford's Andrew Luck with their first pick. However, there are some debates on whether or not that is a certainty.
It looks like Peyton Manning is getting ready to leave his beloved Colts, a team that he has spent his entire career resurrecting. It is tough to see a player of his caliber and background be traded at this point in his career.
However, with analysts saying Andrew Luck is possibly the next John Elway, that is talent that no team can just pass up. This is what makes it interesting in terms of his draft status.
The Colts would owe Peyton Manning $28 million for next year and if they take Luck with the number one pick, the money they would be spending for a backup and starting quarterback would be outrageous. From a business standpoint, the team will be hard pressed to have both on their depth chart.
So the decision comes down to keeping an injury-riddled, aging great in Manning, or trading him to open up cap room to draft a potential player who would keep the franchise on top for the next decade and a half.
Tough spot for the Colts, but from the looks of recent events, Manning will be on his way out and Luck will go number one to Indianapolis.
Robert Griffin III: Round 1 (Cleveland Browns)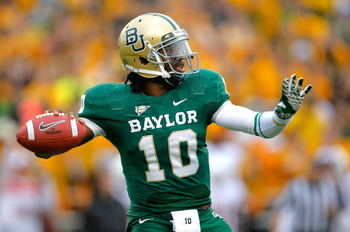 Sarah Glenn/Getty Images
Robert Griffin III is an incredible talent and he shined this past year for the Baylor Bears. His playing capability is similar to that of Carolina Panther quarterback Cam Newton. Both Griffin and Newton are natural athletes and can scramble very well. Also, both arms are accurate and powerful.
This past season Griffin notched up 4,293 yards and 37 touchdowns with only six interceptions. His QBR was at a staggering 189.5, while he also won the Heisman trophy. Griffin's resume is undeniable and hopefully that transfers over to the NFL.
Griffin III will definitely go in the top 10 and most likely will be the second quarterback chosen in this year's draft.
Ryan Tannehill: Round 2 (Jacksonville Jaguars)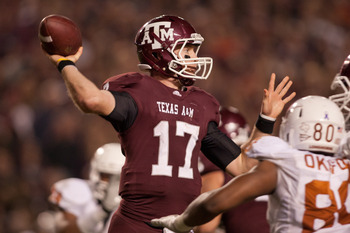 Darren Carroll/Getty Images
Texas A&M quarterback Ryan Tannehill is expected to go in the first couple rounds despite his stats being worse than some of the other quarterbacks in the league.
Last year, Tannehill racked up 3,744 yards along with 29 touchdowns and 15 interceptions—pretty decent numbers, but nothing out of the ordinary for "good" college quarterbacks.
However, from watching some of his games, he proved that he had poise and control of the offense. Tannehill looks to be able to mold into a prototypical quarterback.
Nick Foles: Round 2 (Miami Dolphins)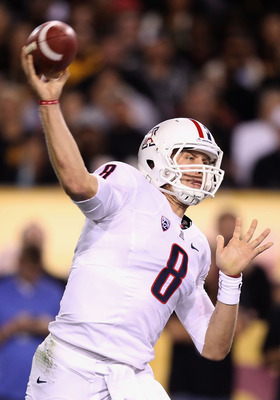 Christian Petersen/Getty Images
Here comes an interesting player in Nick Foles. He was starting quarterback of the Arizona Wildcats and just this past year threw for 4,334 yards. Along with those come 28 touchdowns to 14 interceptions.
Unfortunately for him, he has shown that he can be a high-error quarterback in a slightly above-average conference.
Foles does have the size of a pro quarterback listing at 6'5", 240 lbs. Also in 2011, his QBR finished at 145.6.
Nick Foles actually looks to be a pretty decent pickup for most teams in need of a value pick in the mid rounds. He may even get snatched up earlier if teams want to take a chance on him.
Brandon Weeden: Round 3 (Baltimore Ravens)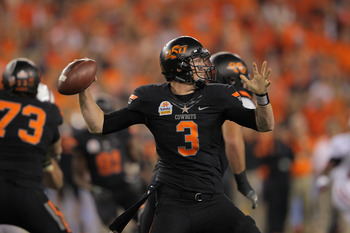 Doug Pensinger/Getty Images
Quarterback Brandon Weeden is definitely the most "mature" of the recruits. With one of the more odd stories in college football, Weeden is actually 28, having played a few years in minor league baseball.
His age and previous baseball experience may hurt his stock to teams looking for a fresh young player to have for the next 13 to 15 years. However, his skill and talent is undeniable.
Last year, Weeden led one of the most explosive college offenses in the nation. In fact, they were close to Chip Kelly's gaudy offensive numbers.
Although draft analysts see Weeden as a fourth-round pick, do not be surprised to see him taken a little earlier. He will definitely be more mature than most of his adversaries in the draft, but there are upsides to that as well.
Weeden could have a better understanding of how much work is needed in professional leagues and could be a better leader earlier in his career.
Russell Wilson: Round 4 (Philadelphia Eagles)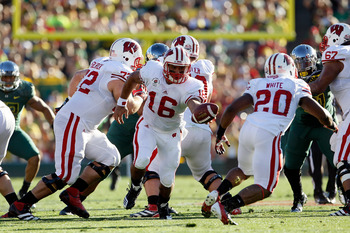 Jeff Gross/Getty Images
Surprisingly, Wisconsin quarterback Russell Wilson is not expected to go in the first round despite his fantastic statistics in his 2011-12 campaign.
Wilson showed the nation what he could do and I am certain whatever team takes a chance on him will not regret it.
He made a run against Luck for best quarterback in college. His stats were also right there to back him up.
Russell Wilson racked up 3,175 yards along with 33 touchdowns and only four interceptions. His QBR during his 2011 campaign was listed at an unheard-of 191.8.
Granted, college statistics do not always add up to NFL success, but with numbers like those, there is a great chance that they make a name for themselves under the Sunday night lights.
Brock Osweiler: Round 4 (Seattle Seahawks)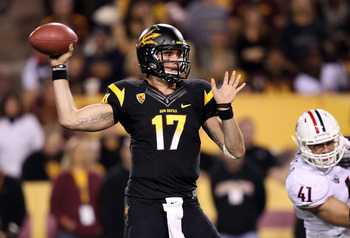 Christian Petersen/Getty Images
Ironically, Arizona State quarterback Brock Osweiler put up similar stats to that of rival quarterback Nick Foles from the University of Arizona.
He threw for 4,036 yards with 26 touchdowns and 13 interceptions.
There were moments where he showed greatness, but at times he became a little sloppy with his reads and mechanics. This led to his interception numbers being so high.
However, here comes another mid-rounder who will probably make a run for the starting job if the current quarterback is nothing too special.
Ryan Lindley: Round 4 (Chicago Bears)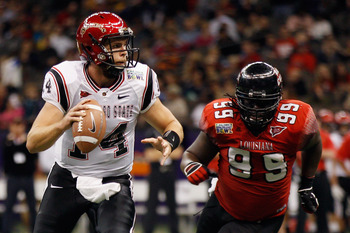 Chris Graythen/Getty Images
Ryan Lindley is also an under-the-radar quarterback. Coming out of San Diego State (not known for their football), Lindley boasts a great resume from his senior year.
Lindley threw for 3,153 yards, along with 23 touchdowns and eight interceptions.
Although he may not throw for tremendous amounts of yards, over 3,000 is pretty decent at the college level. His touchdown-to-interception ratio is also pretty good showing that he can make the right reads and not cost the team any turnovers.
Lindley actually has the potential to go up in the draft if his workouts go well with teams such as the Cowboys.
Darron Thomas: Round 4 (Dallas Cowboys)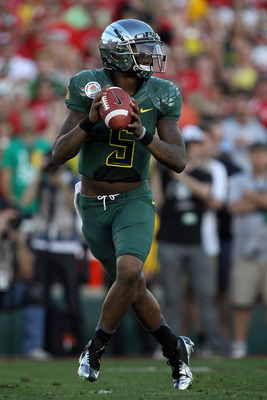 Stephen Dunn/Getty Images
Most people know Darron Thomas from the explosive Chip Kelly offense at the University of Oregon.
He may not have used his arm as much as his legs, but he still managed to keep his play mistake-free.
Thomas threw for 2,761 yards, 33 touchdowns and seven interceptions. The yardages may be skewed due to the fact that he was a great scrambler.
Fortunately for him, Cam Newton's great athleticism at the quarterback position might boost Thomas' draft stock. Teams rebuilding with less-than-great offensive lines may rely on the scrambling ability of Thomas.
Kellen Moore: Round 5 (Detroit Lions)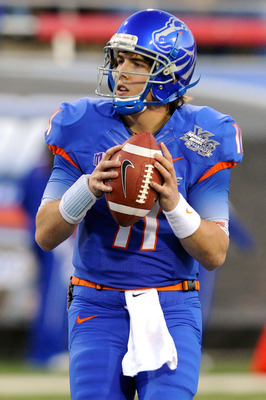 Ethan Miller/Getty Images
One of the more interesting players in the draft is Kellen Moore. He was the starting quarterback for Boise State and did an excellent job leading his team to championship contention.
However, his big drawback is that Boise State is not in too tough of a conference, therefore skewing some of his quarterback numbers. Most of the games he has played in were good games, but nothing spectacular.
But Moore did thrive under a great coach in Chris Petersen and proved he can win. He will not go in the first or second rounds, but he will be a valuable pickup in the later rounds.
Moore looks to be a hard-working backup with starting potential.
Case Keenum: Round 5 (Green Bay Packers)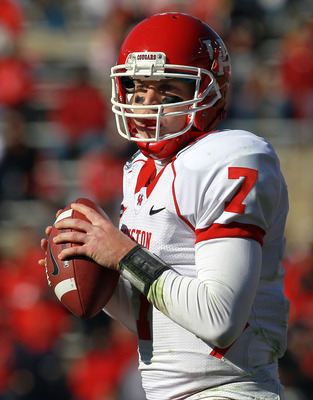 Ronald Martinez/Getty Images
Case Keenum comes out of the University of Houston, and for those who did not pay too much attention to him, look out.
Last year, Keenum racked up 5,631 yards with 48 touchdowns and five interceptions. His overall QBR is listed at 174.0 for his 2011 campaign.
His size is also something to watch out for. He is a solid 6'2", 210 and definitely has great accuracy in his throws. Keenum has potential to develop into a great quarterback in the league.
If he can get drafted into a stable organization and sit behind a good quarterback for a few years, Keenum will make headlines.
Keep Reading