25 Most Painful Baseball Videos on YouTube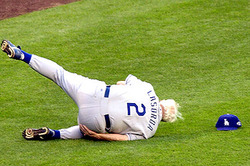 At every professional baseball game, the big screen will always have some little ditty or game to entertain fans in between innings. This may include trivia, matching games or some promotional prize giveaways. Yet one thing that fans always love to watch both at home and on the big screen is sports bloopers.
Not going to lie, I love these things. Even though the only type of All-Star caliber I reached happened to be on the Little League circuit, I can still appreciate the pain behind a dropped ball, fouling a ball off the family jewels or any other wacky antics that happen on the field.
I mean, come on, how many people here didn't yell out the proverbial "OHHHHHHHHH" when longtime Los Angeles Dodgers skipper Tommy Lasorda (pictured) got taken out by a broken bat at the 2001 All-Star Game?
Thus, in the spirit of us all having some laughs together, I hereby present to you the 25 most painful baseball videos on YouTube.
Begin Slideshow

»
The date was May 26, 1993, and Canseco's Texas Rangers were playing the Cleveland Indians on the road. Carlos Martinez came to bat and hit a fly ball to right field that appeared to be playable, but Canseco lost sight of it and it literally hit him in the head and then hopped over the wall for a home run.
The video is painful not only because of how the home run happened, but also consider this: The pitch thrown was probably anywhere from 80 to 90 miles per hour and had to be hit pretty hard to carry out to deep right field. Thus, chances are that Canseco's noggin was probably pretty sore for a bit after getting hit with that ball.
The blooper itself can be seen about 12 seconds in.
Fast forward to about nine seconds into this video and you'll have a double-whammy of pain. Not only does this poor infielder lose track of a foul ball and take a shot below the belt thanks to a safety bar, but he also falls over said bar into the dugout.
I can understand the pain of running into the bar, as I've similarly done that my fair share of times when attempting to get into the subway (damn you, turnstile!!). But falling OVER the bar, too? That's just more pain than I can bear.
Here we have a moment from the 2010 ALCS, when San Francisco Giants relief pitcher Sergio Romo slipped and fell on the mound while attempting to cover first base. It appears as though his cleats get caught in the dirt and he just goes flying.
For those of you who haven't worn cleats, getting them caught in anything and then trying to move can be quite painful. In some cases, it can result in serious injury. Romo was just fine in this case, but it was still painful to watch him barely move and then hit the ground.
This past July, pitcher Fausto Carmona's Cleveland Indians were playing the Cincinnati Reds at Great American Ballpark; thus, the DH rule was not in effect. Carmona came up to bat and bunted, as most pitchers do, before bolting for first base.
He ran a bit too hard before losing balance and then tripping into first, straining his quad in the process. It's unfortunate that he got hurt, but his form in running to first base is just so awkward that it's kind of painfully hilarious, and the fall itself just makes you think, "...OW!"
Who needs a dentist and costly dental insurance when you have a catcher who'll just smack you in the mouth for the low price of just walking around in pain for a bit?
No matter how you look at it, considering how catchers need to throw the ball hard enough to reach a target 60 feet, six inches away, chances are that arm was moving pretty quickly; thus, the shot to the mouth must have been pretty painful.
About two minutes into this video, you'll find a short clip of All-Star third baseman Adrian Beltre during his time with the Seattle Mariners. On a big swing, he fouls a ball off. The only problem is that instead of going straight back or to the side, the ball bounces off of home plate and nails Beltre smack dab in the face.
Given the estimated velocity of the pitch and the force at which it hit the ground, plus coming back up, you know that Beltre had one hell of a shiner on his mug for the next few days.
About 33 seconds in, you'll see a San Francisco Giants ballboy (and an old one at that) attempt to field a foul ball. The only problem is that it's a rainy day and the ground is pretty slippery.
The ballboy then does his best Ice Capades tryout and just slips to the ground before falling flat on his butt. As someone who has taken his fair share of spills on the ice, I will tell you now to not take falling on one's gluteus maximus lightly. It HURTS.
Still, as the old saying goes, as long as it's happening to someone else, it's kind of funny.
Before pursuing professional baseball, Todd Helton used to be a quarterback for the University of Tennessee. We all know that football is a game of devastating hits and tackles, and baseball provides an escape from that rough-and-tumble world.
Yet as seen at the start of this video, I doubt that Helton had "getting half-tackled while rushing to get back to second base" on his to-do list. The Dodgers player looking to tag him essentially jumps and then sits on him while trying to apply the tag. It's not the most painful video out there, but you can only imagine how it must have felt for Helton!
I'm not ashamed to admit that I'm fond of cats, as I've had them for most of my life. Thus, I can certainly feel for the poor groundskeeper who was tasked with fetching the stray kitten that got loose on the field of the Kingdome that one time.
The story is told from 0:48 to about 2:01, and you'll see that the poor man becomes the victim of claws and bites as he tries to get the terrified creature off of the field. I've had my fair share of scratches and bites at the hands (or in this case, paws) of feisty kittens, and I'll tell you right now: they HURT.
Still, the little pain dance he does while still holding the attacking cat is just a riot!
I'd like to give us all a break right now from laughing out loud and start the wall-crashing tribute videos with some footage of someone who actually did get hurt. In this video, minor league outfielder Kenny Kelly does something that every outfielder does at some point in their career: run face first into the wall.
The only difference is that in this case, Kelly gave himself a concussion. It's just plain painful watching him run so hard into the wall before falling into the ground, and it also serves as a reminder to all outfielders out there: When chasing a ball that's driven deep, take a quick peek for the wall.
Poor Butch Huskey. Here's a guy who had a few good years in the majors thanks to his powerful bat, but everyone seems to remember him for what happened on "Futuristic Uniform Night" in 1999.
His Seattle Mariners were playing the Minnesota Twins at the Metrodome and while running after a high fly ball that eventually became a home run, Huskey didn't look where he was going and ran face first into the wall. He ended up shaking it off and staying in the game, but that face-first run isn't the only painful thing about this video.
That "futuristic" uniform is just God awful, and to be honest, it makes my eyes hurt. Thus, this video is good for two spots on the list: one for the hit, and one for having to look at that fashion monstrosity.
I've heard about some baseball players being intense, but this is a bit ridiculous. Oh well. I guess nothing says "I love you, sport of baseball" like falling face-first into the wall post-diving catch just to get the out.
We venture back into the world of bloopers with a spotlight on Matt Carson, an outfielder with 46 MLB games under his belt. It's clear that when the Oakland A's called him up in this instance, he wanted to make a big impression.
Carson did just that, giving 110 percent in chasing down a ball that eventually sailed over the fence, but he paid for his over-exuberence. His mad dash into the wall is a strong reminder for all rookies to just take it easy in the field, relax and have fun.
Whenever Carson is called up again, I hope he'll take that message to heart.
This crash into the wall isn't the most painful I've seen, but the sound the wall makes on impact is enough to make one cringe. Seriously, I'm all for taking in games at small ballparks, but the one drawback of them besides the usually uncomfortable seats is that you can hear EVERYTHING in them.
This case is no exception, and you have to ask the question: When did playing the outfield turn into playing hockey on grass?
A common pregame ritual in any sport is to have a skydiver jump out of a plane, open his parachute and land on the field. The crowd goes wild, the skydiver salutes the crowd and everyone feels somewhat patriotic for the rest of the day.
I guess the feeling all around the stadium was "What the hell?" after the wind took this guy away from the field and into one of the trees behind the wall. Just by the way the tree shakes on impact, you can tell that the guy was hurting afterward.
In playing catcher, you know you're going to take a beating. It just comes with the job. However, not having clauses for this kind of abuse in the contract is just kind of ridiculous, don't you think?
I'm guessing that in this game (which I assume is a high school one), the pitcher had a problem with the umpire. Why else would his throw to third base be so off?
Either way, this blooper gives the term "kill the umpire" a whole new meaning, and I won't lie in saying that it made me chuckle.
There are a few reasons as to why Chicago Cubs outfielder Alfonso Soriano doesn't deserve the money he earns. He's often injured, doesn't hit for a good average and strikes out way too much.
Yet on top of all that, he seems to take his performance frustration out on the poor umpire. Come on, Alfonso, he's just doing his job! No need to aim the foul ball near him!
Well, now we know the real reason why Barry Enright got sent back to the minors, don't we?
Tommy Lasorda was the manager of the Los Angeles Dodgers for 20 years and is a Hall of Famer, but one of the most memorable moments of his life in baseball occurred in 2001, five years after he retired.
That year, Bobby Valentine was managing the National League in the All-Star Game and seeing as how he had played for Lasorda, he asked his former skipper to serve as third base coach for the game. Lasorda was happy to oblige.
Lasorda seemed to forget that being a third base coach also means keeping an eye out for stray bats and balls, as hard-swinging outfielder Vladimir Guerrero broke his bat on a foul ball and the barrel went flying right towards the third base coaching box. The barrel then hit Lasorda in the stomach and he went tumbling to the ground before doing what looked like a three-quarter somersault onto the grass. He was OK, but part of his legacy now has a painful blooper that we'll never forget.
The story of this incident starts around 0:54.
"Psycho" Steve Lyons spent nine seasons in the majors as an outfielder/utilityman and has since gone on to have a successful career as a broadcaster. Yet everyone seems to remember him for the one time he accidentally dropped his pants in front of the crowd during a break in the action. The painful embarrassment Lyons must have felt (not to mention some of the fans) had to be off the charts.
Steve, we love you, but we don't need to see your shorts!
We venture back into the world of the animal kingdom with one of the most legendary bloopers of all time, and I'm talking about a timeless classic. It involves future Hall of Famer Randy Johnson and his blazing fastball that turned him into the greatest strikeout pitcher of his generation. In this case, he was using it to get back in game shape during spring training.
Unfortunately, a passing bird got in the way of Johnson's pitch and met its end in a sea of feathers. The video of the incident was played over and over again, making all watching fans go "OHHHHHHHH!"
The crazy part is that even now, 10 or 11 years later, it's still just as painful and still kind of hilarious.
Fast forward to 3:21 of this video and you'll see that the Phillie Phanatic, longtime mascot of the Philadelphia Phillies, appears to have taken a wife. The only problem is that he doesn't make sure that she's strapped onto the four-wheeler and once he guns it, she gets left in the dust.
To be honest, I don't know what's more painful. Is it falling backwards off the four-wheeler, or knowing that your significant other doesn't care enough to check on your safety?
Rodney McCray was an outfielder who spent most of his career in the minor leagues, but he still managed to get his 15 minutes of fame. While playing in the minors in 1991, he achieved national notoriety when he caught a high drive and then ran straight through the outfield wall.
In watching the video and hearing the impact, one's heart may skip a beat as part of the wall basically shatters. On top of that, the wall was made of plywood, so it's not like he was running through some flimsy wall and escaping with just a bump here and there.
McCray wasn't seriously hurt, but the fact that he ran through straight plywood makes it pretty obvious that he was pretty sore the next day. Still, epic in both pain and on the blooper scale, his wall-breaking catch is enough for the top spot on this list.