Lakers and the Failed Trade for Chris Paul: How Much Does It Hurt?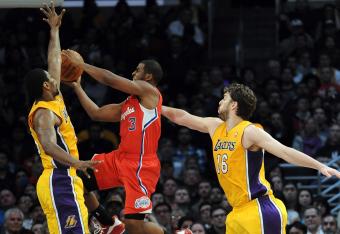 If there wasn't bad blood in LA before, it's brewing.
Harry How/Getty Images
Phil Jackson retires. Lamar Odom is traded. Andrew Bynum starts the season suspended. Kobe Bryant's wrist goes on life support. The bench is stacked with names like Goudelock.
Yes, it all sounds like a fairy tale considering that the team was in the NBA Finals three of the last four years. For the first time in a while, the Los Angeles Lakers have a significant challenge between themselves and the playoffs.
Nevertheless, the often-lambasted but incredibly successful Mitch Kupchak attempts to acquire the NBA's premier point guard, Chris Paul, in a deal that would send Odom and Pau Gasol out of Tinseltown. Commissioner David Stern steps in and nixes the deal, citing the league-owned Hornets' responsibility to be a competitive organization rather than a farm team for big-market clubs.
Soon after, the LA Clippers swoop in to make a historic deal for Paul—historic because the Lakers are jealous of their fellow Staples Center tenants for the first time in history.
Both teams have performed fairly well but hardly great—each has a good shot to make the postseason, and the coach Mike Brown and the Lakers have the second-best defense in the West, but there's little doubt they're wondering what could have been.
Would they be better with Chris Paul at the point? Or, more appropriately, how much better?
Using ESPN's Hollinger statistics, we can determine which players have provided the most value.
Kobe is fourth overall in Player Efficiency Rating, which is essentially an average that disregards total games played. Paul is seventh, Blake Griffin is 23rd, Bynum 27th and Gasol 43rd. Basically, the Lakers would have swapped a six-man in Odom, as well as Gasol, for the seventh "most efficient" player in the league.
Who Would You Rather Have?
Also, Paul presumably would have pushed PGs Derek Fisher and Steve Blake down the depth chart, both of whom are ranked in the high-200s in PER. One of the most underrated aspects of the impending deal was that the bench would be intact (minus Odom, who ended up in Dallas anyway).
Other than the incumbent guards, no Laker even shows up in the top 300 after the big three.
Another Hollinger stat is Value Added, which can be translated into Estimated Wins Added. This estimates the points a player adds to his team's score, as opposed to a replacement player, or a readily-available, below-average starter. When divided by 30, we get Estimated Wins Added.
Adjusted per game played, here's how the suspects stack up:
Value Added (per game) Wins Added (per 66 game season)
K. Bryant:

9.1

20.0
C. Paul: 7.1

15.6
B. Griffin

:

5.5

12.1
A. Bynum

:

5.4

11.9
P. Gasol:

4.7

10.3
M.Williams (LAC): 4.3

9.5
D. Jordan (LAC):

2.9

6.4
C. Butler (LAC)

:

2.5

5.5
C. Billups

(LAC):

1.9

4.2
M. Barnes (LAL)

:

1.5

3.3
J. McRoberts (LAL):

-0.2

-0.4
S. Blake

(LAL):

-0.2 -0.4
R. Evans

(LAC):

-1.0

-2.2

B

. Cook

(LAC):

-1.8

-4.0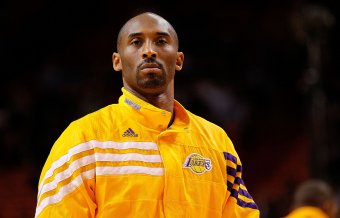 Mike Ehrmann/Getty Images
* Lakers M. World Peace, L. Walton, D. Ebanks, A. Goudelock, R. Morris, J. Kapono, D. Fisher, and T. Murphy's playing time was a) relatively insignificant b) negative. J. McRoberts and S. Blake accumulated the most "value" of this group. Clippers R. Foye, C. Fortson, T. Leslie, T. Thompkins, and S. Jones meet the same criteria.
** By right, these calculations should be based on MP/G rather than games played, but in the interest of time, it was done this way. Based on MP/G averages for the LA Clippers' starting lineup, this would likely close the gap by a couple of wins.
By these metrics, a lineup headlined by Kobe, CP3 and Bynum and surrounded by an aggregate of replacement-level players would be expected to win 48 more than replacement level. That's easily in the upper echelon of the playoff tree.
In actuality, the Lakers' roster computes to about 45 wins, but the rest of the bench (see asterisk) would subtract 2-3 wins from that total. Realistically, the Lakers are about a 43-win club and the Clippers should get 47. Removing Cook and Evans from the equation pumps them up to 53, but those two will still pick up minutes here and there. Even splitting the difference at 50 is quite promising.
As much as it may seem like they don't need him, you can bet that the Lakers were salivating at the thought of a lineup anchored by Kobe, CP3 and Bynum. Why the Miami Heat, New York Knicks, Boston Celtics and even the Los Angeles Clippers are permitted to make whatever moves they like while the Lakers and Hornets can't remains to be seen.
This article is
What is the duplicate article?
Why is this article offensive?
Where is this article plagiarized from?
Why is this article poorly edited?

Los Angeles Lakers: Like this team?