Was Jerry Kill's First Season as a Gopher a Success?
January 27, 2012

Leon Halip/Getty Images
Few coaches stepped into a more moribund program in 2011 than Jerry Kill.  In the years following the ouster of Glen Mason—a perennially good coach with a definable ceiling of success —it seemed like Tim Brewster did nothing but drag the program down at every turn. 
He entered with big promises but things never developed past just empty words.  Instead of pushing the Gophers to the top of the Big Ten, his teams won only one game twice (including the season he was fired after seven games) and Brewster finished with a record of 15-30.
When Jerry Kill was hired, the Minnesota athletic department made a radical change in philosophy. 
Kill didn't have any NFL experience and wasn't the kind of big name hire that would supposedly jump-start recruiting. Instead, Kill was a coach who worked his way up from division II through the ranks to the Mid-American Conference's Northern Illinois Huskies. 
All along the way he was able to take middling-to-bad teams and turn them into winners. This was a stark contrast to Tim Brewster, a longtime tight ends coach who was never even a coordinator, much less a head coach, before being hired by Minnesota.
For Kill, Minnesota would be the toughest task yet. The Gophers lost long-time starter Adam Weber at quarterback and were in the midst of moving MarQueis Gray back to quarterback from a year spent at receiver. Gray, Brewster's biggest recruiting haul, had very little meaningful time under center after sitting behind Weber for his first year and playing receiver as a sophomore.
On top of that, the rest of the team was in poor shape. Kill brought a hard-nosed approach and was unwilling to put up with players showing up late to practice or study sessions, going so far as to assign some players shirts reading "Minnesota Loafers" as a motivational tactic.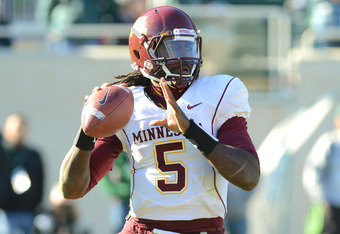 Mark A. Cunningham/Getty Images
Given the offseason turmoil, what some thought was an underwhelming hire, and the inexperience all over the roster the hopes weren't high for the season.
Despite that, Minnesota came out and played shockingly well against the USC Trojans in LA to open the season. Matt Barkley and Robert Woods led USC to an early lead, but Minnesota blanked them in the second half and the comeback attempt fell just short in the final minutes on an interception.
The next week, the Gophers surprised once again, this time by riding the momentum of a close loss to USC right down the drain and losing by seven points to New Mexico State. (Universal rule of college football: when you lose to a team from New Mexico, it is always embarrassing.) This was all made worse by the fact that Jerry Kill, who had suffered from seizure problems for years, suffered an episode late in the game while still on the sideline as Minnesota drove to possibly tie the game.
Week three, Minnesota got its first win—a six point victory over Miami (OH)—before once again losing to an FCS team from the Dakotas (also known as "pulling a Brewster").
At this point in the season, people were already beginning to suspect that, despite a close loss to USC in week one, that Minnesota might be the worst team in the Big Ten (although the lack of a head to head matchup between Indiana and Minnesota would make this a purely academic exercise) and possibly the worst major conference team in the nation. The next two weeks wouldn't help that debate.
Minnesota opened the Big Ten season in Ann Arbor without Gray, and the Gophers were summarily executed on regional cable to the delight of Michigan fans everywhere. It was the first shutout for Michigan since 2007 and the second worst loss in Minnesota school history.  Minnesota didn't break 180 yards on the day while Michigan put up 580 while scoring on nine of eleven possessions.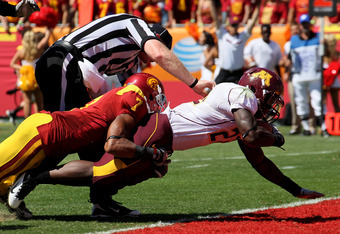 Stephen Dunn/Getty Images
What is worse than a throttling at the hands of a re-energized Michigan team?  The same thing happening the next week against Purdue. The Boilermakers jumped out to a 31-3 lead at halftime and held Minnesota to just over 200 yards. It would be much the same script the next week against Nebraska, as people began to hypothesize that Minnesota might just be the worst BCS-conference team of all time.
Then, things just got weird. Minnesota came out flat against Iowa but hung within two scores until the fourth quarter, when the Gophers scored on a long touchdown drive, surprised Iowa with an onside kick, then scored again to take the lead.  After a quick defensive stand the Gophers ran out the clock on their first Big Ten win of the season.
The next week, Minnesota nearly pulled off a bigger upset, but fell short after hanging with Michigan State until the fourth quarter.
The following two weeks were too much as the Gophers got blown out by the rival Wisconsin Badgers and solidly beaten by Northwestern.
The final week, Minnesota was able to go out on a strong note by handing Ron Zook his walking papers in the form of a 20-point win at home vs. Illinois to finish the Ron Zook farewell tour.
For the season, Minnesota finished 3-9 with two Big Ten wins. Is this good enough?
It depends on how much progress one expected. Offensively, the Gophers brought back six starters from a unit that was 77th in total offense (361 ypg) and 89th in scoring offense (23.2 ppg).
How did things turn out?  Minnesota's rushing offense improved by 25 yards per game, but the passing offense backslid 75 yards per game as the Gophers finished in the bottom ten of the nation in both scoring and total offense.
The other side of the ball was largely a wash. Minnesota went from giving up 392 yards per game in 2010 to 403 in 2011, while scoring decreased from 33 points per game to 31.
In all areas but rushing offense, Minnesota either held steady or got markedly worse from the final year of Tim Brewster, and that included five games under an interim coach in 2010.
Minnesota was not a program that was poised for a breakout year, and things were going to be rough with the transition to a new staff, but despite matching the win total from 2010, this year's version of the Gophers spent a good chunk of the season looking like the worst BCS conference football team in decades.
There were some building blocks along the way, and if MarQueis Gray can grow over the offseason then it will be easier to label 2011 as a necessary evil in the long run, but by most measures the 2011 season was at most a lateral step (and at its worst, a big step back).
Jerry Kill won't be definitively graded on his performance for years, but his first season left a lot to be desired as Minnesota looked worse than previous years most of the way.  
But hey, Rome wasn't built in a day. If Kill helps this team take a step forward it will go a long way toward helping Gopher fans forget about a disappointing 2011 season.