Super Bowl 2012: 3 Players Who Must Perform Well to Win
January 29, 2012

Al Bello/Getty Images
Tom Brady, Eli Manning, Rob Gronkowski and Ahmad Bradshaw will provide plenty of fireworks in this year's Super Bowl.
But, there are several other lesser-known players who must perform well if their respective teams are going to win.
Blocking, punting and running crisp routes are essential for the success of any team, and the New York Giants and New England Patriots are no exceptions.
So, with that being said, here are three players to watch for in next weekend's Super Bowl.
Nate Solder, RT, New England Patriots 
Matt Light is one of the best left tackles in the NFL, so he should be able to hold up just fine against Justin Tuck.
But Solder is a rookie right tackle and has never faced rushers as talented as Jason Pierre-Paul and Osi Umenyiora.
If he can't keep those elite rushers away from Brady, the Giants will collapse the pocket and force Brady to throw off balance more often.
That will lead to more incomplete passes and more opportunities for the Giants to intercept passes.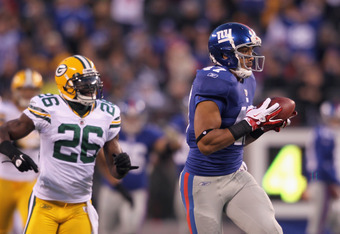 Nick Laham/Getty Images
Travis Beckum, TE, New York Giants 
Beckum didn't have a very impactful regular season, but that has to change in the playoffs.
Eli Manning clearly wanted to get the ball to Beckum in the NFC Championship Game, throwing his way on several occasions.
He's going to need to have another solid game to make sure Victor Cruz and Hakeem Nicks have space deep down the field.
If he can draw the attention of the New England linebackers, Manning will have more space to throw the ball to the receivers.
Steve Weatherford, P, New York Giants 
Punters are often overlooked, so I'll try to give Weatherford some attention here.
With an offense as potent as New England's, field position is of utmost importance.
If the Giants are going to have any chance of pulling off the upset, they are going to need to pin Brady and the Pats inside their own 20-yard line as often as possible.
If Weatherford can consistently pin the Pats deep, the vaunted New York pass-rush will take care of the rest, making it a long day for Brady and the offense.