How the Denver Nuggets Are Having so Much Early Success
January 27, 2012

Ask any NBA fan, and they'll tell you it takes superstars to build a title-contending team.
Superstars get all the calls, superstars get all the national TV coverage and it's no secret the superstars are the best players in the league.
But there's a team in the NBA that is devoid of even a single superstar, a team that is truly legitimate through 18 games of their 2011-12 season.
That team leads the league in scoring (106.4), fast-break points (21.4), assists (24.7), points in the paint (53.2) and two-point shooting percentage (52.9) while being second in steals per game (10.2).
That team is the Denver Nuggets, who are currently riding a franchise-record five-game road winning streak. And all those league-leading statistics are dependent upon one another while giving indications on how the Nuggets are winning.
Danilo Gallinari leads the team in steals, but seven Denver players average more than one steal per game.
Denver's effort on the defensive end leads to steals, and those steals lead to running for easy transition buckets.
The Nuggets are athletic—Ty Lawson's speed is blinding, Gallinari and Nene run the floor very well for bigs and backups know they must give energy to earn playing time—so Denver finishes off fast-breaks with dunks and layups in the lane almost always.
And the Nuggets have made it clear it doesn't matter who scores, as they rotate the ball relentlessly to find open looks at the rim rather than playing isolation offense the superstars love.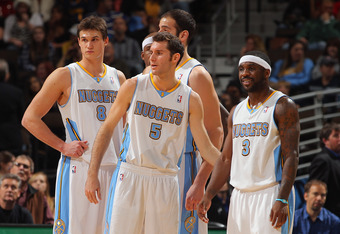 Doug Pensinger/Getty Images
Denver's six players that average double-digit scoring every night are a testament to their team-first play, and their depth makes them devastatingly difficult to defend.
While the starting lineup features two blossoming stars in Lawson and Gallinari, what makes the Nuggets scary to opponents is how deep their bench truly is.
Andre Miller hasn't lost a step in his 13th NBA season, and his veteran leadership is crucial to the success of the young team.
Al Harrington is playing out of his mind this season, and the 13-year pro is making a case for Sixth Man of the Year.
Corey Brewer has a nonstop motor on both ends of the court, while Rudy Fernandez knows how to knock down threes at opportune times.
Kosta Koufos and Chris Andersen give the Nuggets much-needed height of four near seven-footers, while rookie Kenneth Faried has insane ups with an intense aggression towards loose balls and he can't even find playing time.
What it means is, unlike the makeup of the super teams who rely on their superstars to produce, Denver is so dynamic it's impossible to predict which players will go off on a given night.
Four different Nuggets have led the team in scoring during this five-game winning streak; three of them are bench players.
Denver's so deep George Karl can call on his backups, knowing they can not only play at a high level, but that their energy output will be a mile high as well. And the deep bench means less minutes on individuals and translates into lively legs on the court at all times.
It's how the Nuggets run opposing teams out of whatever gym they happen to be playing in that night and how Denver has run their record up to 13-5, sitting squarely in the No. 2 position in the West.
Yes, Denver's devoid a superstar, but these new Nuggets are nasty.
They're athletic, energetic and unapologetic as they blow out one team after another.
From top to bottom, this is the best team Karl has coached in Denver, and the old ball coach has his team primed to make a playoff run for the ninth straight season.
More Stats:
The Nuggets are a perfect 7-0 versus the East and are 7-3 on the road this season.
Denver's five-game winning streak makes them the hottest team in the NBA, and the team is 7-1 overall in their last eight games.
The Nuggets also attempt the most (29) and make the most (21.6) free throws per game.
Rich Kurtzman is a freelance journalist actively seeking a career in journalism. Along with being your Denver Nuggets Featured Columnist, Rich is the Denver Broncos and CSU Rams Examiner and Kurtzman also writes for Blake Street Bulletin, Stadium Journey, and Mile High Hoops.
Follow Rich on Twitter for breaking news, need-to-know retweets and interesting insight on the Rams and everything Colorado sports related.
Follow Rich on Facebook to links to all his pieces and breaking news.