I began this article yesterday afternoon during downtime at work. By the time I got home, I had written about half of it. Shortly afterward, during the 5:00 EST broadcast of Around the Horn, panelist Bill Plaschke, when being prompted for comments on the possible Houston Astros name change, quickly mentioned, among other options, the Houston "Wehaveaproblems."
After spitting a few choice invectives at the television, I shelved my article, lest it no longer be original. However, I reconsidered today—my article was begun before Bill Plaschke, who has the advantage of immediate and nationwide dissemination, uttered the idea, so I have absolutely no reason to discard this.
Like the ever-meddling gods of Greek mythology, the Lords of Baseball will once again tinker with the sport's fundamental structure, adding two wild-card spots to the playoff hunt and, even more gratingly, shifting yet another team to the opposing league.
This time, the Houston Astros.
I'm still adjusting to the Milwaukee Brewers showing up in National League box scores.
Even though they have resided in the NL Central since 1998—and I'm also still adjusting just to Central Divisions—I continue to occasionally do a double-take when I see a Brewers pitcher step into the batter's box.
Come 2013, I'll do the same when the Houston Astros send their designated hitter to the plate.
Except that, according to the Associated Press, it may no longer be the Astros.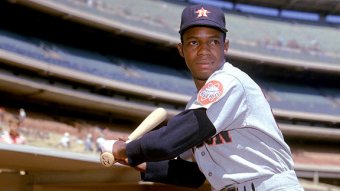 Weary of the name they have borne for nearly half a century—and with the Space Race now a distant memory—the Houston franchise is contemplating a new identity, largely to stir interest in a steadily eroding fan base.
(Attendance has plummeted more than one million since 2006, and owner Jim Crane is looking for a fresh start and fresher capital, which a new franchise name, new uniforms and all of the other pricey accoutrements would generate.)
Many successor names, including those with western, and even "space," themes are being bandied about.
But their best option for that new identity is the Houston Wehaveaproblems.
For several reasons.
First, it continues the "space" theme upon which the franchise blossomed, a theme near and dear to the Houston community, which is home to the Johnson Space Center and NASA's Mission Control.
There also exists a potential tie-in with Tom Hanks' ever-lucrative marketability—especially if the new uniform logo is a cutout of his head from a scene in Apollo 13.
Tom Hanks puts behinds in movie-theater seats—he would do the same in baseball stadiums.
More importantly, Wehaveaproblem actually connotes a positive attitude, considering that the 2011 Astros and their fans suffered through the worst season in Houston's history.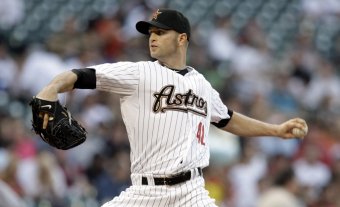 Bob Levey/Getty Images
The implication that a 56-106 team that finished 40 games out of first place, was last in team earned run average and likely will struggle even further against 14 unfamiliar pitching staffs and lineups has only one problem may be a tough sell.
But extremely young or exceedingly elderly fans might still buy it.
Let's face the facts. With a core of pitchers that hemorrhaged earned runs in 2011 like the Apollo 13 capsule vented oxygen and attendance dropping so fast that Minute Maid Park might require a heat shield, Houston needs a positive spin on a calamitous situation.
Just like Apollo 13 Flight Director Gene Kranz insisting that NASA's disaster-in-the-making would turn out to be its "finest hour."
And a finest hour will encompass approximately three really strong innings for Houston during some game in the 2013 season…