Dennis Allen to Oakland Raiders: Why Oakland's Gamble Will Pay off
January 26, 2012

The Oakland Raiders just took a big risk, hiring a 39-year-old with no head coaching experience.
But if you ask around the NFL this season, Dennis Allen isn't much of a risk at all. In fact, this is generally being looked at as a great hire for the Raiders.
Allen and the Raiders formally agreed on a four-year deal on Thursday, according to ESPN. Allen, the former defensive coordinator of the Denver Broncos, is seen as one of the great young defensive minds in the NFL, and his work with the young Broncos this season speaks for itself.
Tim Tebow aside, a big reason why the Broncos won the AFC West and beat the Pittsburgh Steelers in the playoffs this season was because of their defense, which is astonishing given the fact that the Broncos gave up a league-high 29.4 points per game last season.
Allen constructed a defense that had plenty of room to grow, but clearly developed from week to week. He was tasked with a near-impossible chore given the Broncos' woes last season, but he came through brilliantly. Sure, drafting linebacker Von Miller certainly helped, but the defense as a whole was noticeably better than last season.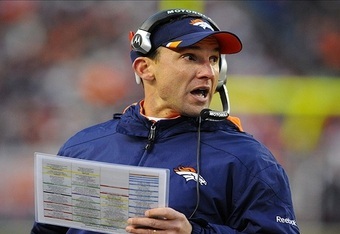 The Raiders had issues with their defense this season, particularly down the stretch. They gave up 27.1 points per game and allowed the San Diego Chargers to rack up 38 points in Week 17 with their playoff hopes on the line.
In Allen, the Raiders not only have a solid defensive coach, they have a coach who is still rising. They appear to have picked him up at a pivotal moment, when he's only going to get better.
Raiders coaches haven't lasted very long in the last few years, but Allen has the potential to be a longtime coach for the Silver and Black, and the organization should be proud of itself.