2012 NHL All-Star Game: Ilya Kovalchuk and Other Notable Snubs
January 29, 2012

Christian Petersen/Getty Images
In Sunday's NHL All-Star Game, most of the league's top stars will be in attendance.
I say most because like in any other all-star game, plenty of deserving players will be left at home.
It's all part of the process and only so many people can be on the all-star roster. I get that, but that doesn't mean there aren't some guys who should be in the game who aren't.
Let's take a look at this year's three biggest snubs.
Ilya Kovalchuk, New Jersey Devils 
The Devils are currently in fourth place in the Atlantic division, but they'd be tied for first place in the Southeast division with 55 points.
Kovalchuk has been outstanding once again this season, scoring 40 points this season. His balanced attack has led to 19 goals and 21 assists this season. He's been feeding the puck to his teammates more often.
And when the time comes, he can still light up the lamp and that deserves a spot in the all-star game.
James Neal, Pittsburgh Penguins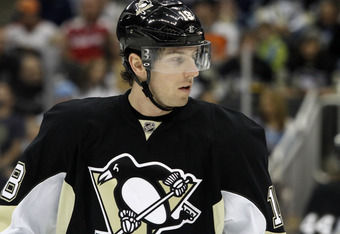 Justin K. Aller/Getty Images
In the absence of superstar Sidney Crosby, Neal has been huge for the Penguins.
He's a major reason that Pittsburgh is only six points behind the New York Rangers in the Atlantic division.
He's scored 27 goals en route to amassing 47 points this season. He—along with Evgeni Malkin—has continued to make the Penguins a tough team to beat.
And since Malkin is heading to the all-star game, it's only fair that Neal should go, too.
Patrice Bergeron, Boston Bruins 
Bergeron has been one of the best all-around forwards in the NHL this season.
He's scored 15 goals and dished out 28 assists for the defending-champion Bruins this season.
The Bruins are on top of their division at the moment, but certainly wouldn't be without Bergeron's efforts.
He deserves to be joining goaltender Tim Thomas and his teammates at the all-star event.