2012 NFL Mock Draft: 7-Round Predictions for Pittsburgh Steelers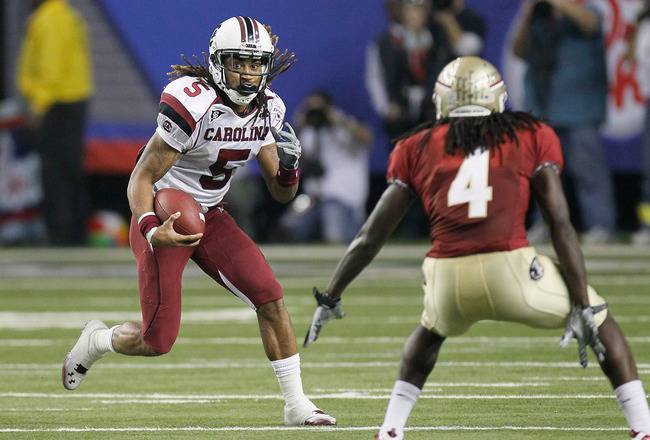 Kevin C. Cox/Getty Images
With the NFL's 2011 season down to one game, it's time for all but two teams to start seriously looking ahead to the 2012 season. That season starts almost immediately with trade and free-agency market concerns, but the centerpiece is the 2012 NFL draft in April.
Here's a look at who the Pittsburgh Steelers might be taking in each round.
Round 1: Fletcher Cox, DT, Mississippi State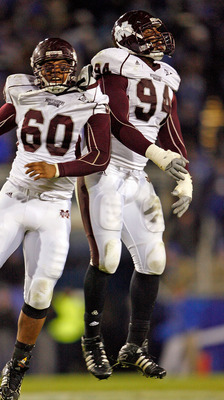 Andy Lyons/Getty Images
Chris Hoke has already retired and there are rumblings that Casey Hampton could end up as a cap casualty. If he does, the Steelers will need someone to be the future at nose tackle. Even if he doesn't get cut loose, the Steelers could use an heir apparent.
Right now, all they have is Steve McLendon. He's showed some good play, but he doesn't seem like a guy who's going to be a full-time starter in the NFL.
Cox seems like a guy who could be a star at the position. He's got excellent ability and he can shed blocks. He fits what the Steelers do with their defensive line and he could end up being the kind of playmaker Hampton was earlier in his career. He also projects to be one of the best available players in this area. The Steelers love to choose the best player available. This time he'd fit their needs.
Round 2: Stephon Gilmore, CB, South Carolina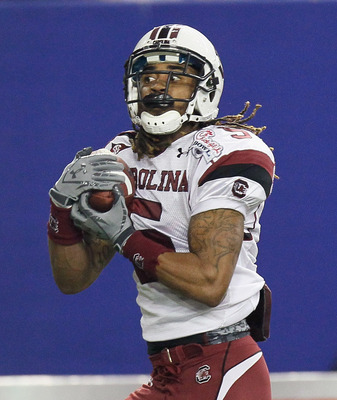 Kevin C. Cox/Getty Images
The Steelers could be very interested in another corner in this draft. William Gay and Keenan Lewis are free agents. The cap-strapped Steelers must have someone opposite Ike Taylor. The price could be prohibitive for a free agent and the Steelers don't seem likely to engage in the trade market.
Gilmore is a good zone corner, something Pittsburgh needs with Dick LeBeau's scheme. He may not start right away, but the team could groom him behind Cortez Allen and Curtis Brown for a year unless he shows that he's ready sooner.
Gilmore also can play man and is great in press coverage. That's a skill set not shared by most of the Pittsburgh depth chart on defense, so he might be very valuable to a team that was not able to push receivers around much in 2011.
Round 3: Nate Potter, OG/OT, Boise State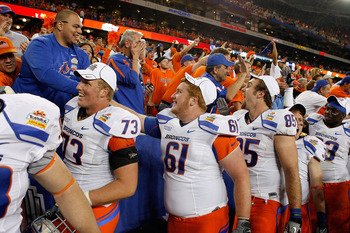 Christian Petersen/Getty Images
The Steelers like offensive linemen who are versatile. This year, it was practically a requirement because of the injuries and other issues faced by the line. Those issues aren't going away.
Willie Colon figures to be among the potential cap casualties, Max Starks is coming off an ACL injury and the rest of the line has questions about who should start and who should sit.
Potter is a versatile player who can play either guard or tackle. The team could conceivably slide him into the right tackle spot or left guard spot. If he's at tackle, Marcus Gilbert could move to the left tackle spot. If he's at guard, it would free up Doug Legursky to take over at right guard or go back to being a super-sub.
Just the depth he would provide would be welcomed, as the team is likely to get rid of Chris Kemoeatu this year after he's disappointed continuously since being drafted several years ago.
Round 4: Cyrus Gray, RB, Texas A&M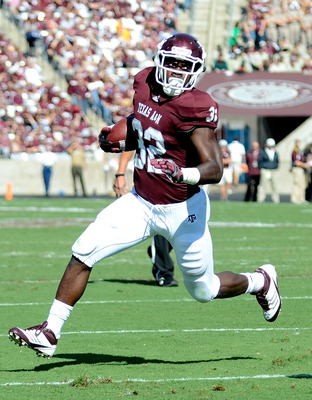 Sarah Glenn/Getty Images
Rashard Mendenhall tore his ACL in the season finale. Isaac Redman looks like a lock to be a starter, but the team could use some insurance. Mewelde Moore doesn't figure to return. Baron Batch and Jonathan Dwyer were lost to major injuries. There's no timetable on Mendenhall either.
Gray is a Redman-type back. He's not big, but he is solidly built and can keep going after contact. It seems that, with a new coordinator, the Steelers will be returning to a smash-mouth style of offense. Having a couple of backs who are tough to stop and who can explode into the hole would seem useful.
The big difference is that Gray has excellent speed. He's a good edge runner too, which is something that's been lacking in the offense since Willie Parker departed a few years back.
Round 5: Chris Gallipo, ILB, USC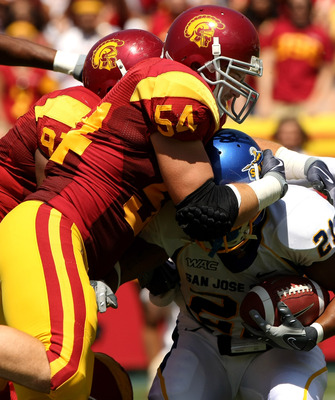 Stephen Dunn/Getty Images
James Farrior, like Casey Hampton, may be a cap casualty. Farrior is aging and he isn't the player he was two or three years ago. He doesn't tackle as surely and isn't as good at stopping the run. The Steelers may choose to go with someone like Stevenson Sylvester, who's younger and less expensive.
Pittsburgh almost always takes a linebacker in the draft at some point. Gallipo makes sense because he's versatile enough to play inside or outside. He's mostly played in a 4-3 at USC, so he'd have to adjust to a 3-4 system and learn the ropes, but he has a ton of athleticism.
Even if they don't envision a guy like Gallipo as a starter in the next year or two, they could use some depth on the inside.
Round 6: Kellen Moore, QB, Boise State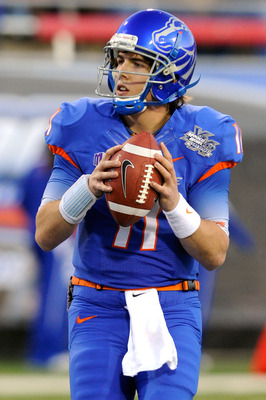 Ethan Miller/Getty Images
The backup situation in Pittsburgh is in flux at the quarterback position. Charlie Batch, Dennis Dixon and Byron Leftwich are all free agents. Batch is old, Dixon has a belief he can be more valuable elsewhere and Leftwich is very injury-prone.
The team has brought in Troy Smith to compete for the backup job and seems sure to add someone else in the draft or in free agency. Someone athletic seems to be their desire. Smith was a very mobile quarterback at Ohio State in his day.
Someone like Moore would also make sense. He doesn't have the measurables NFL teams are looking for right now as a starter, but he could develop into one or at least a competent backup.
Round 7: Carson Wiggs, PK, Purdue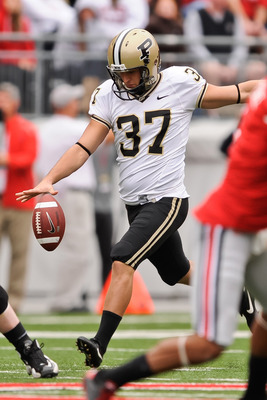 Jamie Sabau/Getty Images
Shaun Suisham was okay in his first full season in Pittsburgh, but he might benefit from competition. The team could also benefit from a kicker who's more reliable from long range. That's where Wiggs comes in.
He's a much stronger-legged kicker with the ability to punt, too, if necessary. The team could also be in the market there if Jeremy Kapinos doesn't return (I'm going to count Daniel Sepulveda out at this point). Having one player who could potentially pull double duty might be beneficial financially.
Wiggs is also very accurate and can kick from long range. That's an area where Suisham is concerning. He hasn't been the best (or the worst) from distance, but his career numbers indicate he struggles with a below-par leg.
Keep Reading

Pittsburgh Steelers: Like this team?