Bob Stoops: Oklahoma Sooners Head Coach Under Pressure for 2012
January 27, 2012

Christian Petersen/Getty Images
2012 will be a pivotal year for Oklahoma Sooners coach Bob Stoops for multiple reasons. The underwhelming performance of his team last season and the fact that he rehired his own brother to coach the Sooner defense will brighten the spotlight on the head coach. 
College football coaches, like other highly visible figures in competitive sports, are subject to the "what have you done for me lately" test, and the Sooners haven't won the big one since 2001, Stoops' second season in Norman.  
Granted, fans, analysts and other followers of college football can be overly critical. A rational person would point to Stoops' four Big 12 titles in the past six seasons or the abundance of injuries that plagued the Sooners last season, for example. But expectations are expectations, regardless of how overblown or unrealistic, and the already-high standards for the Sooners will be elevated yet again after OU ended the highly-anticipated 2011 campaign with a lackluster victory in the Insight Bowl over Iowa. 
Additionally, the rehiring of Mike Stoops to be defensive coordinator for OU intensifies the pressure on Bob. Brent Venables was well-liked by Sooner Nation and was a talented recruiter during his time at Oklahoma. It's likely that many were sad to see him effectively forced out by Mike Stoops' arrival on the scene.
In fact, critics of the coaching shuffle could argue Venables' departure has already had a tangible adverse impact on OU. Shortly after the coach left for Clemson, cornerback prospect Kevin Peterson decommitted from OU and committed to Oklahoma State, citing Venables departure as a factor in his change of plans.
Personally, I think rehiring Mike Stoops was a great move for the Sooners and will reap benefits in the long run; I believe the OU defense will become dominant again with him at the helm. But he needs to do well to preserve Bob Stoops' credibility.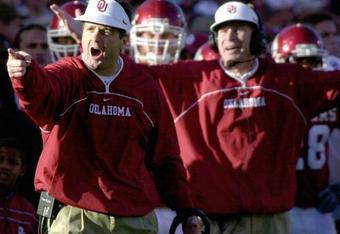 If the Sooner D thrives under Mike Stoops' coaching, Bob Stoops will be praised for inviting his brother back to join him on the sidelines. However, if improvement is not made, Bob will feel the heat, and the hiring will instead look like a case of nepotism to some college football fans. In cases like these, the end justifies the means. 
Let me be clear: I don't think the upcoming season will be a hot-seat year for Bob Stoops. But the reality is that Stoops will be under increased pressure to deliver with a team that returns plenty of talent. The Sooners will be highly ranked in the preseason polls and should be in the national title picture once more.
Bob Stoops, who has not coached two consecutive seasons in Norman without earning his team a BCS berth and Big 12 title, has created exceptionally high standards for himself and his program, and if the Sooners are not in the title picture deep into the 2012 season, he will be scrutinized.