NHL 2012 All-Star Fantasy Draft: Father vs Son
January 27, 2012

Richard Wolowicz/Getty Images
Well, tonight in the Bojarinov household, my father and I held our own All-Star fantasy draft. 
My father (Vasilji), being true to his Toronto heart, wanted to choose the team of Zdeno Chara (captain) and Joffrey Lupul (assistant captain), which left me (Peter) to choose the team for Ottawa's Daniel Alfredsson (captain) and Henrik Lundqvist (assistant captain).
He then allowed me to choose first instead of the flip of a coin. 
So here is our NHL All-Star Fantasy Draft in the exact order of our picks, staying true to the rules: 
Team Alfredsson       VS        Team Chara
1. Daniel Sedin, F               1. Pavel Datsyuk, F
2. Henrik Sedin, F               2. Phil Kessel, F
3. Erik Karlsson, D               3. Evgeni Malkin, F
4. Alex Edler, D                   4. Jarome Iginla, F
5. Steven Stamkos, F          5. Tim Thomas, G
6. Claude Giroux, F            6. Kimmo Timonen, D
7. Shea Weber, D              7. Brian Campbell, D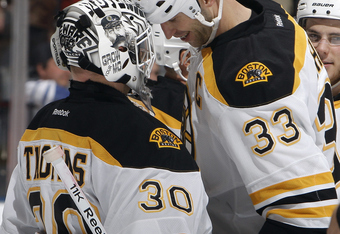 Abelimages/Getty Images
8. Jason Spezza, F              8. John Tavares, F
9. Jimmy Howard, G           9. Brian Elliott, G
10. Jonathan Quick, G       10. Carey Price, G
11. Ryan Suter, D              11. Tyler Seguin, F
12. Patrick Kane, F          12. Jordan Eberle, F
13. Marian Hossa, F        13. Dan Girardi, D
14. Dion Phaneuf, D       14. Kris Letang, D
15. Keith Yandle, D         15. Dennis Wideman, D
16. Scott Hartnell, F         16. James Neal, F
17. Corey Perry, F            17. Jason Pominville, F
18. Marian Gaborik, F       18. Logan Couture, F
19. Milan Michalek, F       19. Jamie Benn, F
I love my team, and my father loves his, but I guess that's possible with all-star teams. I really tried to bring players together that are teammates (Go Ottawa). Obviously, you can tell I made my own Team Sweden. My father actually never noticed till midway through. It's also funny that he loves his Kessel-Lupul combo, but I found out that he isn't that much of a Dion fan (like most NHL players).
Well, thanks for taking the time to reading our picks. What do you think of them?
Who was shockingly high or low, and which of the two teams do think has the best chance to win?