San Francisco 49ers: A Guide to the Team's 2012 Offseason
January 27, 2012

Kevin C. Cox/Getty Images
The lockers are cleaned out, players have returned to their respective homes and just like that, the season is over.
All too soon, though not as soon as recent years.  
Our focus now shifts to the 2012 offseason. With free agency and the NFL Draft approaching, the team will be looking to make next season even more magical.   
Team Needs
1. Wide Receiver: A grand total of one catch in the NFC Championship game for the receiving corps sums it up. 
2. Cornerback: Depth is a must if they want to continue competing with offenses like the New Orleans Saints and Green Bay Packers
3. Offensive Line: Unit made drastic improvements throughout the year, but was too inconsistent. Quarterback protection needs to get better. 
Others: Outside linebacker, safety, running back and depth all around.
Free Agency
Date: Begins March 13, 2012
49ers Notable Free Agents
CB Carlos Rogers: The team's shutdown corner has expressed a desire to return, and the 49ers have reciprocated those feelings. If a deal is not made soon enough, he could flee for a more lucrative offer. 
QB Alex Smith: Smith excelled in his first year with Jim Harbaugh as coach, helping the team to a 13-3 regular season record. Expect a two or three-year deal in the $8 million range. 
S Dashon Goldson: Pro-Bowl safety had the best season of his career (six interceptions and a handful of crushing hits). Will attract other suitors, but should return if the price is right.   
LB Ahmad Brooks: His solid season (seven sacks) will garner interest from other teams, but playing for a winning team may trump the offers.  
WR Ted Ginn: His value in the return game was on full display in the NFC Championship game, but he's had struggles as a receiver. It will be interesting to see how this plays out. 
OL Adam Snyder: Since entering the starting lineup, Snyder has arguably been the most consistent lineman. And he provides versatility. The team will make sure he sticks around. 
S Reggie Smith: The backup has shown flashes of promise, but not enough to earn the starting nod. May look elsewhere for more opportunities.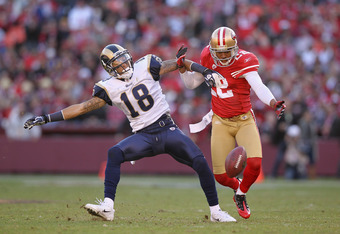 Ezra Shaw/Getty Images
WR Joshua Morgan: Before the injury, he was emerging as a go-to receiver for the team. His injury rehab is coming along and should be back in the lineup next season. 
LB Blake Costanzo: Fits in perfectly with a team devoted to special teams. The 49ers are that team. He also adds depth at the linebacker position. 
FB Moran Norris: The rise of rookie Bruce Miller marks the end of the 11-year veteran's days in San Francisco. 
LB Larry Grant: He was solid filling in for an injured Patrick Willis. The team would love to keep him around in case of injuries, but his resume is impressive enough to land a starting job on another team.
RG Chilo Rachal: Benched during the team's third game, Rachal never regained his starting spot on the line. 49ers will let him walk. 
TE Justin Peelle: He stepped in nicely as a replacement for Nate Byham, who missed the season with a knee injury. Byham will return; Peelle won't. 
Others: CB Tramaine Brock, WR Brett Swain, DT Will Tukuafu, LB Tavares Gooden, S Madieu Williams, CB C.J. Spillman.
Free Agents the 49ers Should Target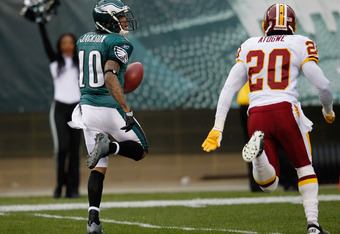 Rob Carr/Getty Images
WR DeSean Jackson, Philadelphia Eagles: This one intrigues me; it's the definition of a high-risk, high-reward deal. Jackson's talent has never been a concern; it's been his attitude. That won't fly on a Harbaugh team, but he would instantly spark an offense in dire need of a big-play receiver. Also, the contributions as a returner could make Ginn dispensable.
WR Pierre Garcon, Indianapolis Colts: DeSean may be wishful thinking, but Garcon is a possibility. He's fast, young and may be the best receiver the team can afford. He was able to put up solid numbers (70 receptions for 947 yards and six touchdowns) despite the absence of Peyton Manning. 49ers could pursue him and still add a tall, big-bodied receiver through the draft. 
CB Brandon Carr, Kansas City Chiefs: Carr was a shutdown corner for a very underrated Chiefs passing defense. He could fit in nicely opposite Carlos Rogers or replace him if he decides to leave. Money may be an issue, as some teams will throw a lot towards his way. 
G Chad Rinehart, Buffalo Bills: Not well-known on the Pacific Coast, but did a great job stepping in for an injury-depleted Bills line. Never allowed a sack. The 49ers allowed a league-high in sacks, so he could be part of a solution there. 
Others: WR Harry Douglas (Atlanta Falcons), RB Mike Tolbert (San Diego Chargers), G Jeremy Zuttah (Tampa Bay Buccaneers)
NFL Draft
Date: April 26-28, 2012
First Round, Pick No. 31 Possibilities
WR Alshon Jeffery, South Carolina: The 49ers would love to see this receiver drop to them late in the first round. At 6'4" and 225 pounds, Jeffrey is exactly what this team is missing: a receiver that can pluck the ball from the sky and be a threat inside the red zone. 
WR Kendall Wright, Baylor: Receivers are a need, so here's another one that would be able to step in and contribute immediately. In his senior season, the speedster had 108 receptions for 1,663 yards and 14 touchdowns. He's the deep threat this team needs to keep opposing defenses honest.  
DT Dontari Poe, Memphis: If he somehow slides towards the end of the first round, the 49ers should not hesitate to select this monster. At 6'5" and 350 pounds, Poe is a rarity that is capable of playing tackle or end. Playing alongside Justin Smith would only mean good things for Poe and the 49ers' future.    
CB Janoris Jenkins, North Alabama: Character concerns could very easily cause Jenkins to fall to San Francisco at No. 31, and maybe further. He has the talent to be the best corner in this draft, but off-the-field issues may scare some teams away. The 49ers may have a very difficult choice to make if his name is still up there when they make their first-round selection.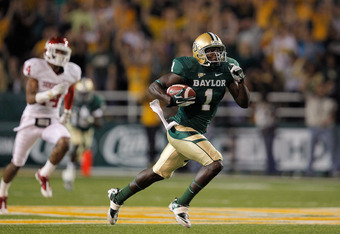 Sarah Glenn/Getty Images
Later-Round Options, Rounds 2-7
OT Tony Bergstrom, Utah: Projected to go within the first four rounds, Bergstrom would be a steal should he slide beyond the fifth. He has the size (6'6" and 315 pounds), strength and technique to become an eventual starter in the league. Was a First Team All Pac-12 performer and seems to respond well on the big stage. 
WR Marvin Jones, California: A stellar week of Senior Bowl practices has put Jones on the radar of many, and deservedly so. He has good size, reliable hands and displays a nice burst to get the necessary separation. The 49ers can't let another Cal player slip through their hands. Worth a mid-round selection if they fail to secure a receiver on the earlier rounds. 
C Michael Brewster, Ohio State: Jonathan Goodwin has been a great addition for the 49ers, but won't be here forever. Brewster can wait a couple years, learn the system and then be ready to start. He's a good leader, and that's a must at the center position. 
DT Alameda Ta'amu, Washington: At 6'3" and 341 pounds, Ta'amu gobbles up blockers, allowing the linebackers to fly in and make plays. He would be a perfect fit in the Niners 3-4 defensive scheme. 
CB Trumaine Johnson, Montana: Big and physical, Johnson looks ready to contribute early in his career. There will be a big jump in the level of competition, but he has all the physical tools for success. The 49ers found a gem in Chris Culliver and will be digging for more in this year's draft. Johnson could be that guy. 
What to Expect: The San Francisco 49ers' journey to the NFC Championship game was the result of a very successful 2011 offseason. Free-agent acquisitions and rookies alike made significant contributions on a team that just barely fell short of a Lombardi Trophy. Most core players remain, and the offseason is all about locating and acquiring the missing puzzle pieces.