Phoenix Suns: Is the Current Roster Good Enough to Compete with the Lakers?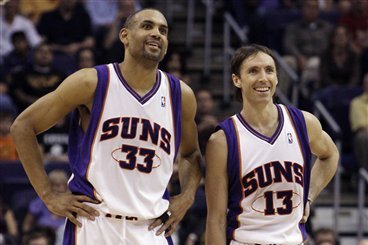 The Suns have suffered a less-than-satisfactory year and a half, yet have decided that they will not make any drastic moves like giving up two-time MVP Steve Nash. The Lakers, on the other hand, aren't in need of change with Kobe Bryant leading them to the head of the Pacific so far, which has been a familiar place for the Lakers.
Keeping the same team together for the Suns will be seen as a stupid move unless they can match productivity of previous years. To see if they have what it takes to be a contender, they will have to compare themselves to the Lakers, who are looking like a team to beat right know in the Pacific division.
Begin Slideshow

»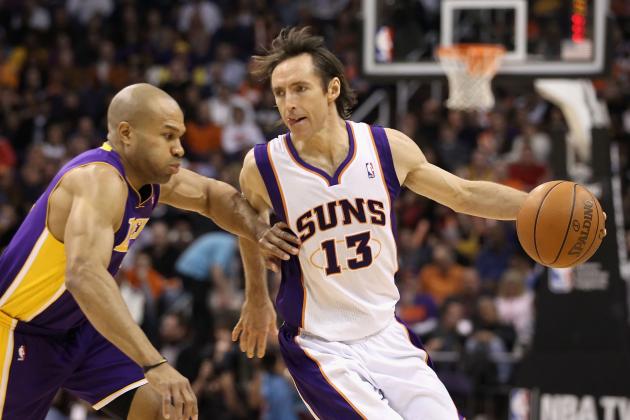 Christian Petersen/Getty Images

We start with the matchup between two veterans that have seen a lot of each other over the years. Both were first round picks in 1996, with Fisher coming nine picks after Nash.
When you look at this close up, it is pretty clear that Nash takes this one with ease. Forgetting the two MVPs and multiple seasons leading the league in assists, this year, Nash has played better than Fisher, even though his team hasn't.
Nash is averaging a double-double with 14.5 PPG and 10.4 APG, while Fisher has been almost nonexistent with only 5.4 PPG and 4.1 APG. There isn't much more to say, as Nash is still playing with the fire he had five years ago while Fisher's career seems to be coming to a close.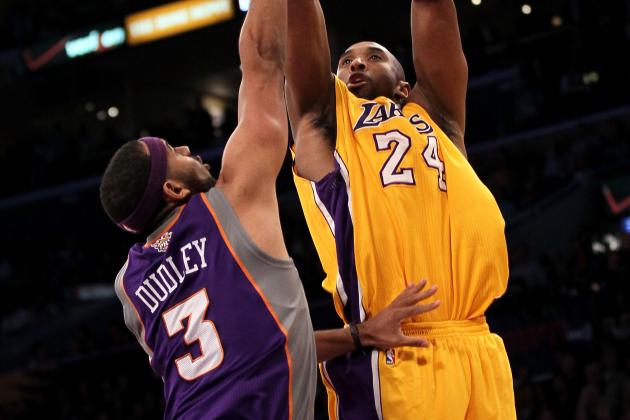 Stephen Dunn/Getty Images

Does much need to be said about this matchup? It doen't get much more lopsided than this. The first-year starter Dudley has had an average year with almost 10 PPG, but the Black Mamba can't be challenged and may be playing better than anyone else in the league.
Kobe has been averaging over 30 points a game and averages more assists and rebounds than Dudley, not to mention MVPs, five Finals rings and scoring titles. Dudley has evident, young talent and will bloom into a great shooting guard, but it is clear that Bryant is the winner of this competition. It is also obvious that he is the reason the Lakers have 11 wins.
Kevork Djansezian/Getty Images

The Lakers don't have a full-time starter on their team, as that spot is shared by Matt Barnes and the man formally known as Ron Artest. But regardless, Grant hill takes this matchup by a slim margin due to similar stats, but leadership and defensive skills that have not deteriorated in the slightest during his 16-year tenure.
Barnes is a solid position player, but does not show the traits needed to become a star in the NBA. Artest, on the other hand, had those competitive juices that made him a feared player in the league, but he basically had a fallout when he joined the Lakers and even lost his full-time starting job.
Grant Hill may be getting older and losing some of his energy, but he still has the edge over the Lakers' two-headed monster, which seems to be the Laker gap after Odom left in the offseason.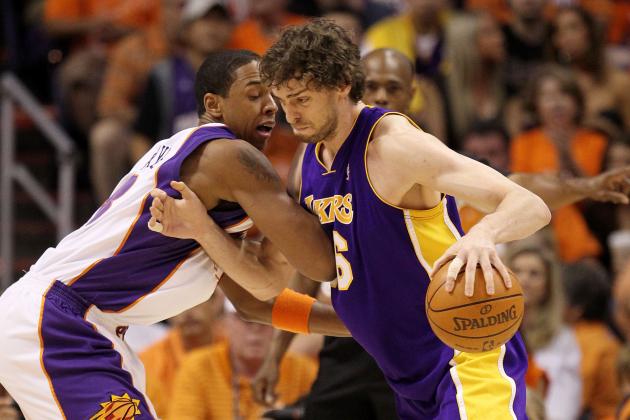 Ronald Martinez/Getty Images

Once one of the best three-point shooting big men in the league, Frye has recently declined in confidence, which has been evident in his play. He has been missing open shots, bringing in less than six measly rebounds a game and playing with a lack of explosiveness that we have come to expect from NBA players as a whole.
Different than Frye, Pau has succeeded as the second option to Kobe's one-man point machine. He has been averaging near a double-double this season, and has been picking up the slack after Odom's departure. Gasol may have been mentioned in trade rumors earlier this season, but his play has stopped those talks dead in their tracks.
The obvious choice at this position is the Spaniard from Hollywood over the struggling seven-footer in the Valley of the Sun. Although Pau may not be an All-Star, he has done his part to help the Lakers in the fight for LA's love.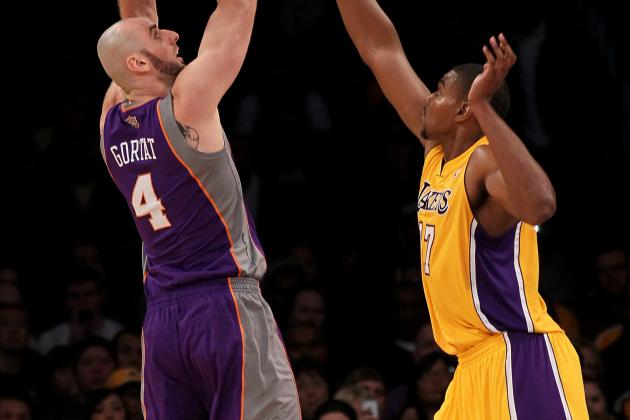 Stephen Dunn/Getty Images

This matchup is probably the best in all of the comparisons between these two teams. On one side is the Polish power Gortat, who has arguably been the best Sun this year and has been their go-to man in the clutch. On the other, we have Bynum, who has the most All-Stars votes of West centers.
Gortat may have the scoring title among Phoenix Suns, but Bynum beats him in most relevant stats and has been a large member of the Lakers' offense, as well as a force on defense. The sixth-year player out of New Jersey has finally found his "niche" on the Lakers' team.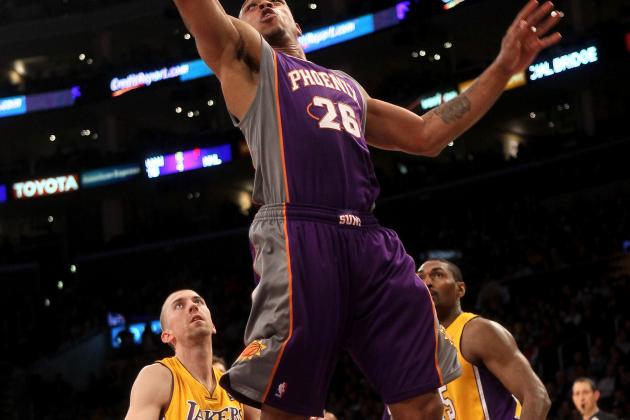 Stephen Dunn/Getty Images

When looking at the benches of each team, you have to look at productivity and how big a part of the team they are. If you put those together, the Lakers seem to get a slight edge when you include Metta World Peace.
Blake has stepped up as well as several other key role players, while the Suns only have Shannon Brown to pull the slack. Meanwhile, Robin Lopez brings a short-lived energy boost that is impressive until it dies down and his sub-par play is revealed.
The Lakers take this one because they don't really have to rely on their bench, so they look better when maintaining the lead, while the Suns need everyone to play like starters to pull out victories.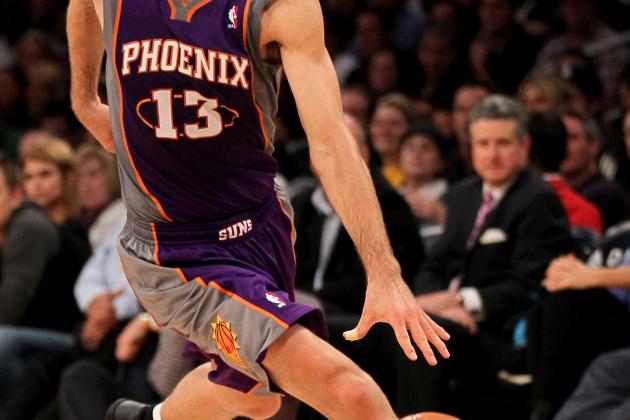 Stephen Dunn/Getty Images

When you add up the five starting spots and the benches, the Lakers take the match-ups by a score of 4-2, which ironically was the tally of games in the 2010 Conference Championship between these two teams.
The Lakers have continued their reign of success, while the Suns have declined in part to their lack of change and "mixing it up." Whether they have to trade away Nash, their multiple-MVP point guard, or they have to set up a package of prospects for a star that can carry the team and raise the level of play of others. Either way, change is what the Suns need if they are going to make a claim at Western Conference relevance.