Super Bowl 2012: Is Football Becoming Basketball?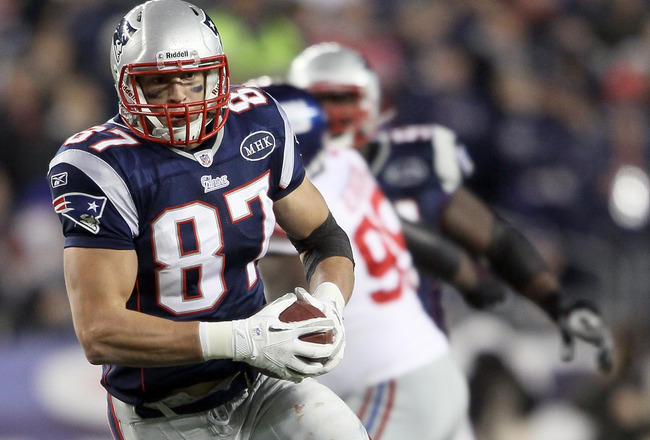 Elsa/Getty Images
Super Bowl 46 will feature two of the most high-powered offenses in the game today. But beyond that, it features organizations that have drafted and devised schemes with an understanding for where the NFL is headed. Changes in rules over the last decade have made the passing game much more explosive. Even casual NFL fans are aware of this.
But other evolutionary forces at work in the game are equally significant. The fact that the Giants and the Patriots are at the leading edge of these changes is a big part of why they are at the big show. Here are a few trends that are changing the game and making it more like basketball.
More Jump Balls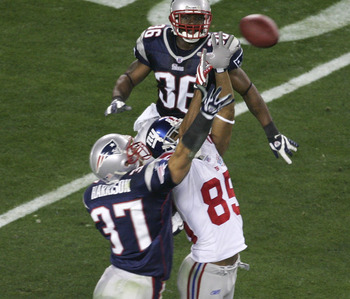 Jim McIsaac/Getty Images
A premium is now placed upon receivers who can go up and win the jump ball. This trend started long before Calvin Johnson and his "Megatron" abilities, with guys like Plaxico Burress.
Manning learned the value of trusting an athletic receiver to go up and make the play back when he had Burress and now you see him doing it with Cruz and Nicks, even though they aren't as tall.
Both have proven they can go up and get the ball. Cruz has a 41.5 inch vertical leap. To put that in perspective, the average guy reading this has a vertical of about 22 inches. Nicks has a vertical of 38 inches.
One of the most memorable jump balls in the history of the NFL occurred in Super Bowl 42, when David Tyree of the Giants elevated himself and made a circus catch to put his team in striking distance against the Patriots. A few plays later, Burress caught the game winning touchdown. Burress is 6'6", 230 and a has a vertical of 33 inches.
Clearly, this is not a fad. Having receivers that allow QB's to toss it up into double coverage with confidence that their guy will come down with it is priceless.
Which is why it amazes me that Belichick never found a replacement for Randy Moss after they let him go. None of their current receivers is especially tall or good at going up and making the circus catch.
As far as wide receivers go, the Giants clearly have the edge in this regard. Tight ends, however, are a different story. Which brings us to the next point.
Tight Ends Are Dominating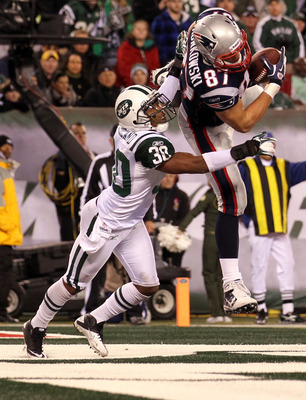 Nick Laham/Getty Images
Tight ends are like the power forwards of football; they have become vastly more important in the last five years. Rob Gronkowski is arguably the best in the game right now. Vernon Davis, Jimmy Graham, Jermichael Finley, Jason Witten, Tony Gonzalez, Antonio Gates…these aren't just possession receivers, these are game changers.
What the Patriots have done this year, is completely revolutionize the use of tight ends. They have found two high-powered weapons for that position and are using them in a variety of ways that keep opposing defenses off balance and in the wrong packages.
This single fact makes the Patriots offense more basketball-like than anyone else. It's like they have two power forwards on the court and one can score from anywhere.
With Aaron Hernandez lining up at wide receiver, running back and tight end, then motioning from one position to another at the last second, it's a little like having a LeBron James out there. He can go anywhere and do anything. The only thing I haven't seen him do yet is throw a pass. That may be coming, you never know.
Fast-Break Offenses Are Keeping Defenses on Their Heels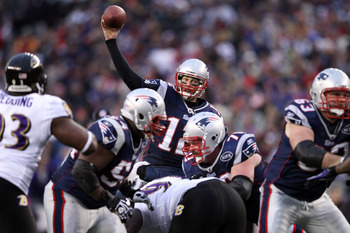 Elsa/Getty Images
Smart teams are controlling the pace of the game. The Patriots offense is the NFL equivalent of the fast-break offenses you see in the NBA. They want to lock the defense into the package they have on the field by going no-huddle and hurrying to the line.
The Giants have shown that they will do whatever it takes to slow this strategy down. Against the Rams this year, two New York players faked injuries at the same time in order to allow their team to make substitutions. It became kind of a YouTube sensation, because it was comically obvious.
Look for the Giants to do the same during the Super Bowl. I would hope that they get it coordinated better this time, though.
Height Becoming Critical in the Secondary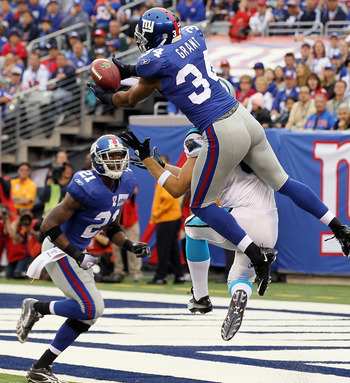 Jim McIsaac/Getty Images
Some teams are beginning to consider height when drafting defensive backs. The Giants are one of the few teams in the NFL with only one defensive back on their roster under 6 feet.
ESPN's Ohm Youngmisuk writes that the Giants think they are especially equipped to handle pass-catching tight ends because of their three safeties Deon Grant, Kenny Phillips and Antrel Rolle. Justin Tuck states, "…we have safeties that play like corners and we can pretty much match up with those guys."
That will be interesting to see, because I'm guessing Belichick will make sure that Brady and his tight ends hear that quote.
It's interesting that Belichick, despite embracing and even leading the evolution of the NFL, doesn't place a premium on height in his secondary, or really anywhere other than Gronkowski's spot—and I'm sure he would be quick to tell you that Gronkowski plays for him because he's an amazing tight end, not because he passes some height quota.
My guess would be that if the Patriots loose the Super Bowl, you will see them go shopping for taller wide receivers and defensive backs, because, it will be Cruz and Nicks that beat them. Not because they are a couple of inches taller than the Patriots DB's, but because they are taller, they are better and they can out jump them.
What About the Pick-and-Roll?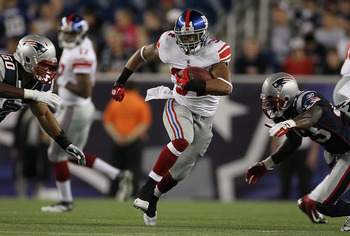 Jim Rogash/Getty Images
Is the pick-and-roll next? Well, ask Jim Harbaugh about that one. He tried the same pick play twice in a row against the Saints and was flagged both times.
I guess he figured that if the Saints could put a power forward on the field and throw him the ball (Graham) then he should be able to run a pick play with his receivers. Not so much.
The closest equivalent to the pick and roll would be tight ends chipping their guy and then rolling out into a pattern. The edge here goes to the Patriots, because of their exceptional tight ends, both of whom can block and catch.
Add to that the fact that Hernandez plays more like an H-back at times, so he can line up in the backfield, motion into a traditional tight end position, chip a defender and then roll into a short pattern.
As far as anything more closely resembling a true pick in receiver pattern, if anyone can figure how to do it and get away with it, I would put my money on Belichick.
There are plenty of reasons to get excited about this game. The rematch angle will be played and overplayed until you beg for mercy. And for good reason, there is a lot of great stuff to cover within that perspective.
But there is also the fact that both of these teams started the year with just dreadful defensive production, gradually got better as the year went on and then suddenly took things to a much higher level when it came time to make a run for the championship. That's a sign of great coaching.
But for me, these two teams are here because they are both adapting and contributing brilliantly to the evolution of the game, and that is the exciting part. I wouldn't even care to guess who is going to win this game, I think it's a toss up. Which is what it may come down to.
Keep Reading

New York Giants: Like this team?