Los Angeles Galaxy: Ins and Outs, January 26, 2012
January 26, 2012

Victor Decolongon/Getty Images

He's back...
Well, this has been news for quite some time, but it is official: David Beckham is returning to the Los Angeles Galaxy for a few more seasons.
Family over foreign interests. That is the lingo of the times, and for Beckham, it was too obvious as to why staying home was better. His sons are playing in the youth academy, for starters. And do Paris-Saint Germain really need excess baggage?
"I want to get soccer to a different level in this country and I think we've done that," Beckham told MLSSoccer.com's Simon Borg. "I've felt it's changed in the last couple of years and that's why I didn't want to walk away from it. To walk away from it would be disappointing. I want to continue to be a part of that growth. It's been an exciting time and it's great for the family to be here."
Now the possibility of Becks retiring from the game as a member of the Los Angeles Galaxy look pretty good, if not set in stone.
But will he truly retire at age 39?
"I still feel young," he said. "So I'll continue to play the game, as long as I can. I love it. My contract now is for two years which will take me up to 39 almost. Then we'll see.
"I think people expected me even to move away from the Galaxy or retire at the end of this year. I'm excited about the next couple of years. We'll see what happens in the future."

Just the usual stuff from LD...and Robbie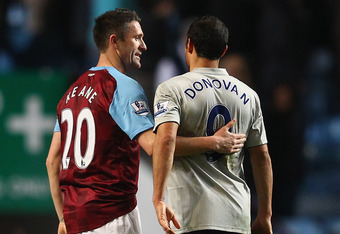 Clive Mason/Getty Images
Meanwhile, back at the Everton Football Club in Liverpool, Landon Donovan was doing his part to make an impact with the Toffees. And Robbie Keane was on his loan to Aston Villa.
Fancy both of these compatriots meeting each other on Jan. 14 in a 1-1 draw between both sides. Everton were down 1-0 in the second half before Donovan delivered a through ball to Victor Anichebe.
"It was a really good goal by Anichebe, but it was created by, for me, the best player on the pitch in Landon Donovan," Everton manager David Moyes told reporters, according to MLSSoccer.com. "I thought he did great today. He put the cross in, which I thought could have been a penalty kick, and put the pass through to Victor to score the equalizer.
"He has given us something a little bit extra, we just need to finish off a lot of the good play he has given us."

Oh no, Omar!
The Los Angeles Galaxy are going to have to put up with Omar Gonzalez being out seven to nine months after tearing his ACL on loan with FC Nürnberg.
Gonzalez suffered the injury in his first training session with the club in Turkey on Wednesday, Jan. 4 with an MRI revealing the extent of the injury the following day. A successful surgery by club doctors from the Santa Monica Orthopaedic Group was performed on Jan. 13.
The loss means that the defenders LA have selected in the SuperDraft and Supplemental Drafts could see increased playing time this season.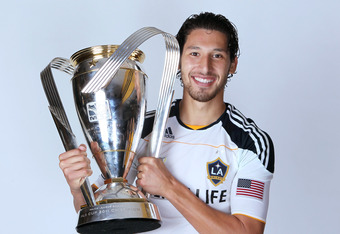 Jeff Gross/Getty Images

Marcelo makes his presence felt
There can only be one Juninho, according to LA midfielder Marcelo Sarvas.
"I know Juninho's story here is great – he did good things the years he spent here," Sarvas told reporters on Monday after his first Galaxy training session, according to MLSSoccer.com's Luis Bueno. "But I am not here to replace Juninho. I am here to play my own game. We have different characteristics and I'm hoping to win and make space for myself like Juni did."
Sarvas is likely to team up with David Beckham in the midfield as part of a potent pairing.
"I have to contribute the best way I know how – to hold the ball, make passes, and create situations so we can score goals," Sarvas said. "[The] Galaxy is a well-known team, not just here but abroad," he said. "A lot of players have the desire to play with the Galaxy.
"I did not think that things would work out this well, but it's a great opportunity to have."