This Is The Los Angeles Galaxy: Rafael Garcia
January 26, 2012


This is Part 10 in a series of players who will play for the Los Angeles Galaxy in 2012.
In a number of instances, staying local is a necessity and a blessing because if you are noticed, the country's top league could come calling at your door.
And that is exactly the case with midfielder Rafael Garcia. A local product, Garcia will look to showcase his potential in Major League Soccer as a member of the Los Angeles Galaxy.
Rafael Garcia was born on Dec. 19, 1988 in Granada Hills, Calif. but spent most of his life in nearby Canoga Park. An athlete with big dreams, Garcia is an avid follower of the Los Angeles Lakers and F.C. Barcelona.
A midfielder for the Hunters of Canoga Park High, Garcia led his team to a 24-0-1 record and a state title his senior season, earning All-Area Player of the Year and Sunset Six League MVP honors along the way in 2006.
The Matadors of Cal State Nortridge were a team Garcia had in his crosshairs to play for since the age of 11. Immediately, Garcia made a splash, starting 14 of 17 matches played. As a freshman, Garcia earned All-Big West Second-Team honors.
2008 proved to be disastrous, as he was injured in the first match of the season, forcing him to redshirt. The followin year, Garcia started every game  in the midfield.
In 2010, Garcia competed in 17 out of 19 matches in 2010 and led the team with six assists and 10 points. He also took the most shots of any member of the squad (49) and also tallied the most shots on goal (26).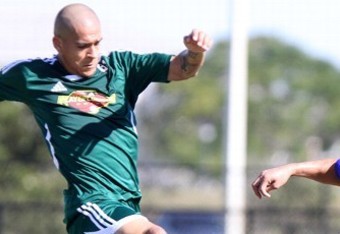 Garcia finished the 2011 season with 68 career appearances (64 starts), scoring scored six goals while adding nine assists for 21 points. As the team's primary kick taker, as well as co-captain, Garcia earned his first career First Team All-Big West Conference selection as a senior.
On Jan. 17, 2012, the Los Angeles Galaxy selected Rafael Garcia as the 38th overall selection in the 2012 MLS Supplemental Draft, following in the footsteps of defender Sean Franklin, goalkeeper Kevin Guppy and former G's defender Ben Benditson.
Yes indeed, staying local can be a very good omen because if you are noticed, a team from the big league is willing to give you a chance.
And for Rafael Garcia, he gets his chance to shine with the stars of the Los Angeles Galaxy.