This Is The Los Angeles Galaxy: Kenney Walker
January 26, 2012


This is Part Eight in a series of players who will play for the Los Angeles Galaxy in 2012.
Perhaps the most important role on the football pitch is that of the midfielder. Part forward, part defender, part playmaker; solid midfielders tackle, dribble, shoot and pass during any match, creating opportunities for the men in the front while taking some slack away from the back.
Though a diminutive 5-9, 175 pounds, Kenney Walker is the type of midfielder the Los Angeles Galaxy will look to utilize this season. What Walker lacks in size, he makes up with speed and intelligence: two critical intangibles that separate good midfielders from great midfielders.
Kenney Walker was born on December 23, 1988 in Wickliffe, Ohio. For some players, picking up the game later rather than never may be the best thing that ever happened to them.
As a youth player, Walker first broke on to the scene playing as a senior for the Blue Devils of Wickliffe High School. In his senior season, he led Wickliffe to a 18-4-1 record and a state runner-up finish.
Walker earned GCSAA Soccer Player of the Year honors as a senior and was named to the NSCAA adidas Regional Team as a senior. Walker also earned NSCAA adidas All-American his freshman, junior, and senior years while competing for the U.S. Under-15 and Under-17 Men's National Teams.
In 2007, Walker began his playing career with the Louisville Cardinals, starting 20 of the 22 games he played. It was a v very promising year, as he scored 25 goals that season for the Cards.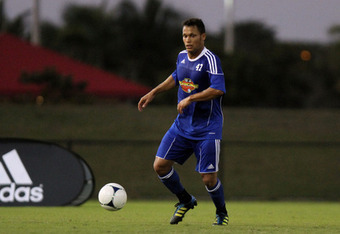 2008 was not a friendly season for Walker, who had to redshirt due to injury. In 2009, Walker moved to a more defensive role in the midfield, and the results were very positive, with  Louisville earning 13 shutouts, a school record. For his efforts, Walker was named to the BIG EAST All-Tournament Team.
In 2010, Walker earned third team All-BIG EAST honors as well as second team NSCAA All-Great Lakes Region honors. He started 19 of the 21 games he played, but missed three NCAA Tournament games due to injury.
In 2011, Walker finished third on the team with five goals while notching six assists. He was named to the All-BIG EAST second team to close out a successful career at Louisville.
On January 12, 2011, Walker was selected as the 38th overall selection by the Los Angeles Galaxy.
Playing in the midfield for one of the top clubs Major League Soccer is an opportunity that should not be put to waste. For Kenney Walker, the opportunity to be a field general alongside players like Marcelo Sarvas, Landon Donovan and David Beckham is an opportunity worth grabbing by the horns.