Houston Texans: 10 Areas Most Improved in 2011-12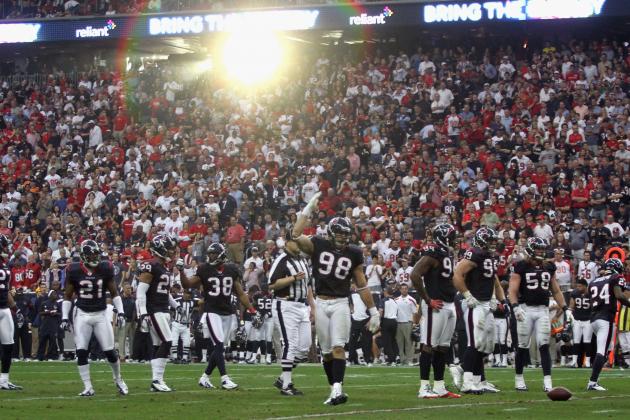 Thomas B. Shea/Getty Images

To think of the difference just one year makes.
This time last year, Houston not only wanted their head coach gone, but many were calling for the franchise to just blow everything up and start over from scratch. Everyone cited that there was no "quick fix" for the team as is and that the foundation wasn't strong enough to build off of.
Yet here we are, just one season later and not only is everyone talking about Houston being an AFC contender in 2012, but that they don't have any glaring holes to fix in free agency and the upcoming NFL draft.
Just how did this happen, exactly? With improvement in almost every single category and facet of the team.
Let's take a look now at a handful of those reasons and how it impacted the Texans improvement so greatly in the 2011 campaign.
Begin Slideshow

»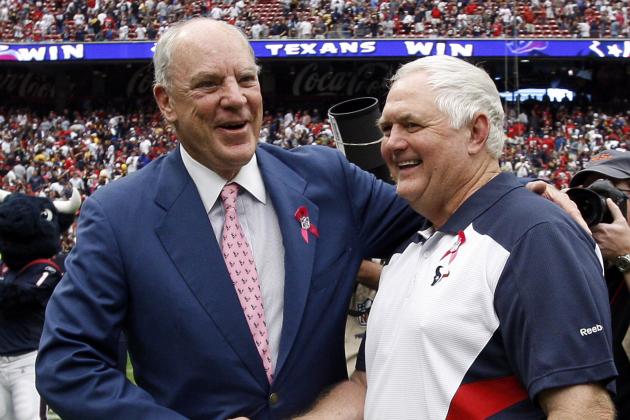 Bob Levey/Getty Images

Obviously, the most important change that the Texans made in 2011 was taking their historically awful defense and making it arguably the best in all of the game. This started with Bob McNair firing Frank Bush and "suggesting" that Gary Kubiak bring in Wade Phillips to be his new defensive coordinator.
With Frank Bush, and Richard Smith before him, you had a case of Gary Kubiak hiring his friends to employ important positions. He stated to the media several times that the great thing about his job was being able to give guys their "big break" in coaching positions.
Both of the aforementioned guys are now linebacker coaches after massive failures as defensive coordinators.
But when the team cleaned house on the defensive side of the ball and allowed Wade Phillips to bring in his own defensive staff, it was like night and day. A Houston Texans defense that was thought to be full of players that just weren't NFL-caliber all of a sudden looked a lot better than most had previously evaluated.
It's amazing what a little coaching can do, huh?
You couldn't write a movie script any better for what Wade and his coaching staff were able to achieve with the Houston defense in just one season.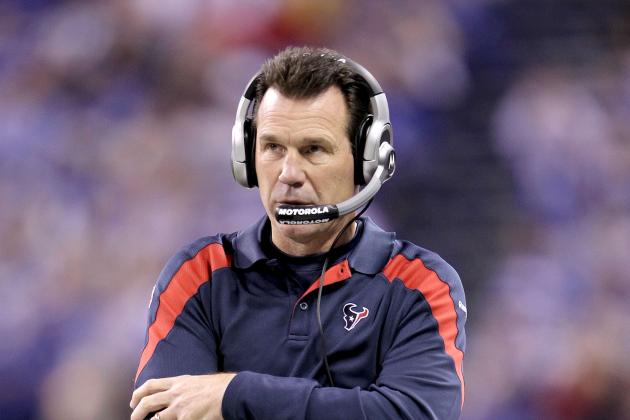 Andy Lyons/Getty Images

While I had been leading the "Fire Kubiak" bandwagon for about three years, I was one of the quickest to say that the team should keep him around for one more try after the hiring of Wade Phillips.
This was, of course, met with many confused looks by the same people who had been against me in wanting him gone.
My reasoning was that no one ever had any qualms about Gary's ability to put together an elite offense. They were the only reason a team with a defense as brutal as theirs in 2010 was able to remain competitive. And with Wade Phillips on board, Gary could finally do what he does best: focus on the offense.
No longer did he have to hold the defensive coordinator's hand and try to pretend he knew anything about defense. And just like that, his overall coaching improved. His play-calling was better, his clock management made a world of difference and he even managed to win a challenge or two.
Give Bob McNair credit for this one. Everyone thought he had lost his mind when he didn't fire Gary Kubiak prior to the 2011 season.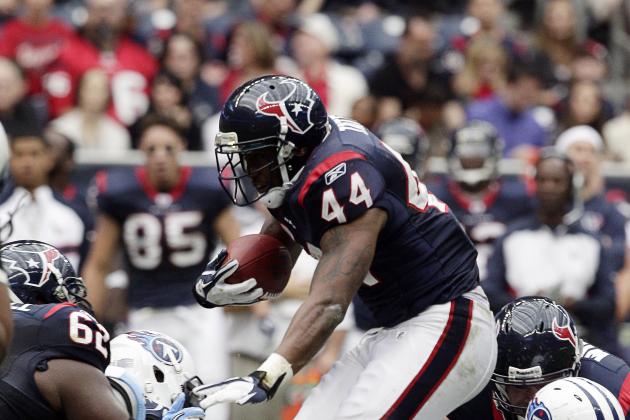 Bob Levey/Getty Images

To say that a team improved upon a running game that rushed for over 2,000 yards total in 2010 is a bold statement, but Houston managed to do so in 2011. They were able to achieve this by getting former second-round pick Ben Tate back from a season-ending injury that kept him off of the field all of 2010.
Derrick Ward performed admirably when called upon in 2010, but the upgrade from him to Tate on the 2011 roster was limitless. With Arian Foster missing four games this year, Tate filled in perfectly and almost eclipsed 1,000 yards as a backup player.
It's easily considered the best one-two running back combo in all of the NFL right now and with Tate under team control cheap for another couple years, I expect to see that continue.
Oh, and did I mention it was just another year at the office for Arian Foster? If he didn't miss four games, he quite likely would have eclipsed his breakout season from the previous year.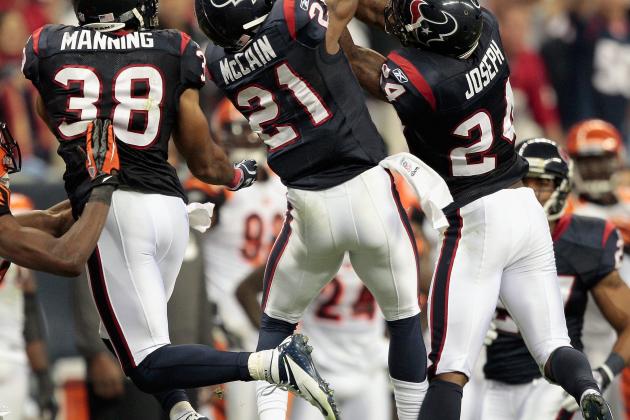 Bob Levey/Getty Images

I've been watching NFL football for well over thirty years now and I can say with pretty good confidence that the 2010 Houston Texans secondary just might have been the worst that I have ever witnessed.
To all the people talking about how bad the Patriots secondary is this season, in comparison to the Texans group in 2010, they had a good year.
The first decision that the Wade Phillips led defensive coaching staff made was to not bring back either of their starting safeties from a year ago, Bernard Pollard and Eugene Wilson. His next move was to slide Glover Quin back to his natural position of safety along with free-agent signing Danieal Manning.
Then, he decided to split time at corner between veteran Jason Allen and first-round disaster Kareem Jackson. Lastly, the signing of an elite cover corner like Johnathan Joseph took an atrocious secondary and made it competent, even if only on paper.
All of those guys had solid seasons and even though Kareem takes a lot of heat from the Houston faithful, he did improve significantly in 2011. He'll never be a first round-caliber guy, but to say he can't even be an NFL player is just foolish.
Joseph and Manning were worth every penny.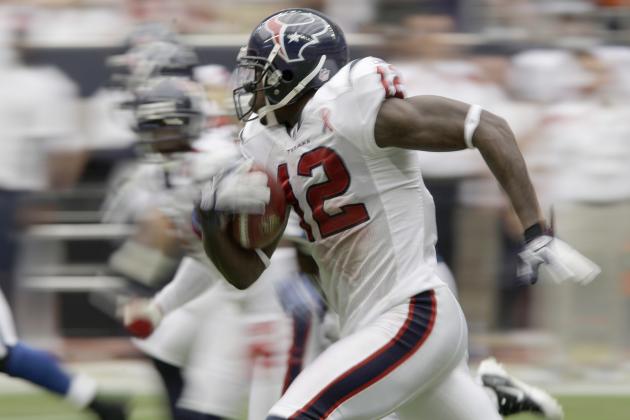 Thomas B. Shea/Getty Images

Another big disaster for the Texans in 2010 was special teams. Kicker Neil Rackers was about the only thing positive then and he just might be the only true mediocre on the team this year.
The tackling on kickoffs and punts was terrible last year and they gave up huge plays, but that all changed this season. Tons of guys knew their role and did their part to keep any team from taking it to the house on them.
In the kicking game, rookie Brett Hartmann made fans wonder why Houston kept Matt Turk around so long and going from Steve Slaton to Danieal Manning returning kicks was more of an upgrade than I can put into words.
Finally, there is Jacoby Jones. I know that the muffed punt in the playoffs is all anyone is going to remember, but he had a pretty good season returning punts. He didn't have a fumble before said play all season and even returned a kick for a touchdown while earning a Pro Bowl alternate nomination for his work.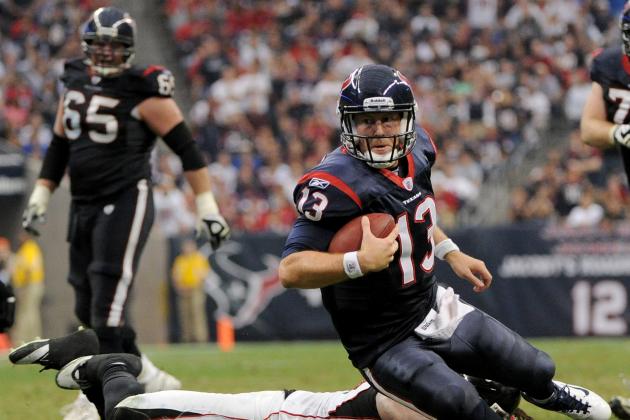 Thomas B. Shea/Getty Images

Another key figure within the Texans organization that everyone wanted fired was general manager Rick Smith. There was lots of finger-pointing and accusations being tossed around about a lot of the draft mistakes and personnel decisions after the fiasco last season, but Bob decided to retain Smith for another season.
Chalk up another win for Mr. McNair.
With the injury bug biting the Texans far more than any other team in franchise history, the depth on this team was a testament to Rick Smith's work. To think that the Texans lost their three best players in Mario Williams, Andre Johnson and Matt Schaub for large chunks of the season and still went as far as they did is otherworldly.
There were guys like T.J. Yates and Brooks Reed stepping up when no one expected them to see the field much for a couple more years. Meanwhile, when faced with injuries in 2010, the team had to suffer through the play of Kevin Bentley and Xavier Adibi.
The whole "next man up" mantra that the team adapted may have just sounded like a gimmick, but everyone produced when they needed to do so and Rick Smith deserves Executive of the Year consideration for putting that kind of depth together.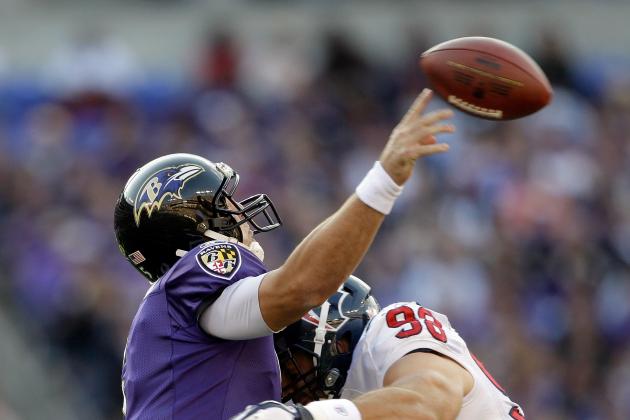 Rob Carr/Getty Images

The biggest thing you can expect to change with a Wade Phillips-led defense is that you're going to get after the quarterback. But to get there an extra 14 times over the previous season is insane.
With the draft additions of J.J. Watt and Brooks Reed, along with the comeback player of the year-type season that Connor Barwin put together, you're going to get some pressure on the opposing quarterback. Let's not forget Mario Williams, who had five sacks in only four games and a quarter of participation, all the while learning to play a new position.
Antonio Smith made the Pro Bowl this season and looked to be on a career year path before falling off a bit in midseason, but the improvements between this pass rush and last is beyond night and day. Even if they weren't getting to the quarterback, they were getting consistent pressure and forcing him into making mistakes that saw the Texans defense end the season plus-7 in the turnover category.
God bless Wade Phillips blitz packages.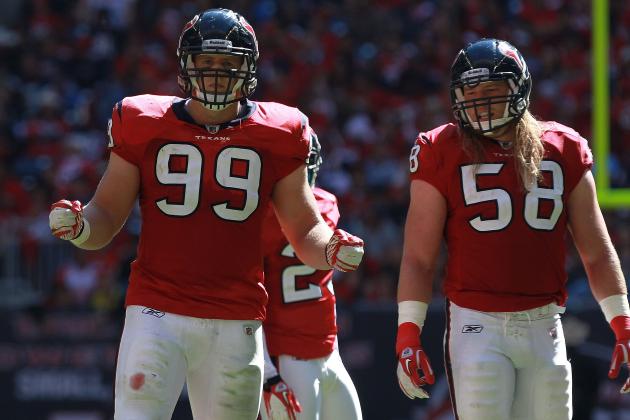 Ronald Martinez/Getty Images

The failures of the 2010 draft class have been well documented. Kareem Jackson was thrown to the wolves with little to no coaching at all and many wondered if he would not only be benched, but if he would even make the roster in 2011. Ben Tate broke his foot on his second carry of the preseason and Trindon Holliday and Dorin Dickerson were cut after just one season.
In 2011, the Texans just might have hit a home run on both of their first two selections. Not too many Texans fans were pleased with the pick of J.J. Watt in the first round and you can count me along that group. But what Watt showed over the last quarter of the year and the playoffs has many thinking the next dominant defensive lineman in the NFL is wearing No. 99 for the Texans.
Brooks Reed was supposed to do well on special teams, learn from Mario Williams and be ready for any rotational snaps he might have gotten in 2011. However, he wasn't afforded that luxury and had to fill in for the injured Mario Williams, who wouldn't make it back by season's end.
To say that he passed the trial by fire was an understatement, as he ended the year with six sacks and another three in the playoffs.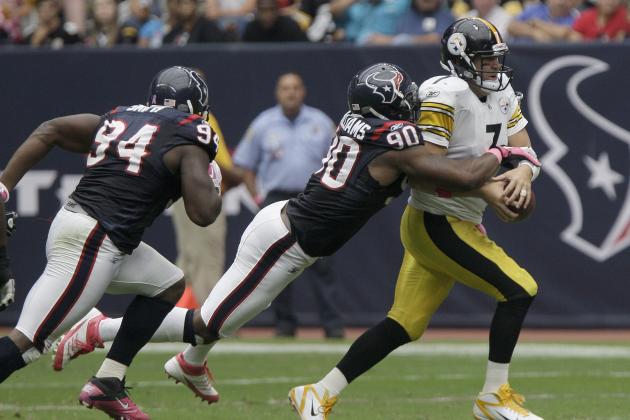 Thomas B. Shea/Getty Images

A problem for this team in the past few years was that they always managed to keep the game close and they usually even had an opportunity to win, but they found a way to constantly snatch defeat from the jaws of victory.
In 2011, that finally seemed to be a problem they were able to overcome. With games that were in question late in the fourth quarter, they were able to muster wins over the Dolphins, Steelers, Falcons, Jaguars and Bengals.
There were so many times in the past that Houston fans simply expected to lose games like that. I think that is why there is still a lot of the knee-jerk reactions when they would lose a game that they probably should have won in 2011. The Raiders game sticks in my mind.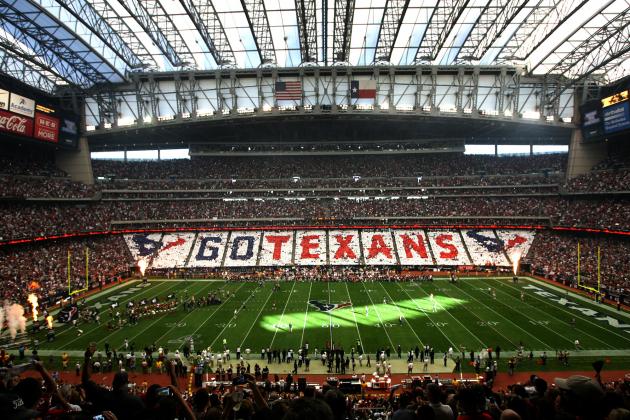 Thomas B. Shea/Getty Images

For the past five or six years, we have heard the stat about how this is one of the longest playoff droughts ever for an expansion team to not make their debut visit to the playoffs.
It seemed to be the beginning of every argument with a Cowboys fan who would proclaim, "Make the playoffs first and then we'll talk."
Well, against all odds and amidst incredible adversity, they were able to not only make the playoffs, but have a victory under their belt to grow with going forward.
In fact, a stinging loss like the one they suffered at Baltimore to end the season is the type of playoff experience that is only going to make this team more hungry.
With that said, I expect to see more years like 2011 than 2010 in this team's future. They have a good coaching staff that drafts well and develops guys properly, the core of the team is still together and the average age is 27.
They'll be back.
Mike Kerns is a Featured Columnist for the Houston Texans at Bleacher Report. Feel free to follow him on Twitter and catch his latest Texans podcast on iTunes.