Grading Each NFL Head Coaching Hire of the 2012 Offseason
January 26, 2012

Rich Schultz/Getty Images
Consider it speed dating. A round-robin where the top candidates get general managers' best pickup lines and gimmicks before the egg timer dings and the coach's agent yells, "Switch."
It's free agency for coaches, where promises of future Super Bowl rings are written on dollar bills.
"So, your place or mine?"
Seven NFL teams—nearly a quarter of the league—hired new head coaches following the 2011 season. One went to the college ranks for the answer, others to former NFL head coaches and coordinators. Some will fall in love and form everlasting bonds. Others will get dropped off on the side of the road after a season or two of awkward hand-holding and too much tongue.
Now that all seven vacancies are filled, it's time to separate the diamonds from the future ex-girlfriends.
Kansas City Chiefs: Romeo Crennel
Romeo has the pedigree.
Thirty-plus years an as NFL coach. Worked under Bill Parcells and Bill Belichick. Five Super Bowl rings, two as an assistant with the Giants and three with the Patriots. That's as many as Belichick (for now) and tied for seventh-most in NFL history (five guys are tied for second with six rings and one has seven, if you're counting).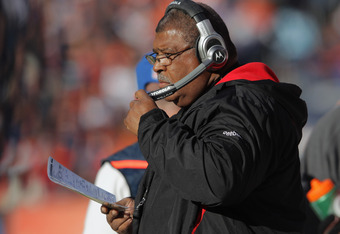 Doug Pensinger/Getty Images
Under the "head coach" subhead on his resume, there's little to get excited about. In four seasons as the head man in Cleveland, his Browns went just 24-40.
He did, however, lead a 10-6 campaign in 2007 that remains the only 10-win season in Cleveland since the original Browns bolted for Baltimore in 1996. It was the first 10-win season for the Browns since the 1994 Belichick-led Browns finished 11-5.
But he got axed anyhow.
A relationship with Chiefs general manager Scott Pioli from their Patriot days played a large hand in Romeo landing the full-time gig, but his 2-1 stint as interim head coach to end the 2011 season—in which the Chiefs handed the Packers their only loss and took out the division-rival Broncos (insert Tebowism here)—sure didn't hurt, as a team decimated by injury rallied around its new leader when there was largely nothing to play for.
Grade: A
Jacksonville Jaguars: Mike Mularkey
Initially puzzling, given that it was one of the earliest hires and there were a number of solid candidates still available, Mularkey is more qualified than most realize.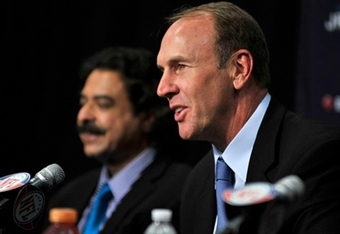 He's most famous for his head-coaching stint in Siberia (check that, Buffalo), where he was 14-18 in two seasons. But what most don't recognize is that the Bills finished seventh in total offense in Mularkey's first season.
Their 9-7 finish that year is the Bills' last winning season to date.
And this is a guy who was working through the epic quarterback battle that featured J.P. Losman and Kelly Holcomb in his second year with the team. For that alone, he gets a pass.
As offensive coordinator in Pittsburgh in the early 2000s when he worked under Bill Cowher, the Steelers averaged 10-plus wins over Mularkey's three seasons. He has 18 years of experience as an NFL coach, including a year under Nick Saban in Miami in 2006.
In unrelated news, his middle name is Rene.
It's uncertain how long Mularkey's Jacksonville romance will last, but given the fact that the Jags could migrate to Los Angeles in the near future, I'd say they're not looking for anything too serious. They're just out to have a good time.
It's up to Rene to show management that he's marriage material.
Grade: B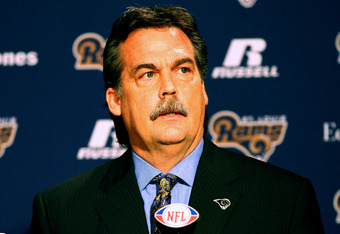 Dilip Vishwanat/Getty Images
St. Louis Rams: Jeff Fisher
Fisher was rumored to be hot and heavy with the Dolphins, but the Rams flashed their horns and landed the former Titans head coach to replace the fired Steve Spagnuolo.
Fisher is a man's man. A football man. The consummate professional and disciplinarian defined by his stoic demeanor and his resolve to rock the mustache until the end of time, despite ever-changing trends and societal norms.
But on paper, he's hardly a catch.
In 16 full seasons leading the Oilers/Titans, Fisher's squads won just four division titles. His shining moment came in 1999 when his Titans were featured in one of the most entertaining and exciting Super Bowls ever played, in which they came a yard short of tying the game on the final play of regulation, falling to his current employers, the St. Louis Rams, 23-16.
But that Super Bowl season skews Fisher's career. He was a pedestrian 142-120 as a head coach. That's a .542 winning percentage, tied with the Cowboys' Jason Garrett for 14th among active NFL coaches.
Many coaches with lower winning percentages took over bad teams and are in the early stages of their careers, such as Leslie Frazier, Ron Rivera and Jim Schwartz.
Fisher's successor in Tennessee, Mike Munchak, led the Titans to a winning season (9-7) in his first season as head coach, something Fisher did just six times in 16 full seasons in charge.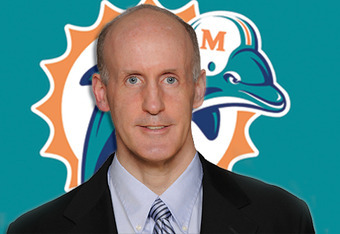 While his impact on the Rams franchise remains to be seen, his contribution to the city of St. Louis, America's 40th-most mustache friendly city, according to the American Mustache Institute, will likely live in Gateway City lore forever.
Grade: C-
Miami Dolphins: Joe Philbin
After being left at the altar by Jeff Fisher, the Dolphins tapped the defending Super Bowl champions' staff for their next head coach in Joe Philbin.
As Packers offensive coordinator, Philbin led an offense that ranked in the top 10 in the NFL for points scored and total yards in each of his five seasons. Meanwhile, the Dolphins finished in the top half of the league in total offense just once during that stretch (12th in 2008).
That Dolphins don't have a quarterback (regards to Matt Moore). Many, including Aaron Rodgers, believe that Philbin and the Fins will make a run at free-agent backup legend Matt Flynn.
And they will, rest assured.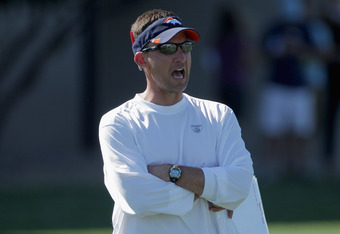 Doug Pensinger/Getty Images
Philbin doesn't have the pedigree of other candidates. He's never been a head coach at any level. He has less than 10 years of NFL experience.
But he does have a Super Bowl ring and he comes from a winning culture, something the Dolphins desperately need.
Quarterback and head coach were by no means the only holes in the Dolphins franchise; however, if Philbin can have similar offensive success in Miami as he did in Green Bay, with or without Flynn, the Dolphins can turn their attention to the defense to build a well-rounded franchise that could contend in the stacked AFC East (yes, the Jets are still a formidable foe).
Grade: B- (A- if the Fins land Flynn)
Oakland Raiders: Dennis Allen
And they said Al Davis was dead.
In a typically Raider-esque move, Oakland swiped a division rival's defensive coordinator in the Broncos' Dennis Allen as their next head coach. At 39, he's now the youngest active head coach in the NFL and one of the most inexperienced.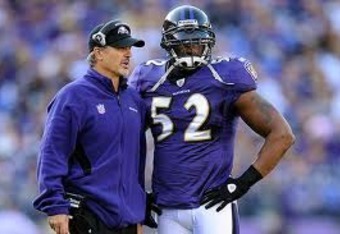 Allen won a Super Bowl ring with the Saints in 2009 and was as much a part of the Tim Tebow phenomenon as anyone, as his defense continually kept the Broncos' inept offense in games.
Without Allen, Tebow Time would have likely never come (no need to send him hate mail).
But beyond that, little qualifies him to be an NFL head coach. He's inexperienced, having never been a head coach at any level. His longest tenure at one position is just four years, as an assistant with the Falcons from 2002-2005.
And there's a couple of other things Allen doesn't bring with him to Oakland: Von Miller and Elvis Dumervil, arguably the real reason the Broncos defense played so well in the second half of the season.
While you could argue that the Raiders are athletic on defense, that's about the only argument you could make for them, as the 2011 Raiders defense finished 27th in the NFL in both run defense and pass defense, good enough (or bad enough, in this case) for 29th overall.
It's definitely a high-risk, high-reward hire.
Perhaps the only immediate upside in this deal is that the Raiders won't have to face Allen's defense anymore. And maybe he'll know how to stop Tim Tebow. After that, you'd have to dig pretty deep to find the positives.
Grade: D
Indianapolis Colts: Chuck Pagano
The Colts are going through a midlife crisis. They botoxed the general manager position with the younger, hungrier Ryan Grigson. They'll likely get a franchise facelift in Andrew Luck (or Robert Griffin III, but that's another debate for another day) with the top overall pick in the 2012 draft.
And they're getting an attitude adjustment with new head coach Chuck Pagano.
Pagano spent the last four seasons with the Ravens—perhaps the nastiest defense of the modern era—serving as the defensive coordinator in 2011. Under Pagano, the Ravens finished second in run defense and fourth in pass defense, good for the third-best defense in the NFL behind the Steelers and Texans.
If there's one thing synonymous with the Colts over the last decade-plus (other than Peyton Manning), it's finesse. The defense, outside of Dwight Freeney and Robert Mathis, was considered soft, and rightfully so.
Pagano's pedigree isn't as pretty as those of other candidates. A career assistant, he has just over a decade of NFL coaching experience and just one season as a coordinator. But the Ravens defensive coordinator position has produced NFL head coaches in Marvin Lewis, Mike Nolan and Rex Ryan.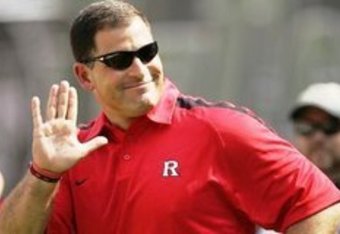 Pagano is not only the latest in that lineage, but he has potential to be the most successful.
If Manning is forced to retire, imagine a Pagano defense complemented by an offense run by Andrew Luck under center and Manning calling the plays from the sideline (yeah, I said it).
Then tell me what you think the AFC South will look like for the next 10 years.
Grade: A+
Tampa Bay Buccaneers: Greg Schiano
Fashionably late.
After boldly (and un-Glazerly) ousting the entire coaching staff after a 2011 season that could only be classified as embarrassing, the Buccaneers have finally found their man.
A college guy.
The Bucs agreed to terms on a five-year deal with Rutgers University head coach Greg Schiano Thursday, and though they were last to find their man, they were hardly left with worst of the bunch.
The college-to-NFL transition is always a tricky one. Bobby Petrino tried to fake it. Nick Saban couldn't take it. Steve Spurrier couldn't make it. But after Chip Kelly decided that his romance with the Oregon Ducks still had a flame, the Bucs were left with a toss-up between NFL dinosaurs like Mike Sherman and Marty Schottenheimer and a slew of NFL coordinators.
Enter Schiano.
In 2001, Schiano took over a Rutgers team that had eight consecutive losing seasons—a stretch that included an 0-11 campaign in 1997 and a 1-10 season in 1999. And while the Scarlet Knights went 3-20 in Schiano's first two seasons and didn't have a winning season until his fifth year, the program became more prominent under Schiano in the later years.
In his last six seasons, the Knights won eight or more games five times and went to five bowl games, winning five straight, including an 11-2 campaign in 2006 that culminated with a bowl win over Kansas State and a postseason No. 12 ranking.
There were better candidates. There still are. His college resume is admirable, but not as impressive as others. He spent some time in the NFL as a Bears assistant, but not much. But he does have Bill Belichick's seal of approval, which means a lot. A defensive-minded coach, a true projection of Schiano's NFL potential will come in the form of the staff he assembles in the coming weeks.
With a lot of youth (and perceived talent) on offense and coming off a disappointing 4-12 campaign, there are a lot of questions that still need to be answered at One Buc Place.
This is an uncharacteristically risky move for the Buccaneer organization. And while Mark Dominik and Co. got around a bit—there were at least 11 rumored candidates linked to the Bucs—they got a guy they had their eye on from the start.
They just had to see what else was out there to realize it.
Grade: C (Pending the hiring of his staff)