Super Bowl 2012: Identifying the Top Free Agents in the Super Bowl
January 26, 2012

Rob Carr/Getty Images
Here's quick look at the 2012 free agents for both the New York Giants and New England Patriots, who will play next Sunday in Super Bowl XLVI in Indianapolis.
NEW YORK GIANTS
DT Rocky Bernard
LB Chase Blackburn
S Deon Grant
WR Mario Manningham
T Kareem McKenzie
TE Bear Pascoe
CB Aaron Ross
DE Dave Tollefson
P Steve Weatherford
Quick notes
Manningham would be a significant loss, as the Giants offense has been at its best when all three of their top receivers are healthy and playing.
Ross and Grant are both key contributors on defense, and Tollefson and Bernard have both made their share of plays on the Giants defensive line. Blackburn has been an adequate backup at linebacker.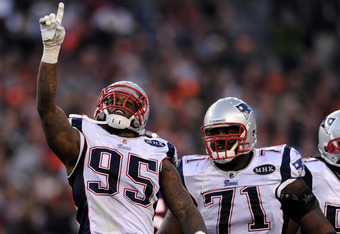 Patrick Smith/Getty Images
NEW ENGLAND PATRIOTS
DE Mark Anderson
DE Andre Carter
WR Deion Branch
C Dan Connolly
DE Shaun Ellis
RB BenJarvus Green-Ellis
S James Ihedigbo
WR Wes Welker
Quick notes
Welker is obviously the big name here, and there's no chance the Patriots let him get away this spring/summer. He's far too important for that offense. 
Anderson and Carter were the Patriots' two best pass-rushers in 2011, so you'd have to think they'll make an effort to bring both back. Branch, Connolly and Ellis are all veterans who could be expendable. 
The one guy to watch is Green-Ellis. He's been the Patriots' top rusher for two seasons, but there's a push coming from the young guys behind him. You could argue that New England doesn't need to overpay to bring him back.