2012 Australian Open: Why Rafael Nadal Will Be Unstoppable in Final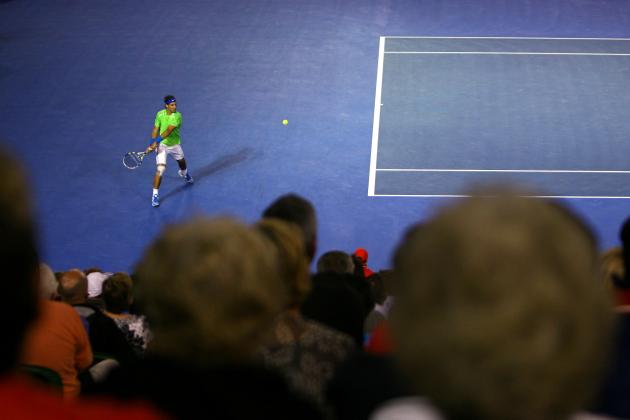 Robert Prezioso/Getty Images

Rafael Nadal has got the best of his biggest rival...again.
He defeated Roger Federer 6-7, 6-2, 7-6, 6-4 in the Australian Open semifinal. Nadal shall now play for the Australian Open's title on Sunday night.
Although this was only a semifinal, both Nadal and Federer played like it was a championship. Now that Federer is out, Nadal has a very good chance at winning his second Australian Open title.
With the unstoppable way he has been playing, there are several reasons to believe Nadal will win the finals easily.
Begin Slideshow

»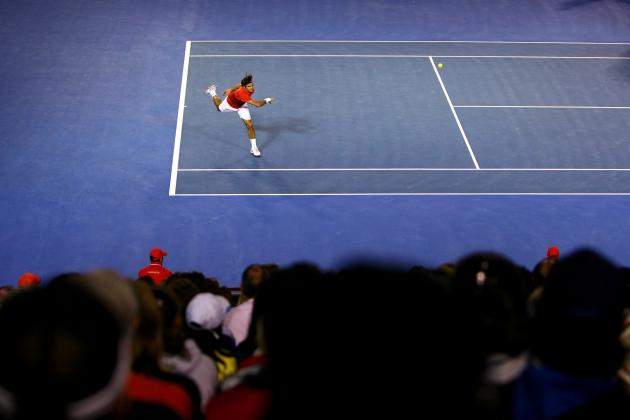 Robert Prezioso/Getty Images

If you ask any tennis fan, they would say that the top three tennis players in the world are: Novak Djokovic, Nadal and Federer. The order between the three is disputed but their greatness as tennis players is unquestionable.
However, in one area, Nadal has a clear advantage over his two rivals.
Nadal currently has the head-to-head advantage over both Djokovic and Federer. Nadal's overall record against Djokovic is 16-13, giving him a slight edge. Nadal also has the advantage in clay courts and grass courts by a dominant 10-3 margin.
Against Federer, Nadal's numbers are even more lopsided. Nadal owns a commanding 18-9 overall record against Federer and a 13-6 record in all finals. In Grand Slam finals, Nadal is 6-2 against Federer.
Nadal has a 13-5 advantage over Andy Murray. His numbers speak to the fact that he is better than most of the competition. His victories over elite competition are one reason why he is so good.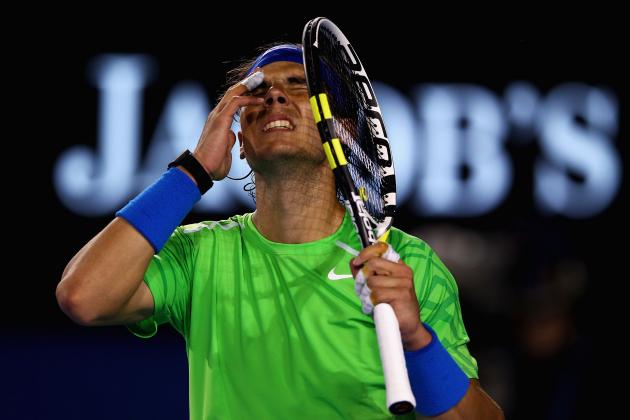 Clive Brunskill/Getty Images

One of Nadal's biggest advantages is his ability to use his left hand.
This is such a crucial strength because it pits his forehand against most other players' weakness, their backhand. This causes his opponents to hit off balance and above their shoulders.
Even more amazing is that Nadal is only left-handed when he plays tennis.
Everything else he does mostly with his right hand. It's possible that Nadal could be good enough that he could also play right-handed.
Still, being left-handed has clearly worked out as an advantage for him. In fact, it's arguable that his career would not have escalated to the point that it has without his left-handed game. His left-handed games continues to confound and befuddle his opponents.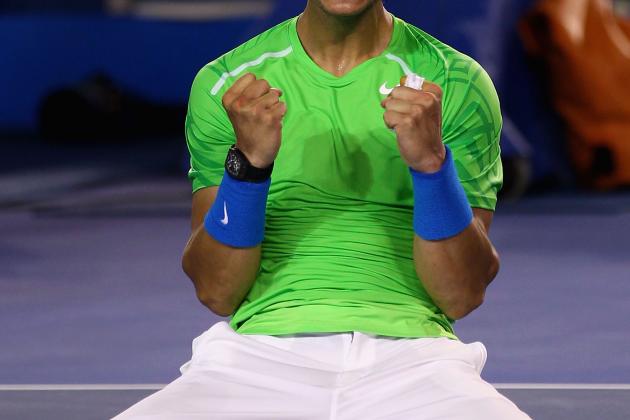 Clive Brunskill/Getty Images

Nadal dealt with some injuries in the beginning of this year's Australian Open. On January 15th, Nadal had a freak knee injury that brought serious doubt on whether or not he could continue playing this tournament.
Based on his account, Nadal had been sitting in a hotel chair when he felt a crack in his knee and noticed he had no movement in it. He was rushed to a hospital where he got an MRI that showed nothing. His trainers were able to work with him to get movement and eventually assisted in helping the pain disappear.
It looks as though Nadal has been feeling better of late. And a healthy Nadal is a scary Nadal.
His natural advantage returns to the disappointment of his possible final opponents, Djokovic and Murray.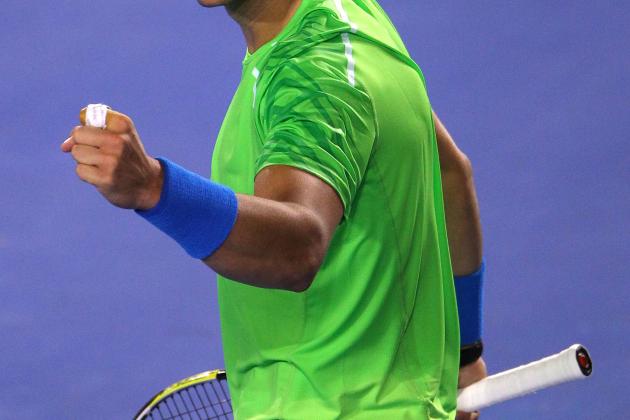 Scott Barbour/Getty Images

One of the biggest knocks on Nadal's career has been his weakness playing on hard courts. They are clearly his least favorite surface.
There are several reasons why Nadal has struggled on hard courts. A major one is that hard courts are faster and typically suit players who are more offensive in their delivery. Also, his bad knee becomes even more of a liability since it is easier to slip on hard surfaces.
Still, Nadal has shown marked improvement in his ability to perform on the hard courts. His win against Federer was a clean match. In addition to Federer, he has also beaten some good hard court players in Tomas Berdych and Feliciano Lopez.
It will definitely be a challenge facing Djokovic or Murray in the final. Both are good hard court players.
But with his greater health and growing confidence on the surface, a win is the likely outcome.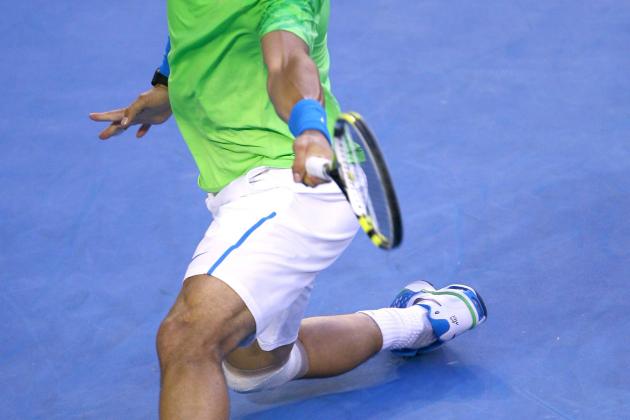 Robert Prezioso/Getty Images

Nadal now has three days until he has to play again. That rest is an important factor.
Meanwhile, Djokovic and Murray are still competing. The winner of that match will be exhausted.
Coming off of three relaxing days, Nadal should return replenished, perhaps injury-free. This puts him in great position with the energy to win.