Giants vs Patriots: Breaking Down New York's WRs vs. New England's DBs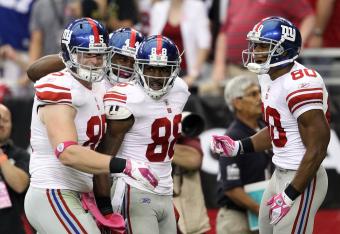 Christian Petersen/Getty Images
Explosive, tough, quick and consistent are a few of the words that can describe the New York Giants pass catchers, which range from the sure-handed Hakeem Nicks to the shifty Victor Cruz to the subtle Jake Ballard.
All three of these receivers along with Mario Manningham, yet another quality talent, have made a significant impact in the playoffs with big plays downfield and now face a struggling secondary. This begs the question: how will they fare?
If history shows us anything, they could have success against the Patriots' defensive backs. In the Week 9 clash of the titans, the absence of wide receiver Hakeem Nicks played a big role in the passing game.
The Giants' pass catchers did not have as many opportunities that they typically would have with Nicks in the fold because there was no one to force the Patriots to key in on. For instance, New England did not have to rotate their safeties to ensure Nicks wouldn't beat them over the top.
Because of this, New England was able to be more aggressive in disguising (often by rotating safeties late before the snap or post-snap) their coverage concepts.
What about in this upcoming meeting with Nicks being present? How can they match up with Nicks, Cruz, Manningham and Ballard and remain aggressive?
Introducing Quarters Coverage
One way they can do this is through the use of Quarters coverage, which they played quite a bit of in the last meeting.
Quarters is a coverage concept that has three defenders underneath and four deep. There are several variations of the coverage which include both pure zone and a combination of man and zone.
The latter is one that New England played quite a bit of and like the traditional zone Quarters coverage, it has three underneath zone defenders. These three underneath zone defenders split the field into thirds — Hook (middle) and two Curl/Flat defenders. What the Patriots will sometimes do is "carry" the slot receiver and tight end by covering them in man before releasing the pass catcher into the deep safeties.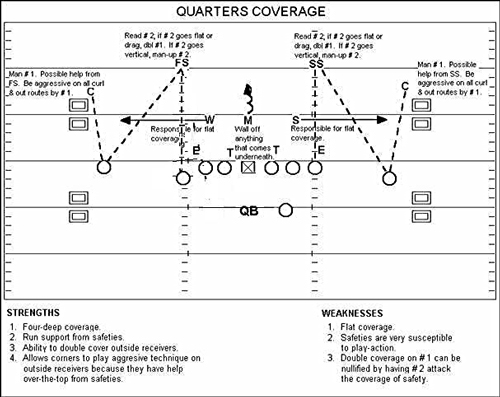 In the secondary, the safeties are in man coverage and read 2-to-1. The number 2 is synonymous with the second pass catcher in from the sideline. An example of this is a single wide receiver and a tight end to one side. The receiver would be No. 1 while the tight end would be No. 2.
If the No. 2 goes deep, the safety picks him up in man coverage. If he goes short, the aforementioned linebackers will "carry" (man cover) him and the safety will double cover the No. 1 receiver, who is covered by the cornerback.
The Patriots have been based out of this coverage in years past because of its flexibility. The safeties read run first and pass second, which allows the defense to get extra players in the box, and they can rotate or make changes in their secondary to go to any coverage they want.
Matching Up Athletically
While the Patriots have schematic flexibility in their defense, only so much of it can account for the talent of the Giants' pass catchers. At the end of the day, the game of football still comes down to athletes and the Giants have quality ones, with wide receivers Hakeem Nicks and Victor Cruz as well as tight end Jake Ballard to focus on.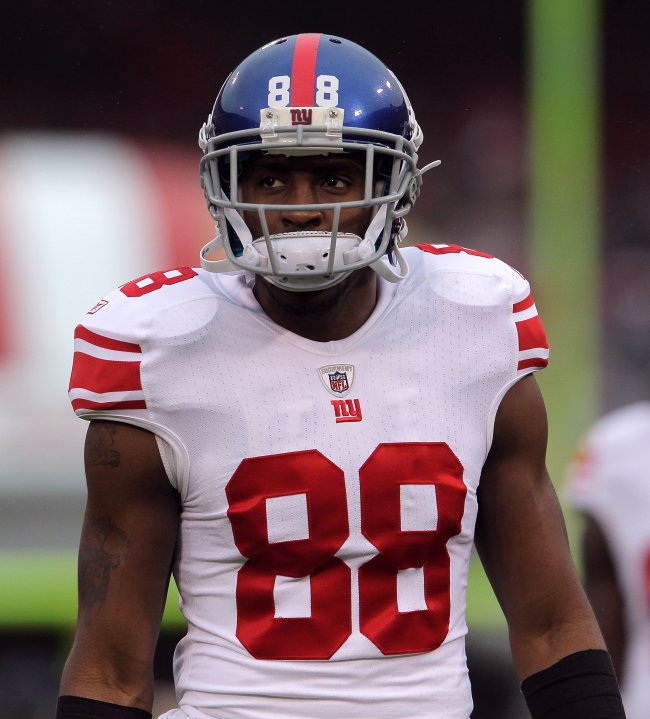 Doug Pensinger/Getty Images
Starting with the explosive Hakeem Nicks, his work often comes from "the field," which in football parlance means the wide side, and he's very effective. Being on the field side gives Nicks more space to work with and develop into his routes. He's also very strong and physical, which makes him tough to bring down, as well as sure handed.
Furthermore, Victor Cruz is a dynamic receiver that can play any alignment and run any route. He's a quick-footed vertical threat that does a good job of breaking down into his routes and using his eyes to create separation down the field.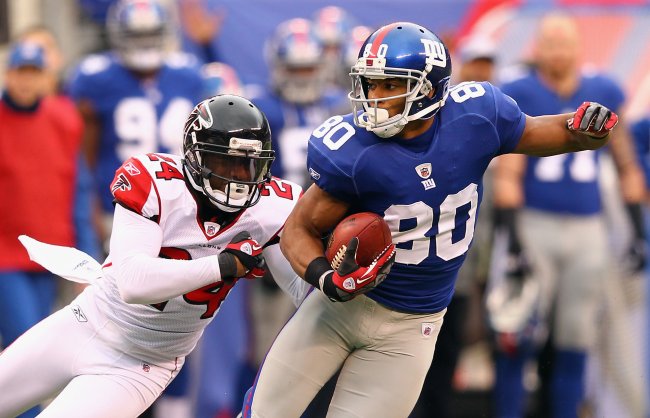 Al Bello/Getty Images
In the short to intermediate depths of the field, he's shown the ability to separate against man coverage with his quickness while also displaying football intelligence when finding the holes in zone coverage. He will play a key role in this game, particularly when he is in the slot.
Last of all is tight end Jake Ballard. When one thinks of a great athlete, Ballard does not come to mind and it's for good reason: he isn't one. But he gets open against defenders in man coverage and is able to run down the seam against zone coverage.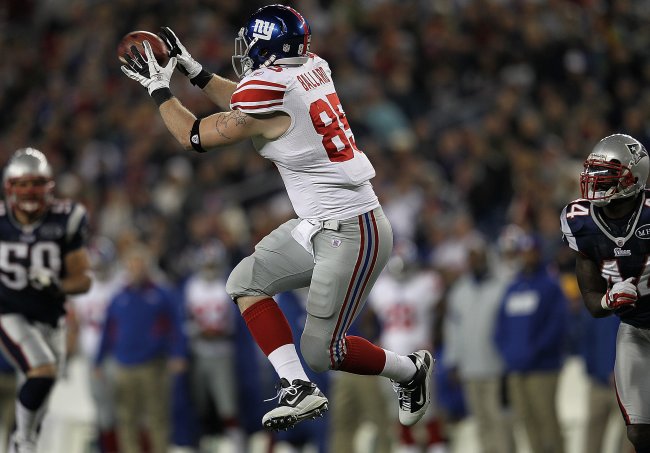 Jim Rogash/Getty Images
The main reason Ballard is one of my keys in this game is because of him working the seam against the stiff Brandon Spikes. Spikes does not have great foot speed and is stiff in the hips, thus he's unable to quickly change directions. Ballard got behind Spikes (as well as other Patriots LBs) in Week 9 for a couple of catches that flipped field position.
These three Giants receiving targets will play a key role in the Super Bowl whether they catch passes or not by drawing attention when they develop into their routes.
This article is
What is the duplicate article?
Why is this article offensive?
Where is this article plagiarized from?
Why is this article poorly edited?

New York Giants: Like this team?