Super Bowl 2012: Julian Edelman and No-Name Players Ready to Step Up
January 26, 2012

Jim Rogash/Getty Images
Championship rings are forged on the play of unknown heroes stepping up in a moment of need and helping will their squad to victory.
Plenty of times in Super Bowl history, there have been cases of no-name guys making huge plays to swing the tide in favor of their team.
Here are a few players that have a chance to do exactly that on Super Bowl Sunday.
The New England Patriots' biggest weakness is their secondary. After their decent group of starters, which include Kyle Arrington, Devin McCourty, James Ihedigbo and Patrick Chung, there is little depth.
Edelman, a WR by trade and a QB in college, started getting reps at corner because of how ineffective the bench was.
He is now going to get a chance to play DB in the Super Bowl.
When asked the last time he played corner besides this season, Edelman responded it had been a while.
"I think 1998," he said. "Pop Warner. I was 12."
The Giants are going to try to pick on him and his inexperience, like Joe Flacco did when Anquan Boldin was matched up against him.
However, don't doubt coach Bill Belichick's legendary preparation. He's going to make sure that Edelman is 100 percent ready to see the field and make a play when he's challenged.
It would certainly be a game-changing moment if Eli Manning thinks he can go deep and Edelman uses his incredible hands to pick it off and return skills to bring it back. 
Travis Beckum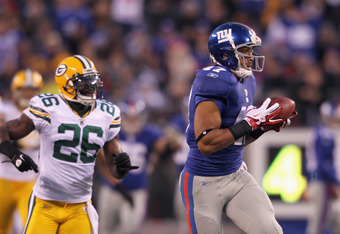 Nick Laham/Getty Images
Beckum has stepped up in the postseason for the G-Men, already hauling in more receptions in the playoffs (seven) than he did during the regular season (five).
He's certainly not Eli's go-to receiver, but this third-year tight end is gaining the confidence of his quarterback.
With the Patriots' efforts surely to be focused on shutting down big plays from Hakeem Nicks and Victor Cruz in the passing game, Beckum could find himself open quite a few times.
He hauled in a 67-yard touchdown against the Green Bay Packers in the regular season and a homerun like that isn't outside the realm of possibility in the Super Bowl.