Report: Greg Schiano to Be Tampa Bay Buccaneers' Next Head Coach
January 26, 2012

Jim Rogash/Getty Images
The Tampa Bay Buccaneers have found their next head coach in Rutgers' Greg Schiano, according to ESPN's Adam Schefter.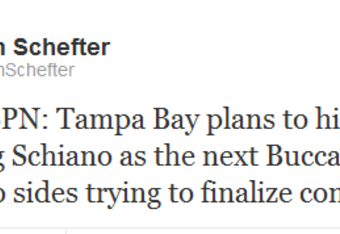 Schiano has long been one of the most sought after coaches in college football, but he rarely, if ever, got talked about for an NFL coaching job. . 
The Buccaneers have been searching for a head coach since firing Raheem Morris following a disappointing 4-12 season that saw the team fall apart at the seams. The locker room was a disaster, and there was talk of players quitting late in the year. 
And earlier this week it appeared Tampa Bay was close to hiring Oregon head coach Chip Kelly, but he decided to stay where he is at. 
Schiano has turned the Rutgers program around in his 11 seasons with the program. The Scarlet Knights have made six bowl appearances in the last seven seasons, winning at least seven games in five of the last six years. 
Schiano has had so many chances to take jobs elsewhere, but has stayed at Rutgers because he wanted to see his rebuilding effort all the way through. 
That said, it is not everyday that the NFL comes calling. It would have to take a special job for Schiano to leave Rutgers, and it appears that he may have found it. 
He does have his share of NFL supporters. According to Peter King of Sports Illustrated, New England Patriots head coach Bill Belichick is a staunch advocate of Schiano's.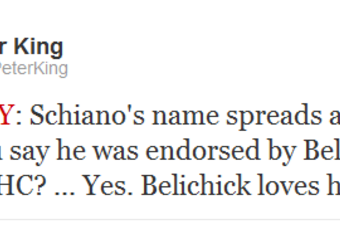 It is hard to get higher praise than that for any coach, so the Buccaneers and their fans should feel a lot better about things now than they did one month ago.  
It is interesting to see the Buccaneers being linked to high-profile college head coaches. Perhaps they are still reeling from everything that happened with Morris.