Alabama Recruiting: 5 Recruits Nick Saban Must Land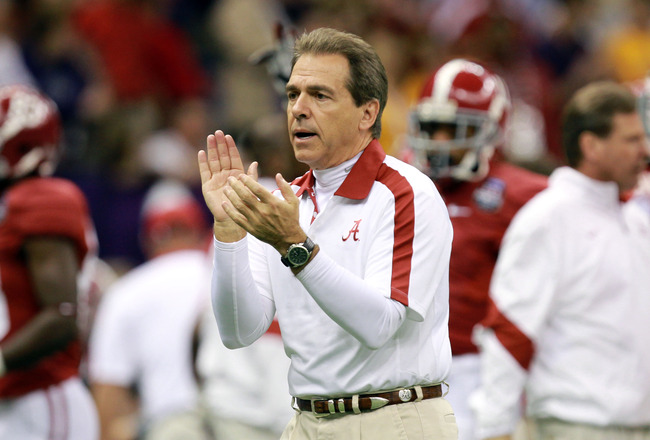 Ronald Martinez/Getty Images
Nick Saban will most likely have the best recruiting class this year. With over 20 recruits, including three 5-star and 12 4-star recruits, Saban is building a dream class. Coming off a national championship is obviously helping sway the opinions of some players who dream of being another one of Saban's winning teams.
With so many recruits coming in, Saban needs to make sure that he has certain ammunition in his roster. There were some obvious faults in this almost perfect season such as unreliable kickers, but with the right recruits, the Crimson Tide can possibly be the No. 1 team in the nation again.
We all know that nothing is official until pen meets paper and a lot can change before Feb. 1. Here's a look at my picks for the five recruits that Saban must be sure to land on National Signing Day.
A New Kicker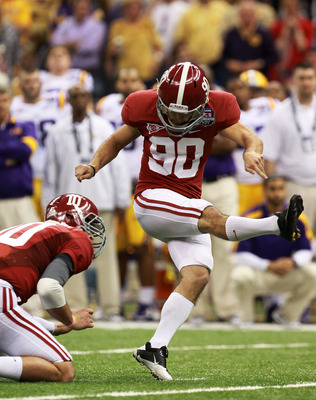 Ronald Martinez/Getty Images
After going a combined 2-of-6 field goals in the first matchup between Alabama and LSU, Alabama kickers Cade Foster and Jeremy Shelley were probably the most hated players in Alabama. Even their performances in the national championship game were less than impressive as Shelley missed the extra point on the team's only touchdown.
Saban has recently offered a scholarship to a senior out of Calhoun, Ga. Adam Griffith is one of the top kicking recruits in the nation and would be a major asset to the Tide. This team needs a kicker who won't miss field goals when the entire game is forced into kicking them. They need a more reliable player who can stay in for every kick instead of switching it up to see who kicks worse.
If Saban can reel in Griffith on signing day, there is hope that next year's LSU/Alabama matchup doesn't come down to who missed more field goals.
Offensive Tackles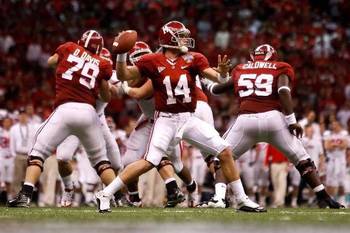 While Alabama did have an amazing offense this year, certain games proved lackluster (namely both LSU matchups). However, if they want to continue to dominate teams next year by scoring touchdown after touchdown, Alabama is going to need some offensive tackles to help make sure that the ball can get moving down the field.
Avery Young and Arik Armstead are two of the Tide's top targets in the OT department. Both young men are top recruits and would be great assets to the team. Armstead is one of the nations top recruits and although he won't decide on where he is going until signing day, Saban will be hoping that Alabama is his choice though he does have offers from other major schools such as Oregon and Notre Dame.
Young would also be a great asset to the Tide. He is being sought after by the Miami Hurricanes but hopefully Saban can convince him otherwise. Having one or both of these players would definitely increase Alabama's offensive game in the seasons to come.
DT Korren Kirven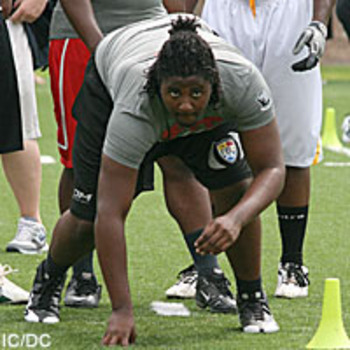 Alabama has its eye on defensive tackle Eddie Goldman but having a second just as good DT would greatly benefit this team. Korren Kirven is ranked eighth in the nation for his position and has had offers from a wide range of schools.
If Saban can get Kirven to choose Alabama on signing day, the defensive line for the Tide would just get even better. By having Kirven and Goldman on the same team, Alabama could do some serious defensive damage.
With an already impressive defense this past season, bringing in more impressive players will make the Crimson Tide a serious threat in not only the SEC but the entire college football world.
DT Eddie Goldman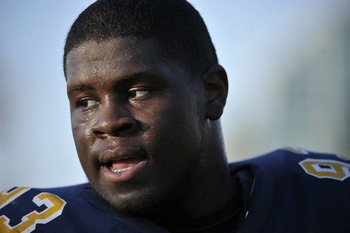 If Alabama wants to keep their opponents from scoring, they are going to need a strong defensive tackle. With a strong defense, Alabama will be able to do what they did in the national championship game and keep teams from ever going past the 50-yard line.
With Eddie Goldman on their defensive line, Alabama has a strong chance of keeping other offenses from doing much. At 6'4" and 315 pounds, Goldman is the kind of guy that any school would want on their side. Unfortunately, Alabama and the Crimson Tide will have to wait until signing day to hear his answer.
Goldman has been on Alabama's radar for a while now and to lose him to a rival SEC school could harm Alabama when they meet up with that school. Though hopefully, a recent national championship blowout win will be all it takes to win this defensive tackle over.
Safety Landon Collins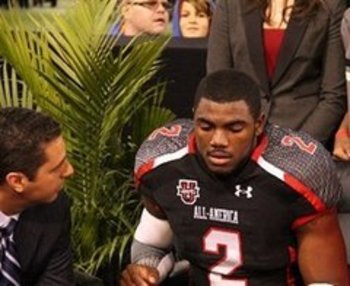 Although Landon Collins has already committed to the Crimson Tide, Nick Saban better make sure he can hold onto the boy whose mother would rather see him in purple and gold.
Collins is one of the top recruits in the nation and would do great things for Alabama. Especially since his other school of choice is LSU.
Collins is a Louisiana native with his heart set on the school that "feels right." His announcement at the Under Armour game shocked many LSU fans and if he does fully end up with the Crimson Tide, next year's matchup between LSU and Alabama will probably be even more heated than this year.
With a disapproving mother breathing down his neck, Collins may end up changing his mind by signing day. Other schools such as Oklahoma and LSU have already dealt with de-commitments in star recruits such as De'Vante Harris (Texas A&M) and Gunner Kiel (Notre Dame).
If Alabama does lose Collins to mom's choice LSU, the Crimson Tide would be losing a major asset to their future team.
Saban must make sure that he can hold on to this recruit and get him to sign. Here's to hoping this is one recruit who doesn't unexpectedly change his mind. And that his mother has no say other than, "Roll Tide."
Keep Reading

Alabama Crimson Tide Football: Like this team?