NHL All-Star Preview: 5 Predictions for Tonight's Draft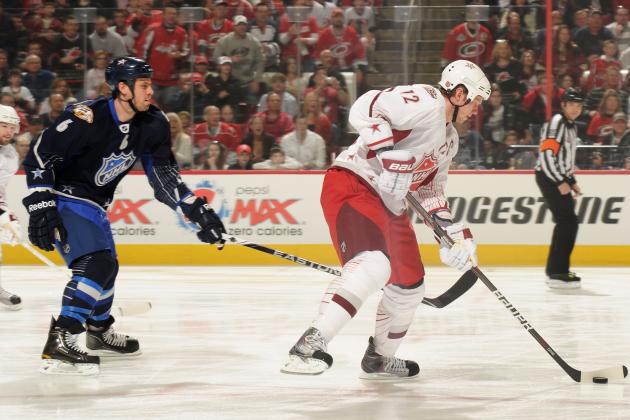 Harry How/Getty Images

The NHL All-Star game is finally upon us. Tonight the NHL's best will be selected to either Team Chara or Team Alfredsson for Sunday's matchup in Ottawa.
The NHL has changed the way they play the All-Star game in recent years. Rather than just have the teams split up into the Eastern Conference and Western Conference All-Stars, the league decided last year to have the players pick an All-Star captain for each team and have a fantasy draft to pick the players.
This is certainly the most different and exciting All-Star game selection process out of the four major sports, as teams are not known until four days before the game and are selected by the players. With Chara and Alfredsson picking, there's bound to be some players each will lean towards.
Here are five of my predictions on how tonight's draft will go and which team is going to draft who.
Begin Slideshow

»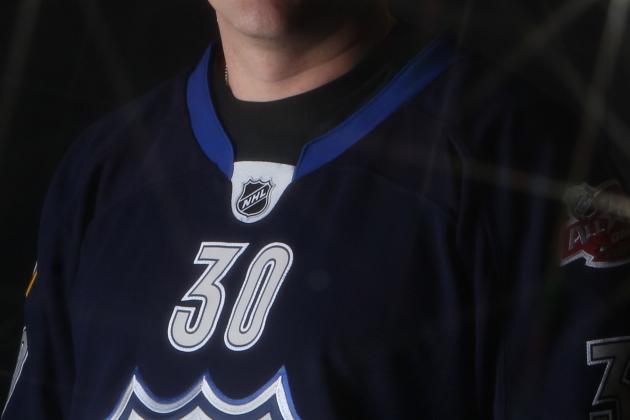 Bruce Bennett/Getty Images

My first prediction will be that Team Chara will draft goalie Tim Thomas. My guess is that this selection will occur in the later rounds, as we have seen most goalie selections are with this draft, but Tim Thomas will definitely be on Team Chara.
The main reason I think this is because Thomas is arguably the best goalie in the NHL. For a defensive minded player like Chara, having a good goalie will most likely be crucial for him.
Even though this game is more for the scorers and a goalie's nightmare, it is always good to have the best goalie between your pipes in every game, no matter what. Chara picks Thomas because he is one of the best in the league and the best in the All-Star Game.
If Henrik Lundqvist was still on the board, who I feel is a better goalie than Thomas, I would still say that Chara picks Thomas. It would make sense that Chara would pick his fellow teammate Thomas to be on his team.
Players on the same team have a load of respect for each other, not to mention how good Thomas is in goal. Chara picks Thomas as his number one goalie.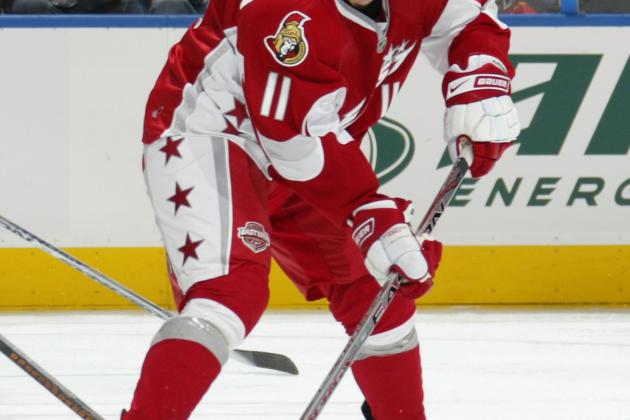 Dave Sandford/Getty Images

My next prediction is that Team Alfredsson takes Ottawa Senators forwards Milan Michalek, Jason Spezza and defenseman Erik Karlsson in the draft. I believe Spezza will be one of the first picks, Michalek will go some time in the middle rounds, while Karlsson ends up drafted closer to the end.
The reason I think this is for the same reason I think that Team Chara picks Thomas, team chemistry. Alfredsson, being a fellow member of the Senators, would want to pick his teammates to play with on his team.
Also, the All-Star game is in Ottawa this year; why not have all the home town guys on the same team? Scotiabank Place will be electric every time Alfredsson, Michalek, Spezza, or Karlsson touch the puck, so it would make sense to have them all on the same team and really push the fans in their favor.
For the hometown support and the fact that all three players are extremely good at their respective positions, I think that Alfredsson keeps his team Ottawa heavy and picks up at least two of the three Sens in the draft.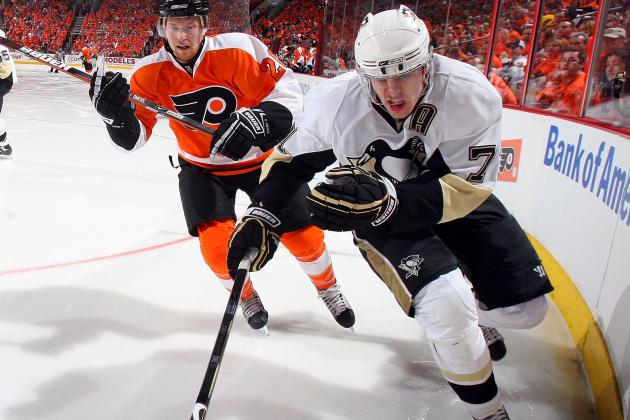 Jim McIsaac/Getty Images

My next prediction is on the first round picks for both Team Chara and Team Alfredsson. No matter who picks who, Flyers winger Claude Giroux and Penguins forward Evgeni Malkin will be the first two picks in the draft.
Giroux has been a workhorse for the Flyers all season, second in the league in points with 55 and fourth in assists along with 18 goals. He is an offensive machine and I would expect that Team Chara picks him up.
Giroux is only behind one man in points, and that man is Malkin with 58. His 26 goals are fourth best in the league, along with his 32 assists that is seventh best.
Filling the void for an injured Crosby, Malkin has risen to the occasion, carrying the Penguins and keeping them in the playoff picture. Expect him to go to Team Alfredsson.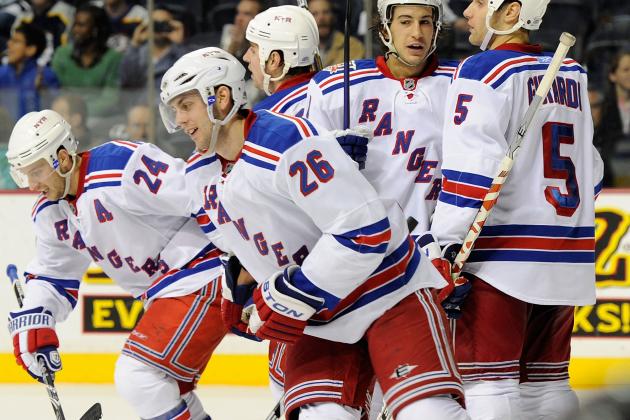 Frederick Breedon/Getty Images

My next prediction is that Team Alfredsson picks up either New York Rangers forward Marion Gaborik or defenseman Dan Girardi. Expect Girardi to go early as one of the best defenseman, and Gaborik to go a little later on.
Gaborik has had one of his best years ever in a Ranger's uniform, bringing them to the best record in the Eastern Conference. Behind a solid defense led by Dan Girardi and Gaborik's scoring, the Rangers are one of the best teams in the league heading into the break, which is why they have four All-Stars (including rookie Carl Hagelin).
The reason Team Alfredsson picks up at least one of these men is mainly due to Alfredsson's alternate captain, New York Rangers goalie Henrik Lundqvist. Lundqvist would love to have one of his fellow Rangers backing him up on the ice.
Girardi averages one of the highest times on the ice per game this year, and is the other half of a defensive pair with Ryan McDonagh that is the one of the best in the league at shutting down a team's No. 1 line. Since this game showcases many of each team's No. 1 linesman, why not have Girardi?
Lundqvist also knows Gaborik's abilities to score and how fast he is on the ice. His speed and his scoring ability would be something Team Alfredsson would want, and certainly not something Lundqvist would like to be on the receiving end of.
Lundqvist will put in a good word for both Girardi and Gaborik. Don't be surprised if Team Alfredsson has the entire Rangers All-Star team by the end of the night.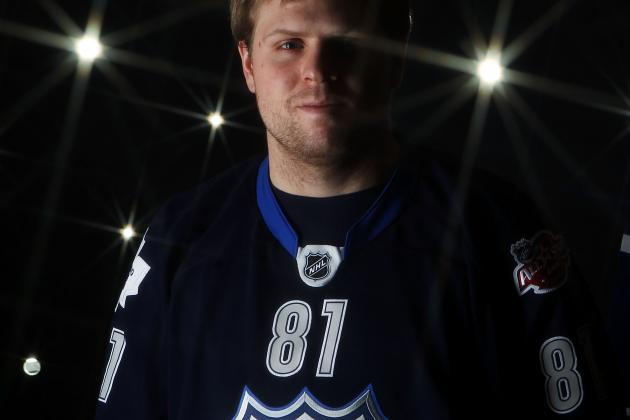 Bruce Bennett/Getty Images

My final prediction is that Toronto Maple Leafs forward Phil Kessel gets drafted by Team Chara. Expect Kessel to go in one of the first five rounds.
Kessel has proven to be a very dangerous scorer this year, fourth in the league in goals with 26. He is also top ten in the league in points with 51, enough to give him eighth.
Assistant captain to Chara, Joffrey Lupul will most likely want to have his winger on his team with him, and will tell Chara to take Kessel. Chara most likely will not object, knowing what kind of player Kessel is and how dangerous he is scoring.
Team Chara will go out just like Team Alfredsson will and take their teams' respective players as best as they possibly can. Team Chara and Joffrey Lupul take Phil Kessel.