Kyle Williams: Why He Still Deserves a Roster Spot with the San Francisco 49ers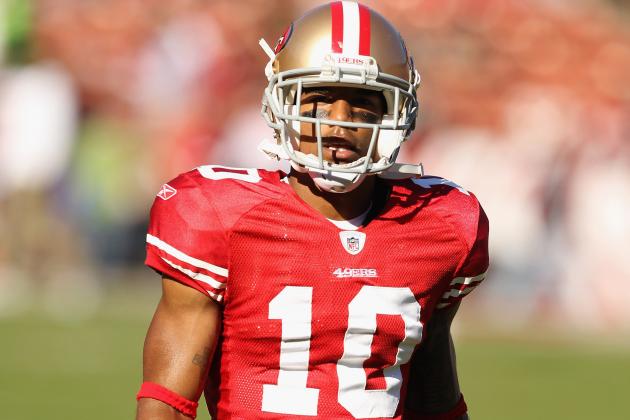 Ezra Shaw/Getty Images
No. 10 Kyle Williams
Few players labeled as playoff goats—however rashly—have the resiliency or mental fortitude to withstand, let alone recover, from that utterly odious designation.
Fans do not often grant them a second chance to rebound or prove themselves, regardless if that negative labeling was even justified in the first place. Front office personnel and head coaches might just rather cut ties and avoid dealing with the fallout in subsequent seasons.
Some would say it's the equivalent of being blackballed entirely.
In the case of Kyle Williams and the pervasive documentation surrounding his muffed punt returns in the NFC Championship Game between his fellow 49ers and the New York Giants, things will turn out differently.
Williams is strong enough to move forward.
Same goes for the organization that signed him to the 2011 roster and that will correctly retain him for 2012.
Begin Slideshow

»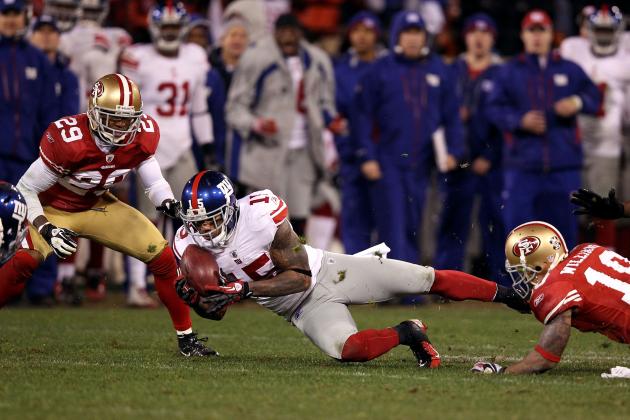 Ezra Shaw/Getty Images
Williams' fumble in OT.
First of all, no one will deny the disastrous consequences of Williams' punt return blunders.
The first facilitated a Giants' fourth-quarter touchdown drive and the second created short field position that led to the game-winning field goal in overtime.
A more thoughtful and comprehensive examination of the game, on the other hand, reveals that Williams' actions were not the sole causes for the 49ers' heartbreaking defeat.
To avoid beating the proverbial dead horse, I will merely say that the ultimate determinant of the game's outcome should have never come down to Williams' second fumble.
The 49ers converted just one out of 13 third downs, couldn't stop Manning on 3rd-and-15 in the fourth quarter, failed to score a TD in the red zone after Williams made up for his first mistake with a gutsy 40-yard return and went three-and-out in a potentially game-ending drive in overtime.
All of these missteps occurred before Williams was stripped in OT.
In other words, the 49ers failed to execute as a team and lost accordingly.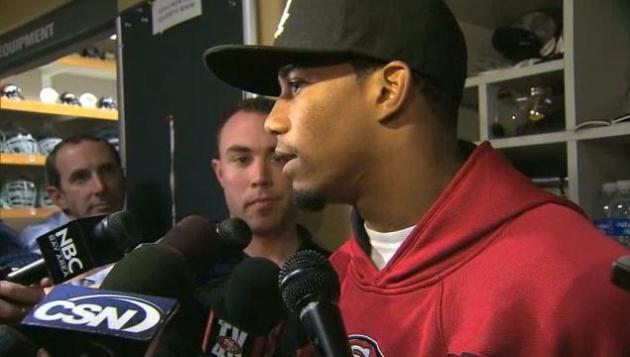 Williams graciously answers questions to a pack of reporters.
Immediately following the game, Williams took responsibility for the outcome.
He did so in a calm, collected and mature manner. He did so by fielding questions from the press and not abandoning his team.
"It was one of those situations where I caught the ball, tried to head upfield, tried to make a play and it ended up for the worse," Williams explained.
Explaining the second flub must have been unbearable, but as a man that stands up for his actions, he did so anyway.
Williams also refrained from playing the blame game. That applied to both the nasty Candlestick weather and a purported shoulder injury during the third quarter.
During the Monday press conference, he owned up to it just the same.
"It's one of those things you have to take accountability for," Williams said. "Everybody is responsible for what they do on the field. I made a mistake and it's time to own up to it and move forward."
That latter statement demonstrated his resolve and ability to overcome. It showed a mature man of introspection and determination.
When questioned about the despicable death threats posted by Twitter lunatics—some being aimed at both him and his family—Williams simply looked the other way.
In a league where countless diva receivers lamentably steal the spotlight with their childish antics, Williams exists as a wonderful breath of fresh air.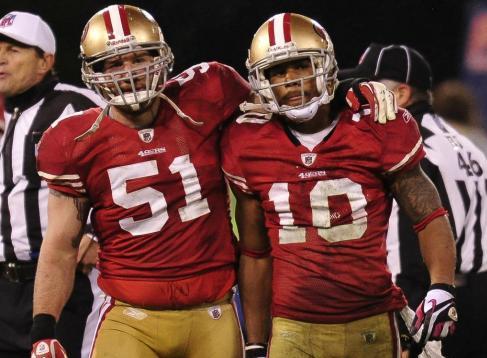 Teammate Blake Costanzo (51) embraces Kyle Williams.
Jim Harbaugh, from day one of his tenure, instilled a supportive team-first atmosphere. Members of the 49ers thought collectively—not individually.
Nowhere was that more evident than during the postgame pressers.
Tight end Delanie Walker was one of many teammates that came to the support of Williams.
"We all lost this game. We play as a team…it's not Kyle's fault," Walker replied.
Frank Gore echoed those comments. "I told him to keep his head up. Things like that happen when you're trying to make a play," Gore said. "I'm happy he's a teammate of mine. I'll back him up anytime."
David Akers—as a kicker—related perhaps the best with his teammate's regrettable circumstances.
His two missed field goals with the Eagles last year against the Packers in the divisional round caused many to label him as a playoff goat.
Akers, like Williams, believed in the collective group and rose above the criticism. He did so again on Monday. "I say this and I say it in the truest way: We win as a team, we lose as a team," said Akers.
That team camaraderie and mutual support rose all the way to the top of the organization with CEO Jed York.
Harbaugh was not surprised in the least, for he was the one that fostered that familial mentality.
It's not a coincidence that York, Harbaugh and players mentioned the words "class," "team" and "support."
From top to bottom, it's simply how this team operates.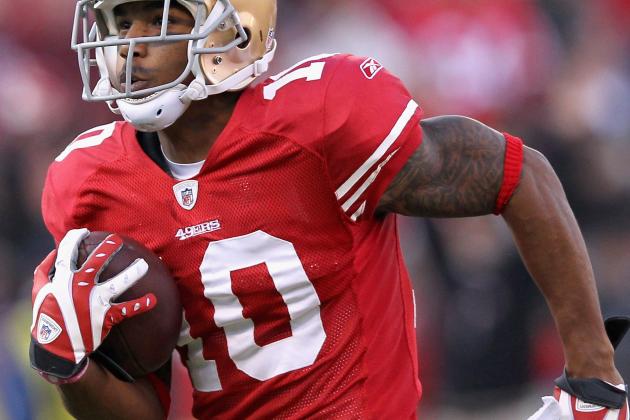 Ezra Shaw/Getty Images
Williams will return to the team next season.
Kyle Williams has blazing speed and will eventually be a formidable return man.
Observers of the NFC Championship Game lost sight of that due to unfortunate circumstances.
Williams was essentially an emergency fill-in for kickoff and punt return duties as a result of injuries to Ted Ginn Jr.'s lower extremities. This occurred on one of the biggest stages, no less.
When Ginn first went down and Williams replaced him in the lineup against the Seattle Seahawks in Week 16, he produced stellar numbers (20.5-yard average on punt returns and 28.7 on kickoffs).
During the fateful game against the Giants, Williams compiled a kickoff return average of 28.3 yards, and eight of his 10 punt returns occurred without incident.
So, while he is still raw and inexperienced in this aspect of his game, he filled in admirably for the most part, notably his 40-yard kickoff return that set the stage for a fourth-quarter drive into the red zone—again for what should have facilitated the game-winning score.
He will continue to develop as a slot receiver and kick returner, most likely starting the 2012 season as the team's No. 3 or No. 4 wideout.
Williams may not be the answer, but he sure isn't the goat.
The entire 49ers organization have already stated as much.